Salespage Snapshot: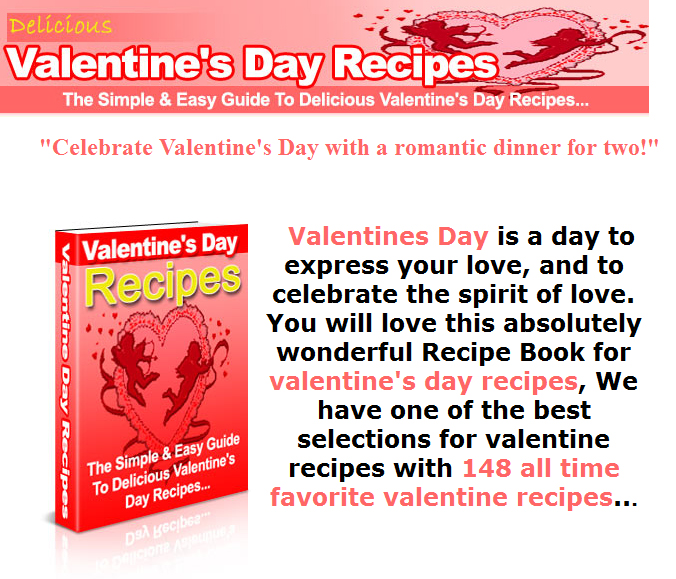 >>> Click Here To View Full Sales Page…
Table of Contents
Victorian Gingerbread Valentines
Waldorf-Astoria Red Velvet Cake
Mock Pink Lady
Passion Fruit Mimosa
Peaches In Spiced Red Wine
Penne Vodka
Phyllo-Wrapped Salmon with Roasted Red Pepper
Pink Cloud Cake for Valentine's Day
Pink Frozen Fruit Salad
Pink Lemon Angel Cake
Pink Mashed Potatoes
Pink Peppermint Valentine Mold
Pink Popcorn Surprises
Pink Shake
Pound Cake with Red Fruit
Prawns of Passion
Queen of Hearts Strawberry Tart
Queen Of Hearts Tarts
Queen of Hearts Tarts II
Raspberry Chocolate Heart Tart
Raspberry Velvet Tart
Red Hearts
Red Jello Hearts
Red Rose Potato Salad
Red Velvet Cake
Regalo`s Lobster Ravioli in Pink Sauce
Valentine Cakes
Valentine Cherry Cream Cheese Cookies
Valentine Cookies
Valentine Dessert
Valentine Fruit Punch
Valentine Lollipops
Valentine Lollipops
Valentine Muffins
Valentine Pancakes
Valentine Pie
Valentine Salad
Valentine Salad II
Valentine Sandwiches
Valentine Shake
alentine's Day Red Cake
Valentines Creamy Jigglers
Valentines Love Fudge
Valentine`s Day Beef Tenderloin with Green Peppercorn-Brandy Sauce for Two
Valentine`s Day Cinnamon Candy
Valentine`s Day Prawns
Valentine`s Day Sugar Cookies
Valentine`s Strawberry Dumplings
Vanilla Cherry Fudge
Velvet Cake with Buttercream Frosting
Very Cherry Cookies
Cherry French Toast
Cherry Filled Heart Cookies
Cherry Delight
Cherries Valentine
Cher's Special Trifle
Cheesecake Pancakes with Strawberry-Lemon Syrup
Champagne Truffles
Champagne Shrimp and Pasta
Champagne Parfaits
Champagne Napoleon
Caviar Kisses
Berries n Brownies
Be My Valentine Pie
Be Mine – Breakfast
Barbequed Lobster Tails
Banana Tart With A Passion Fruit Sauce
Baked Ham in Champagne
Awesome Parmesan Chicken for Two
Apple-Raspberry Valentine Crisp
Angel Strawberry Bavarian
Almond Raspberry Hearts
Almond Champagne Fondue
Chocolate Alien Valentine Cookies
Chocolate Chip Cookie Tarts for Two
Chocolate Covered Cherries
Chocolate Covered Cherries
Chocolate Covered Cherry Pie
Chocolate Covered Strawberries
Chocolate Dipped Strawberries
Chocolate Passion Dessert
Chocolate Sweetheart Cake
Chocolatetown Special Cake
Circle of Hearts Cherry Bread
Cranberry Valentine Punch
Cupid`s Pie
Double Chocolate-Covered Cherries
Easy Chocolate Covered Cherries
Extra Special Dessert
Filled Rich Chocolate Cupcakes
Food Lover's American Cafe Chocolate Truffle Cake
Fresh Strawberries with Chocolate Cream
Grilled Oysters with Herb Chevre and Parma Ham
Half Hearted Valentine Cookies
Heart Breakfast Ring
Heart Shaped Cupcakes
Heart Shaped Valentine Pizza
Heart Strawberries
Melt-Away Heart Cookies
Melt-Away Heart Cookies
Lover`s Chocolate Mousse
Love Potion
Lobster-Stuffed Tenderloin
Lobster Scampi
Lobster Salad
Lobster Primavera
Lobster and Crab Ravioli
Lobster Alfredo
Layered Peanut Butter Lovers Delight
Lacy Valentine Cake
Lacy Valentine Cake
Jigglers Creamy Valentines
Italian Hearts
Hot Fudge Pudding
Hearts-filled-with-Love Cookies
Hearts and Cherries
Hearts & Flowers Cookies
Heart-Shaped Shortbread Flavored with Cayenne
Heart-Shaped Sandwiches
Heart-Shaped Mozzarella and Fontina Pizza
Regalo`s Lobster Ravioli in Pink Sauce
Risotto with Artichoke Hearts & Red Bell Peppers
Roasted Red Pepper Pesto Cheesecake
Romantic Cheesecake
Romantic Dinner Chicken
Salmon With Cucumber Roses
Satin Red Punch
Shortbread Hearts
Shrimp Ravioli with Roasted Red Pepper Sauce
Simple Pasta for Two
Special Salmon Steaks
Steak Lover`s Fettuccini Alfredo
Strawberries In Red Wine
Strawberries Romanoff
Strawberry Stuffed French Toast
Strawberry Trifle
Strawberry-Raspberry Champagne Sorbet
Sweetheart Apple Crisp for Two
Sylvia`s Red Velvet Cake
Triple Strawberry Cake
Triple Valentine Brownies
Ultimate Valentine's Day Cookie
Valentine Brownie Hearts
Valentine Brownies With Raspberry Coulis
Cupid's Custard
Sample Content Preview
Victorian Gingerbread Valentines
Ingredients:
* 2 1/2 cups un-sifted flour
* 2 teaspoons cinnamon
* 1 1/2 teaspoon ginger
* 1/2 teaspoon ground cloves
* 1/4 teaspoon salt
* 1/2 cup margarine
* 1/2 cup packed dark brown sugar
* 1/3 cup dark corn syrup
* 1 large egg
Directions:
In large bowl, sift together flour, cinnamon, ginger, cloves and salt.
Blend together margarine and brown sugar until smooth. Add corn syrup and egg; beat well. Add dry ingredients, about one-third at a time, mixing until smooth after each addition. Chill dough one hour.
Roll out half of dough on lightly floured surface to one-quarter-inch thickness. (Reserve other half for decorations or for a second batch of cookies.)
Using heart-shaped cookie cutter, press out cookie shapes or use knife to cut around a pattern. Place hearts on cookie sheet. Decorate as desired. Bake at 350 degrees for 15 to 20 minutes until golden.
Remove and place on wire racks to cool. Store in covered container.
Other Details
- 2 Ebooks (PDF, DOC), 167 Pages
- 5 Graphics (PSD)
- 1 Salespage (HTML)
- Year Released/Circulated: 2016
- File Size: 1,171 KB
License Details:
[Yes] Can be sold
[Yes] Can sell Resale Rights
[Yes] Can sell Master Resale Rights
[Yes] Can sell Private Label Rights
[Yes] Can Be Edited Completely and Your Name Put on it
[Yes] Can be packaged
[Yes] Can be offered as a bonus
[Yes] Can be added to paid membership sites
[Yes] Can be offered through auction sites
[NO] Can be given away