Salespage Snapshot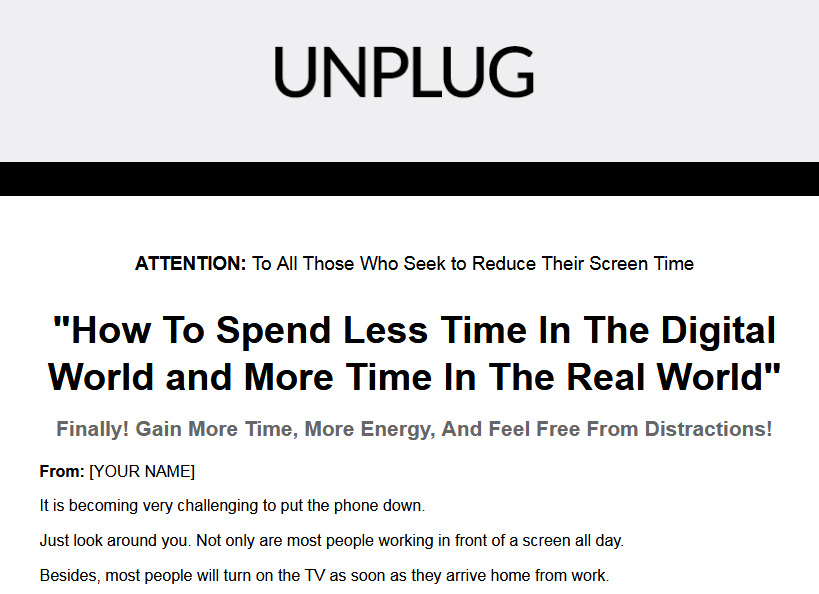 >> Click Here To View Sales Page...
Table of Contents
Introduction ……. 7
Chapter 1: The History and Current State of Our Digital Life … 13
The History ….13
The Current State ..14
Chapter 2: The Digital Impact on Your Body …… 16
Obesity ..16
Vision ….16
Posture ..17
Sleep …..17
Chapter 3: Learn to Sleep Again .. 19
Create a Schedule .19
Create a Ritual ……19
Create a Comfortable Atmosphere 20
Avoid Certain Foods or Substances …….20
Turn Off Your Devices …21
Room Make-Over ..21
Talk to an Expert …21
Chapter 4: The Digital Impact on Your Mind ……. 23
Dopamine: The Feel-Good Hormone …..23
Anxiety ..24
FOMO: Fear of Missing Out …24
Phantom Vibration Syndrome 24
Depression ….25
Attention 25
Chapter 5: How You Can Improve Your Attention and Awareness . 27
Exercise 27
Meditate 27
Read …..28
Write in a Journal…28
Make a List ….28
Chapter 6: How the Digital World Is Shaping Your Behavior … 30
Chapter 7: Practice Emotional Awareness . 33
Chapter 8: Planned Solitude: Learning to Be Connected With Yourself 36
Go for a Ride .36
Go to a Local Café .36
Go for a Walk 37
Go to a Retreat ……37
Chapter 9: Developing a Healthy Relationship and Other Practical Ideas ….. 39
Tech-Free Rooms ..39
Unplug Time ..39
Let It Die 39
Take a Class .40
Join a Club ….40
Boardgame Night…40
Ignore Notifications 41
Chapter 10: A 21-Day Plan to Disconnect for Good. . 43
Preparation ….44
DAY 1: MONITORING SCREEN TIME ..47
DAY 2: PLANNED OFFLINE .47
DAY 3: EMOTIONAL AWARENESS ……49
DAY 4: PLANNED OFFLINE 2…….50
DAY 5: CHARGE UP …..52
DAY 6: GET SOME FRESH AIR ….53
DAY 7: IT'S YOUR CHOICE! .54
Day 8: BEDTIME ROUTINE ..55
DAY 10: MINDFULNESS EATING .57
DAY 11: MINDFULNESS WALKING ……57
DAY 12: MINDFULNESS BROWSING ..58
DAY 13: MINDFULNESS BREATHING 2 ……59
DAY 14: MINDFULNESS BROWSING 2 …….60
Day 15: REFLECTION …61
DAY 16: UNPLUG .62
DAY 17: 24 HOUR CLEANSE …….62
DAY 18: NOTIFICATIONS OFF …..63
DAY 19: 2 HOURS ONLY ……64
DAY 20: LEAVE YOUR PHONE AT HOME …65
DAY 21: SUCCESS …….66
Conclusion …… 69
Sample Content Preview
Mostly NO: Great, that means that you have found a spot in your life where you use devices and, they don't use you and admittedly don't govern your life.
Mostly YES: This is a sign that this guide is for you. Your life seems to be influenced a lot by your screen time; you might be losing a lot of time and energy on devices that don't fulfill you. Besides, if you said "yes" to almost all the questions, you are likely an artist at escaping reality. It might be time for you to take control of your life. It won't be easy to unplug, but with determination and patience, you will get there!
Mostly I DON'T KNOW: This is not necessarily a good thing. You might be in denial and unable to be aware of your behavior. This guide will help you be more conscious of your habits and how you can live a more fulfilling life.
Whether you want to completely break up with social media or develop a healthier relationship with technology, this guide is here to help you positively change your behaviors. This guide will help you reconnect with your life. After reading this book, you will be able to recognize the actions that affect your physical and mental health and learn how you can adopt more effective habits to be happier.
You will learn about the current state of the digital world, what the impact is on your physical and mental health. We will explore how you can adopt more positive behaviors with technology while finding a way to reconnect with yourself. The last part of this guide is a 21-day plan that will help you break up with technology for good. But first, let's look at what history is and the current state of our digital life.
Chapter 1: The History and Current State of Our Digital Life
Technology has been changing our lives for years, but it hasn't always been for the best. There is a fantastic advancement in the area of health care where people can walk again or communicate with the assistance of technology. On the other hand, technology can also limit us, especially when we become addicted to it.
The History
While the phone was patented in the 1870s, it moved from being a landline to mobile later in history. It is hard to believe that the handheld mobile phone was mass-produced less than 50 years ago, in 1973. So much has changed since. Texting came about 20 years later (1992), and the iPhone was launched in 2007. With its mass presence, it is so easy to forget how life was before the smartphone.
Another technology that is relatively young in history is the internet. The internet became public on August 6, 1991, less than 30 years ago. It has been with us ever since, improving its speed every year and no longer just accessible on computers.
The Current State
It doesn't matter where you live in the world; screen time is becoming a global issue. Over 45% of the world population has a smartphone (which is around 3.5 billion people); this is more than a 30% increase since 2016.
The screen time worldwide is, on average, 6h42min, with no significant difference between gender. In research done in the UK, 99% of children between the ages of 12–15 are online and have an average screen time of 21 hours per week.
While the World Health Organization (WHO) provided some guidelines for screen time and children, there are no guidelines that exist for adults. It is up to us to decide what we believe is an appropriate time we can spend online. It is probably only a matter of time before the government starts publishing recommendations for health concerning screen time.
The next chapters will provide you with more knowledge about the health impact. These chapters will focus on physical and mental health and how it can be affected by our screen time.
Chapter 2: The Digital Impact on Your Body
A group of studies is starting to demonstrate the impact of technology on our bodies. It is safe to say that we are very limited in the knowledge and research about the long-term effects of technology. As people age with social media and wireless technology, we will likely have more discoveries that change our relationship with the digital world. For now, here are a few known issues.
Obesity
Unsurprisingly, obesity, and screen time are connected. A large study of over 90,000 participants concluded that independent of physical activity, it was observed that obesity and screen time are positively correlated. A longitudinal study showed that 60% of overweight incidence in their study was attributable to excess television viewing.
Vision
Another impact on our physical health is our vision. A growing body of research indicates that around 50% of the population will experience Digital Eye Strain (DES). DES is a syndrome that causes a person to have various symptoms like sore, dried, tired, burning or itching eyes, headaches, sore neck, or even a difficulty keeping your eyes open. It can undoubtedly be treated, but no studies demonstrate the long-term impact on our vision.
Posture
Screen time can also impact your posture. A study by Harvard, Brigham and Women's Hospital, and Microsoft show that spending too much time on small devices like a phone can strain muscles, nerves, tendons, ligaments, and spinal discs.
Sleep
Finally, one of the most prevalent physical health impacts of too much screen time is the lack of quality sleep. Research has now demonstrated that the screen light (called blue light) of our device can stimulate the cells in our eyes and reset our internal clock, which is the circadian rhythm. Not only does this affect our sleep, but it could also cause some health issues since circadian rhythm issues are connected to cancer, metabolism issues, and cognitive dysfunctions.
Since sleep is a big challenge for many people, the next chapter will provide you with tips on how you can improve your bedtime routine and get more sleep every night.
Other Details
- 1 Ebook (PDF), 70 Pages
- 2 Graphics (JPG, GIF, PNG)
- 1 Salespage (HTML)
- Checklist, Resource Cheat Sheet, Mindmap, Optin Page, Social Media Images, Email Swipes
- Year Released/Circulated: 2020
- File Size: 38,562 KB
License Details:
[YES] Can be sold
[YES] Can be used for personal use
[YES] Can be packaged with other products
[YES] Can modify/change the sales letter
[YES] Can be added into paid membership websites
[YES] Can put your name on the sales letter
[YES] Can be offered as a bonus
[YES] Can be used to build a list
[YES] Can print/publish offline
[YES] Can convey and sell Personal Use Rights
[YES] Can convey and sell Resale Rights
[YES] Can convey and sell Master Resale Rights
[NO] Can modify/change the main product
[NO] Can modify/change the graphics and ecover
[NO] Can be given away for free
[NO] Can be added to free membership websites
[NO] Can convey and sell Private Label Rights