Salespage Snapshot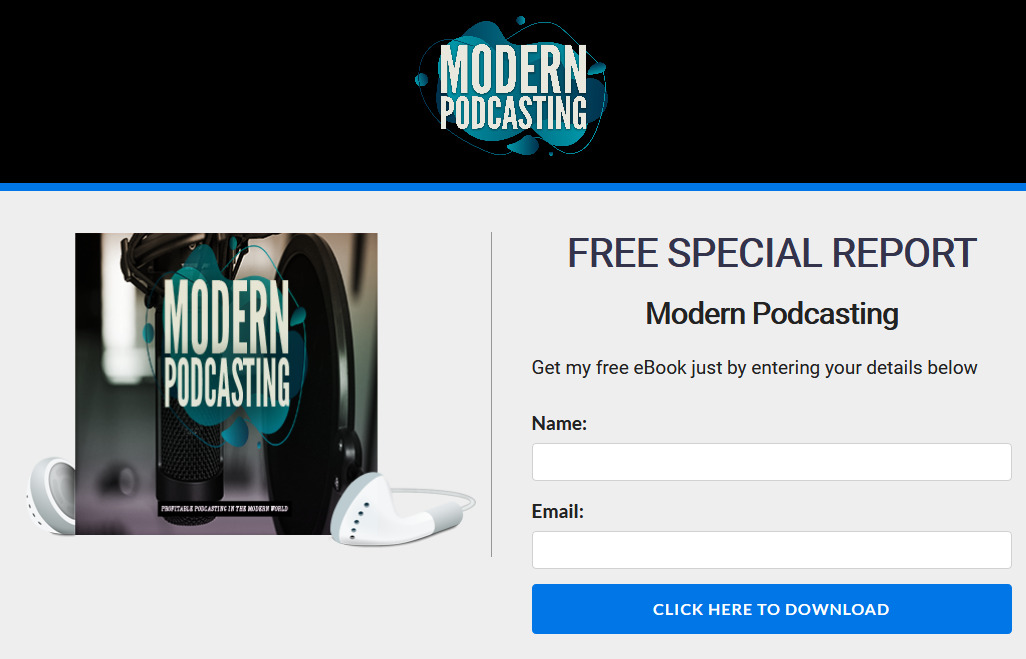 >> Click Here To View Sales Page...
Sample Content Preview
When you go to these websites take a look at the various categories and sub categories for inspiration. If there are products being sold on these websites then this is a pretty strong indicator that there is demand for information in the niche. Always check this using the Google Keyword Planner.
It is absolutely not a good idea to use the microphone in your laptop, smartphone or the one that is attached to those cheap headphones for your podcast recordings. They tend to be very inferior and the sound quality of your recordings will be very poor. When people listen to your podcasts they will give up on them quickly and leave negative reviews.
You must invest in a good quality microphone for your recordings. Borrow one if you have to.
When people listen to your podcasts they will judge them on the content that you are providing and the sound quality. Never create podcasts with poor sound quality. There is only so much that you can do with an audio editing application.
When you are thinking about the equipment that you need for podcasting you need to think long term. If you are going to provide mostly solo recordings then go for a USB microphone like the Blue Yetti that you can plug into your computer. If you want to invite guests to your podcasting studio then invest in XLR dynamic microphones.
Whether you are going to buy a number of good quality microphones or just one, you should always get a pop filter and a stand or boom arm as well. A pop filter will make your recordings sound a lot better and the stand will help you with positioning the microphone so that you can record your voice properly.
For a mini podcast studio you should get a mixer and a digital recorder. You will also need boom arms for all of the microphones. This is quite an investment so you may want to progress to this later on once your podcasts are successful.
We also recommend that you invest in some good quality headphones. Yes you can record a podcast without using headphones but you won't know how good or bad it sounds until you play back the recording. With headphones you can monitor sound quality in real time.
You will need a good audio editing application for your recordings. It is inevitable that you are going to make mistakes especially in your first few recordings. Fortunately there are two really good audio editing suites that are totally free for Windows and Mac computers:
1. Windows users can use Audacity
2. Mac users can use Garageband
These applications will take care of all of your audio editing needs. There are others that cost money but they are really not necessary to get going. You can easily add intro and outro music, sound effects and more with these two audio editing suites. When you are done with your recording you can mix everything down and create an MP3 file.
It is also possible to record podcasts on a smartphone or tablet device. To do this you will need a high quality microphone that clips on to your lapel or tie. These are available from Amazon for around $50. You will also need a recording app and there are many free ones available for both Android and iOS devices.
Although you can edit your podcasts on your smartphone it can be a bit tricky with the small screen.
We recommend that you create an audio file on your mobile device and then use your computer for the editing work.
Another thing that you will need for your podcasts is some good cover art. You will use this on your podcast page and on the podcast directories and other pages to identify your brand. If you are not great at graphic design then find someone on Fiverr.com and pay them a few bucks to do a good job for you.
Finally we recommend that you use a podcast hosting service for your podcast files. You may have a web hosting account that has unlimited disk space but this is for web files and not for audio files. A good podcast hosting service will store your files for a small fee each month and provide you with an RSS link for your podcasts. More on this later.
If you are an expert in your chosen podcasting niche then it can be tempting to just "wing it" and record podcasts on the fly. These rarely work out well. There is always pressure when you are recording so you may miss a number of important points and also mumble a lot. Not a good experience for your listeners!
When you are starting out we recommend that you create a full script for each podcast. You can then read from this when you are recording. By doing this you won't forget anything and you will be less likely to mumble. After a while you can progress to "prompt" scripts where you just work off of a list of prompts to remind you of what you need to talk about.
It is a good idea to interview some experts in your niche and turn these into podcasts. You can set up a call using Skype and then record the conversation. Skype does have its own recorder these days which will produce a mono recording in MP4 format. You will have to convert this to MP3 (not difficult) but a mono recording can be problematic.
Sometimes with Skype calls one of the participants is recorded a lot louder than the other. If only one channel is used for recording (mono) then you cannot do anything to correct the volume imbalance. There are other Skype call recording apps that will record on two channels so that you can make the necessary adjustments.
Another option for interview recording is Zoom. This is more like video conferencing and you set up a room and send out an invite to your interviewee. Zoom calls are always recorded and you will receive this after the call ends. There are free plans and paid plans with Zoom and the recording quality is usually really good.
If you are going to interview an expert using an online call then plan this in advance for the best results. Agree a list of questions with the interviewee before you conduct the interview. This gives the interviewee time to prepare and you will get a better quality interview overall.
You need to be committed with podcasting and be prepared to launch new podcast episodes on a regular basis. Some podcaster publish every day. We recommend once a week or once a fortnight. Whatever publishing frequency you choose be sure to stick to it.
Other Details
- 1 Ebook (PDF, DOC), 13 Pages
- 1 Audio (MP3)
- 1 Graphic (PNG)
- 1 Squeeze Page (HTML)
- Year Released/Circulated: 2021
- File Size: 5,206 KB
License Details:
You're granted master resell rights, resell rights or to resell with personal use rights.
You may add this product to your PAID membership site
You may giveaway the product as a bonus when people buy through your affiliate link
You may edit the included opt-in / squeeze / landing page
You may giveaway the eBook for Lead Generation purpose
No, you may NOT edit the contents of the eBook
No, this product does NOT include private label rights. You are granted Master Resell Rights only