Salespage Snapshot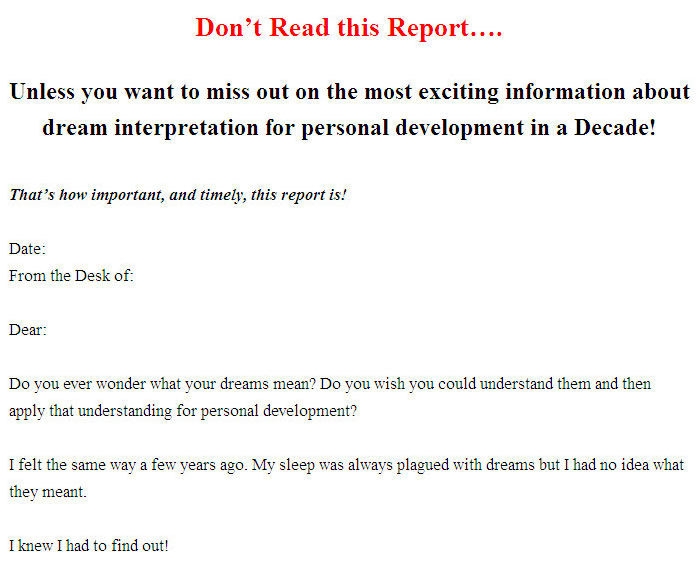 >> Click Here To View Sales Page...
PLR Ebook Sample Content Preview
Dreams can become a tool that can help you gain power of personal development. When you understand your dreams, you can use them by breaking down elements of the dream that you can use to encourage self-development. Our dreams develop from points in our life. By understanding these points, you can extract parts to create your own personality. First, you must take a venture into understanding dreams and how to use them.
To understand your dreams you must probe into the deepest chamber of the mind. Below the conscious mind rests an area of your brain that holds secret messages about you, which this area of the brain is known as the subliminal mind.
What this means is you have "mental processes" that take place in the subliminal mind in which you have no awareness of these thoughts. In the conscious mind you have thoughts that you are aware of, yet in the subliminal mind is your experiences. Because most of our knowledge rests in this area of the brain we are deemed "ignorant" souls.
Within the unconscious mind is our subconscious and subjective mind, which many people fail to explore. We can take control of our life by understanding our dreams, only if we explore the subliminal mind. We must learn to accept by describing the differences of the conscious and subconscious mind.
To help you learn how to understand your dreams we have compiled several articles geared to educate you and help you go through the mental processes of personal development successfully. We can start by assessing our dreams to understand how to use them for personal development.
Other Details* Sales Page:
Included, HTML, MS Word Doc
* File Format:
MS Word Doc, PDF
* Number of Pages:
181
* Included Graphics:
Ecovers
* Download File Size:
968 KB