Salespage Snapshot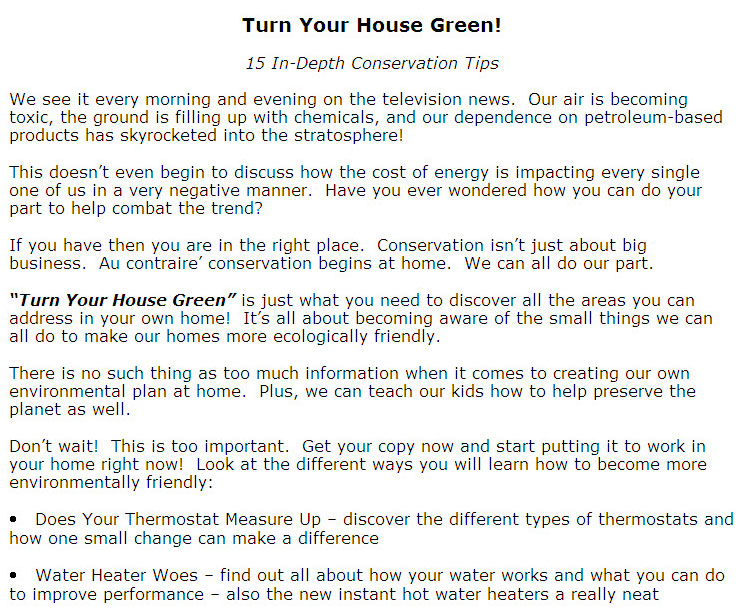 >> Click Here To View Sales Page...
PLR Ebook Table Of Contents
Does Your Thermostat Measure Up
Water Heater Woes
Have You Been Audited
Drip-Drip-Drip
Do You Need a Blanket?
How's Your Head. . .er Throne
Keeping Your Cool
Appliance Know-How
Water, Water Every Where
Is Your Water Gray
In and Out
Let the Sun Shine
How is Your Candle Power?
Dishwasher Drudgery
How to Be a Stripper
PLR Ebook Sample Content Preview
Does Your Thermostat Measure Up
Paying the utility bills can be such a headache. They take up a big portion of the budget for any household. It is always a good idea to keep at hand some tips on how to lower your utility bills. There are various options that you can do to achieve that goal. One of the quickest ways to do this is to install a programmable thermostat in the house.
Installing Programmable Thermostats
Deciding to install a programmable thermostat in your household will definitely prove to be good decision. All you need is to get a programmable thermostat for every unit you have inside the house. This is one effective way to learn effectively how to lower utility bills.
Purchasing a decent programmable thermostat can be made more practical. The price will usually range from $55 to $100. This may seem pricey for some people, especially for those who have more than one heating or cooling unit in their household. However, you can be sure that you can make more savings from lower utility bills. The purchase price is merely a small outlay when you look at the long-term savings.
Today, the energy costs of an average household are comprised largely of the heating and cooling system. This can range from 50% to 70%. The thermostat works by lowering the use of electricity or gas by 1% for every eight hours of use of the cooling or heating unit. Considering this significance, you can't ignore the importance of deciding properly on the type of thermostat that you will install.
Other Details* Sales Page:
Included, HTML, MS Word Doc
* File Format:
MS Word Doc, PDF
* Number of Pages:
57
* Included Graphics:
Ecovers, PSD
* Download File Size:
1,264 KB