Salespage Snapshot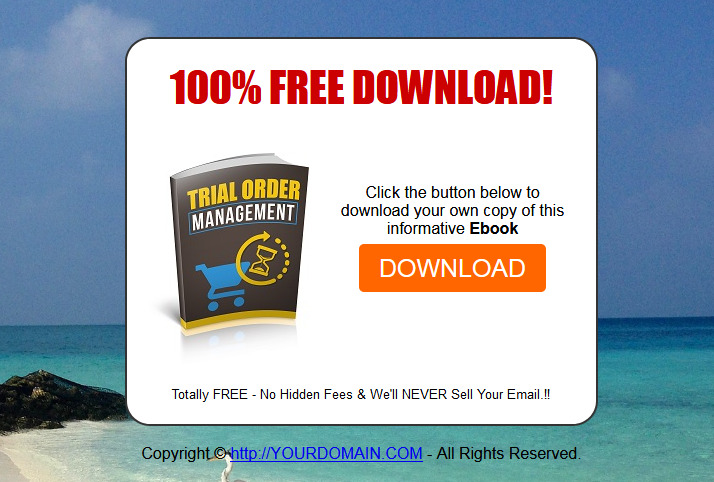 >> Click Here To View Sales Page...
Table of Contents
CPA EXPLAINED .4
THE HIGH VALUE MARKETING OFFER …….4
THE SHIPPING AND HANDLING FEE …..5
RECURRING MONTHLY INCOME .6
THE PAIRED BACK-END OFFERS ..8
SETTING UP ……. 10
A SAMPLE CD FRONT-END OFFER ……13
A SAMPLE DVD FRONT-END OFFER …14
A SAMPLE TEXT-BASED VIRTUAL PRODUCT FRONT-END OFFER …..16
A SAMPLE TEXT-BASED HARD COPY FRONT-END OFFER ……18
A SAMPLE NEWSLETTER FRONT-END OFFER ..19
A SAMPLE COACHING FRONT-END OFFER……..20
DIRT CHEAP SETUP OPTIONS 22
LOCATING QUALITY PLR ON THE WEB …..23
INCREASING THE VALUE OF YOUR PLR….25
SOME PLR WARNINGS ..27
REGULAR PAYCHECKS … 28
BACK-END RECURRING OFFERS 28
CASE STUDY #1 BACK-END OFFER …….28
CASE STUDY #2 BACK-END OFFER …….29
CASE STUDY #3 BACK-END OFFER …….29
CASE STUDY #4 BACK-END OFFER …….30
CASE STUDY #5 BACK-END OFFER …….30
CASE STUDY #6 BACK-END OFFER …….30
CASE STUDY # 7 BACK-END OFFER ……30
MAXIMIZING REVENUE .. 32
WHAT DOES IT MEAN TO BE A ONE-TIME OFFER? ..32
WHERE CAN I USE THIS STRATEGY? .33
WAYS TO EMPHASIZE THE LIMITED OFFER …34
THE CLOSE …….. 36
STRATEGIES PRIOR TO CLOSING DOORS .37
USING THE PSYCHOLOGY OF SCARCITY ..38
THE GRAND FINALE ……39
MANAGEMENT . 41
REASONS YOU WANT MULTIPLE ENROLLMENTS TOO ..41
REWARDING LOYALTY ……..42
ALL ABOUT TRAFFIC ……. 44
DEMOGRAPHICS OF YOUR TRAFFIC .44
VISIT PLACES THESE PEOPLE VISIT ..45
ATTRACTING TARGETED SEARCH ENGINE TRAFFIC ….46
THE GOOGLE KEYWORD TOOL ….47
Sample Content Preview
Recurring Monthly Income
The key to generating a recurring monthly income is the subscription service. Whether you are giving away a free trial to a membership site on a monthly subscription or a set of products that are sent out monthly on a subscription service, you have to let the customer know that they are being signed up for a free trial with the payment of the shipping and handling fee for the free offer. That subscription will automatically be charged to their credit card if they don't cancel the services or do some action within a specific period of time, usually a period of 21 to 30 days. This gets them enrolled in your subscription service right off the bat without having to ask for a credit card again later. And, the nice part about it is that it creates a large amount of recurring monthly income for you.
So, what's so great about recurring monthly income? Well, for one thing, most people are generally lazy and won't bother to cancel a subscription until long after they've stopped using it. The lower the subscription cost, the more they will not want to bother removing it. That's great news for you because a monthly fee is a great way to build up residual income. It may not be a whole lot per person, but once you have hundreds of people signed up for that monthly subscription, even if it's only at $20 each, you can have upwards of $2000 or more coming in for doing practically nothing. You just make sure the products and services you offered for that subscription fee are available.
Now, there will be some people motivated enough to drop out of your program, even if it's for a low monthly fee. So, you will have to constantly increase your member count or have offers to sign up others to keep your recurring monthly income high. The good news is that people will drop out slowly. The first month, most people will have forgotten they signed up for your subscription. If they check their credit card statements, they might find it, and after the second month, consider dropping out. Either way, you will see people dropping out of the program slowly, not at a big drop initially. This means that if you sell 500 subscriptions at $20 a month each, you can pretty much be assured of about $10,000 your first month, or thereabouts!
The Paired Back-End Offers
Each front-end offer is paired to a back-end offer that is another opportunity to up-sell or cross-sell your membership. Even after people have enrolled, you can continue to use that membership enrollment to market other products and services that are not included in the base membership price. This can be done in a variety of ways using the different formats that you will use, like newsletters, product shipments, and so on.
Take, for instance, that maybe your back-end offer is a monthly subscription to a newsletter. Within the pages of that newsletter, you can advertise all the different products and services that don't come as part of the membership to your club. You can offer discounts for members that will give them an incentive to buy as well. Newsletters are an excellent medium for delivering news on new products, events, and press releases. Don't forget to include great information along with the marketing material; otherwise, your customers will view it as a marketing flyer. You want to keep the flavor of the newsletter as something valuable that they will want to read, not as an annoying thing they put up with to get the front-end offer. Make both the back-end and front-end offers high in quality and in value to your customers.
Another way you can use the back-end offers to complement your front-end offers for more promotional opportunities are through customizing the back-end offer to give out free samples of new products and services on a regular basis to tempt customers to buy more. For instance, say you set up a back-end enrollment to a
beauty club where members are promised a shipment of a particular product once a month at a very low price. Include in the shipment samples of other products you are about to launch and give a pre-launch discount for a bulk order. Samples in beauty are some of the most effective methods to get people to buy more and that's why you see organizations like Avon and Mary Kaye giving them away.
Think how much happier your members are going to be knowing that they got a bunch of freebies on the front-end and appear to be getting freebies on the back end too? They'll be deliriously satisfied! They will probably even refer their friends if you ask them to. Meanwhile, those freebies aren't that free as you are setting the stage for the sales of your next products.
SETTING UP
The nice thing about front-end marketing is that you can structure it around multiple types of products. It doesn't have to all be about ebooks. It can be a CD or DVD club, manuals, newsletters, and even coaching. Many of these products and services make ideal items to put in your front-end offer. If you are more in tune with setting up short videos, you can do that too and make that the hallmark type of product you offer in your front-end.
All of the different types of products will appeal to different demographics. It's not just the content that determines the audience that is attracted, but also the format. People who gravitate to YouTube, for instance, will be more visually oriented. They want products that talk to them in video format. So, you can advertise an ebook, but you might have better luck with DVDs or coaching videos on YouTube. There are going to be different people interested in your offers depending on what format you choose.
So, why not choose to make several different front-end offers with a similar topic and get more bang for your buck? Or you can add different formats within one package to try to appeal to a wider audience. For now, let's go over each of the different product forms in our case studies and you can decide what might work best for the audience you are trying to reach.
CDs
These are very easy to record at home using a personal computer and they can hold ebooks and audio files. You don't need too much specialized equipment to do it either. You can even put PLR software on it in executable format on CDs and ship that as your front-end offer.
DVDs
These need a bit more equipment, like a camera (although you can use your web cam to record videos). You will have to know the various formats available for DVD like AVI. Different formats will have different equipment necessary to get good video quality. However, a video is an impressive way to reach your customers and many people enjoy tossing one into their DVD players and watching them.
Other Details
- 25 Articles (TXT)
- 1 Ebook (PDF), 47 Pages
- 1 Squeeze Page (HTML)
- 2 Ecovers (PNG)
- Year Released/Circulated: 2018
- File Size: 1,813 KB
License Details:
[YES] Can sell and keep 100% of the sales.
[YES] Can edit the squeeze page.
[YES] Can be bundled into another paid package and sell at a higher price.
[YES] Can be used as a bonus to another product you are selling.
[YES] Can be sold in a Dime sale event.
[YES] Can be added into a paid membership site.
[YES] Can pass on the Master Resell Rights privilege to your customers.
[YES] Can be given away for free AGAINST an email address (lead generation)
[NO] Contents of the product can be edited, modified or altered.