Salespage Snapshot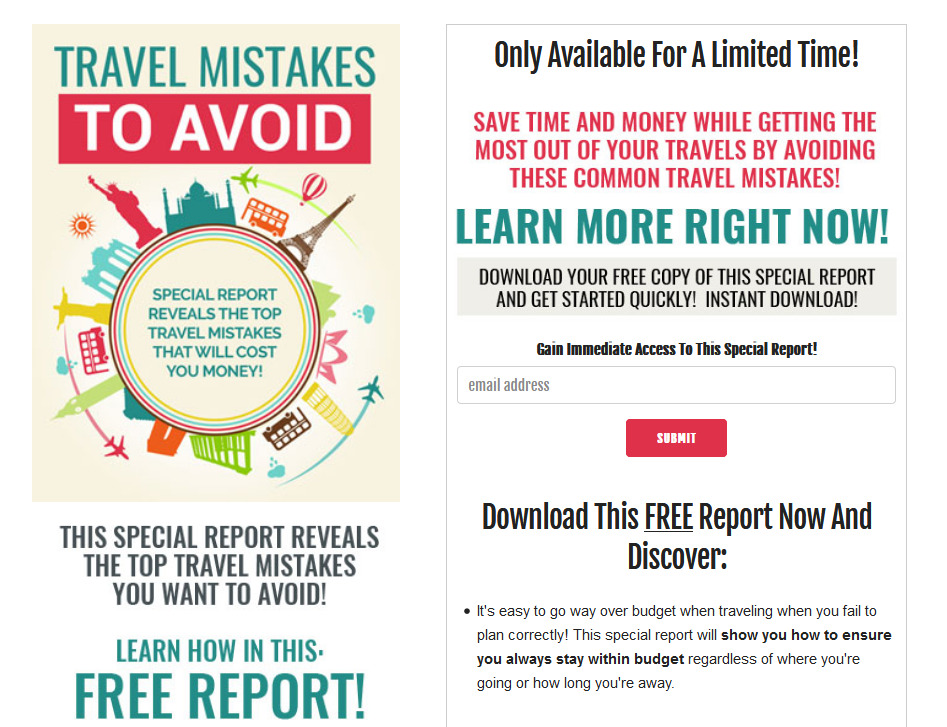 >> Click Here To View Sales Page...
Table of Contents
Table of Contents 3
Introduction 5
Mistake #1: Failing to Plan 6
Mistake #2: Outdated Information 12
Mistake #3: Unsecured Valuables 14
Mistake #4: Overpacking 16
Mistake #4: Currency 19
Mistake #5: Insurance 22
Mistake #6: On The Go 25
Mistake #7: Failing to Set a Budget 26
Mistake #8: Comfort Zone 28
Mistake #9: Overdoing It 30
Mistake #10: Not Confirming 32
Final Words 34
Resources 36
Sample Content Preview
Mistake #7: Failing to Set a Budget
If one of the top mistakes new travelers make is failing to plan early, a close second is not setting a reasonable budget.
Once you have decided on your destination and a rough timeline as to when you plan to travel, it's time to set a budget. You'll want to start by writing down all the current expenses associated with your upcoming travel. This includes estimations for hotel charges, rental cars, flights, attractions, travel and food.
That way, not only will you be able to create an overview of what to expect (and therefore, fewer surprises when it comes time to pay up!), but you'll be able to divide that budget by the number of months you have from now until the time you travel so you can set aside money each money that can go towards your trip.
For example, if you estimate that you will need $2,000 for your trip that takes place in about 6 months, you'd only need to save about $11 a day to be able to afford that trip!
Setting a budget well in advance makes it easier for you to strategize ways to cut costs, save money and get prepared.
For example, you could get a travels reward credit card and plan to use it regularly in the months prior to your trip so that you can then cash those points in towards free flights or hotel stays.
Most hotel chains also offer free reward cards through loyalty programs that offer free perks, early check-in options and more.
Mistake #8: Comfort Zone
If you're the type of person who likes to stick to a schedule as well as stay within a set region or area during your travels, you'll miss out on some great opportunities to learn about culture and how the locals really live.
Most travel experts will tell you to "get lost on purpose". They explain that if you want to learn about how real people live and work, you need to venture outside of your comfort zones (and the busier tourist areas/traps).
Not only will you broaden your horizons, but you'll save money as most venues and restaurants outside of the bustling tourist areas will offer better pricing.
So, try to set aside a day where all you do is explore! Keep an open mind and let yourself get lost in the culture and customs of the places you're visiting!
Mistake #9: Overdoing It
It's easy to get carried away with everything you plan to see and do, especially if this is one of your first major trips. Chances are, you'll also want to plan every detail of your trip down to the minute in the hopes of cramming everything in while staying on schedule.
The truth is, even the best laid plans can fall apart, especially when traveling to new countries.
While we always recommend creating an itinerary (see page 6), it's also important to remember to slow down and enjoy the experience. Don't think of this as the one and only trip you'll ever take. Instead, stay in the moment and minimize stress by not trying to do too much on one trip.
Getting yourself stressed out defeats the purpose of a relaxing and memorable vacation.
Instead, leave enough room in your schedule for off-the-beaten-track adventures! You never know what you may encounter during your travels and you wouldn't want to miss out on an opportunity to experience something new just because you overbooked yourself and are short on time. 
You also want to make sure you have extra time for when things go wrong, such as traffic jams, delayed flights, or other issues out of your control.
Mistake #10: Not Confirming
You may think you've done everything possible to plan the perfect trip. You've outlined an itinerary, you've set a budget, you've saved for your trip and you've spent time carefully packing.
You're ready to go!
Yet one huge mistake that new travelers often make is failing to confirm reservations. This includes flights, hotels and even attractions, in case weather has caused changes to occur, or flights have been delayed.
Double-check that if any of your flights have been delayed or rescheduled, that they still align with any connecting flights you have booked.
You also want to double-check any travel documents, including your passport, visa (if required), and other identification.
And finally, make sure your credit cards aren't set to expire shortly before or during your trip!
Tip: Make sure you also check in before your flight! This will not only save you time but you'll be able to confirm that your flight is scheduled to depart on time. It will also give you the opportunity to select your seats, often free of charge.
Other Details
- 2 Ebooks (PDF, DOC), 38 Pages
- 7 Part Autoresponder Email Messages (TXT)
- 1 Squeeze Page (HTML)
- Year Released/Circulated: 2019
- File Size: 3,463 KB
License Details:
[YES] Can be sold
[YES] Can be used for personal use
[YES] Can be packaged with other products
[YES] Can modify/change the sales letter
[YES] Can modify/change the main product
[YES] Can modify/change the graphics and ecover
[YES] Can be added into paid membership websites
[YES] Can put your name on the sales letter
[YES] Can be offered as a bonus
[YES] Can be used to build a list
[YES] Can print/publish offline
[YES] Can convey and sell Personal Use Rights
[YES] Can convey and sell Resale Rights
[YES] Can convey and sell Master Resale Rights
[YES] Can convey and sell Private Label Rights
[NO] Can be given away for free
[NO] Can be added to free membership websites