Salespage Snapshot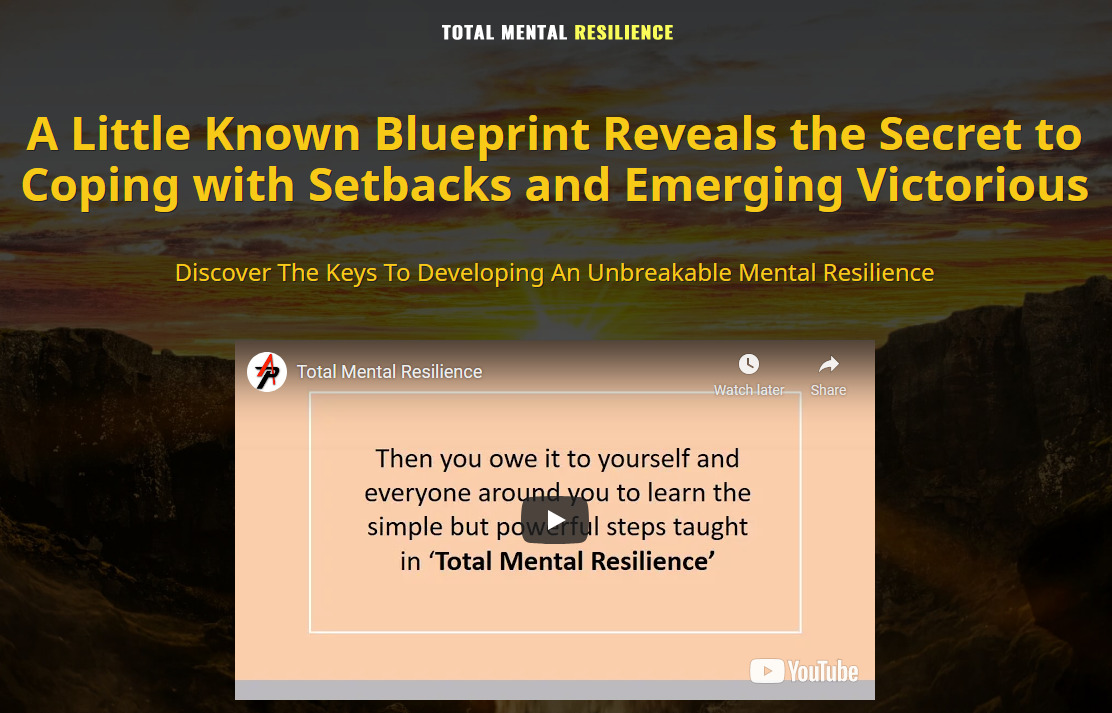 >> Click Here To View Sales Page...
Table of Contents
Introduction 6
Chapter 1: The Trainer Called Adversity .. 9
Tough Times Are Not Avoidable ……… 9
Adversity Is A Trainer . 13
Chapter 2: Critical Facts About Adversity ……… 19
Tough Times Don't Last Forever …… 19
Adversity Is For All ….. 21
There's No Glory Without Adversity 24
Chapter 3: Even the Rich Cries…. 28
Walt Disney ….. 28
Oprah Winfrey . 30
Bill Gates ………. 31
Colonel Sanders ………. 32
JK Rowling …… 33
Stephen King … 35
Chapter 4: Why You Should Stand During Periods of Adversity … 37
Greater Resilience ……. 37
Enhanced Problem-Solving Skills …. 38
Leadership Skills……… 40
Higher Self-Esteem ….. 41
Empathy ………. 42
Lower Anxiety .. 43
Chapter 5: Dangers of Withering Under Pressure …….. 46
Depression ……. 46
Lack of Self-Confidence ……… 48
Loss of Trust …. 49
Fear ……. 50
Shame ….51
Suicidal Ideation ……… 52
Chapter 6: How To Build A Resilient Spirit ……. 55
See Every Challenge As An Opportunity ….. 55
Always Learn From Your Past ………. 56
Reduce Your Expectations ….. 58
Be Optimistic … 59
Take Life One Step At A Time 60
Be Flexible ……. 62
Chapter 7: Common Obstacles To Building Resilience . 64
Getting Stuck To the Past …… 64
Pessimism About The Future 65
Low Self-Efficacy …….. 66
Lack of the Right Relationships …….. 67
Lack of Focus … 69
Upward Social Comparison … 70
Chapter 8: Finish Strong! 72
Be Grateful ……. 72
Surrender Is A Choice: Never Take It! ……… 74
You Have Nothing To Lose Again ….. 75
Make New Friends …… 76
Take a Step Back To Run Forward … 77
Believe In Yourself Again ……. 78
Conclusion 79
Sample Content Preview
Chapter 1: The Trainer Called Adversity
Experience is the best teacher; adversity is the most accomplished trainer. No one really ever wants to face misfortune. We would all have preferred to go through life, enjoying the ride without bumps. However, things are not always as planned and life is not a bed of roses and chocolates, there are always thorns somewhere. In this chapter, we'll explore how the troubles that come our way have come to make us and not break us.
Tough Times Are Not Avoidable
The truth that many people wish isn't true but is the reality is that adversity is inevitable. There're no magic potions or wands that can make an individual avoid troubles and misfortunes in life. Therefore, you shouldn't be hoping that you won't encounter unpleasant periods in your life. Rather, you should be hoping that
you won't experience difficulties that will break you to the extent that you won't be able to rise up.
Indeed, there are terrible situations that can shake a person and make you feel you are cursed. However, if you keep rising from the ashes like the phoenix, you can live a beautiful life. Adversity isn't avoidable because of the following reasons.
You Have Dreams You Want to Achieve
The year 2006 must have been one of the worst years for former Arsenal and French national team football player, Thierry Henry. It was a year Thierry was teary because of the unfortunate situations he found himself in. He lost both the World Cup final and the UEFA Champions League final that year.
These two trophies are the greatest in world football and every footballer dreams of winning one or even both trophies before they retire. In fact, some great football players are mocked after their retirement when they didn't win these trophies during their active days. So, for a man to have lost both trophies in the same year is indeed a sad situation.
Thierry Henry would go on to win the Champions League with Barcelona eventually. The point is that we face challenges and sad days because we have dreams and aspirations we want to accomplish. So, we become frustrated when we don't achieve them. As long as a person has goals he wants to achieve, adversity is inevitable.
You Have People and Things You Care About
Another reason tough times are unavoidable is that we have loved ones and things we want to work out. We all hope to enjoy the companionship and camaraderie of our friends and families for a long time. However, this is not often the case. Sometimes, we lose them to unfortunate situations such as diseases and accidents.
Those days are sad and dark in our lives. It is often tough to move on after the loss of a person very dear to us. Sadly, these situations are part and parcel of life. So, adversity isn't avoidable because we don't have control over situations such as how long our loved ones will live. We care about them and will definitely be devastated when we lose them.
We Have Emotions
One of the biggest differences between human beings and robots is the fact that we have emotions, but they don't. Our feelings are some of the most beautiful parts of our lives. They are the reason we feel appreciated when people celebrate us on our birthdays or when we achieve something significant. Our emotions are also the reasons we feel connected to loved ones and enjoy spending time with them.
However, our feelings are also responsible for unpleasant states such as depression, anxiety, and suicidal ideations. It is because you can feel that you are sad when you experience heartbreak. A robot, regardless of its sophistication, doesn't understand such things. Your feelings are also responsible for experiences such as betrayals, disappointments, and frustrations. You will always have reasons for such feelings as long as you are alive. Therefore, adversity isn't avoidable.
Adversity Is A Trainer
In the words of Booker T. Washington,
"Success is to be measured not so much by the position that one has reached in life as by the obstacles which he has overcome."
You should not ignore such wise words. Having been a leading voice of former slaves and their descendants who weathered oppression at different times, Washington knows a thing or two about adversity. So, you should listen to what he has to say. You might not like the sound of it, but adversity is needed. It is that trainer that takes you by the hand and leads you to the destination of your success.
So, count it all joy during those days when it feels as though the universe has a grudge against you. It is a training that will take away the dross from your silver and make you a shiny star. According to Tony Robbins, "Problems are the gifts that make us dig out and figure out who we are, what we're made for, and what we're responsible to give back to life."
So, quit cursing your luck during those moments you feel like your world is crashing. Your training is on! If you see things this way, you will be able to build more resilience. There is no other way to make a person strong and rugged than the tough times he or she has had. Those moments make you realize that you are stronger than you think.
When you are always avoiding challenging situations, you are missing the opportunities to train yourself for future challenges. Below are the reasons you should not run away from challenges.
You'll Not Be Able To Achieve Your Goals
There are always challenges you have to overcome before you can achieve a goal. Indeed, the level of difficulties differs. However, you must encounter and overcome difficult situations to accomplish your dreams and aspirations in life.
Therefore, it isn't surprising that Booker T. Washington said earlier that the success of a man should be measured by how many obstacles he has overcome. No one can become a success without solving problems. Anyone who is not willing to succeed despite odds stacking up against him should forget about becoming an achiever.
You'll Become Vulnerable
The last thing you want is to be treated like a weakling. Nonetheless, you can set yourself up to be vulnerable to changes when you have a culture of looking for the easy way out. This approach will make you restricted to your plan A. You will not be able to recover once something interferes with your original plan. For example, you will not be able to come up with another winning strategy as an entrepreneur once your initial strategy isn't working.
You'll Not Be Able To Cope Effectively With Stress
Whether we like it or not, we cannot avoid stress. Therefore, it is crucial that we have excellent coping mechanisms and strategies to avoid being overwhelmed by stress. When you have faced a stressful situation before, you won't be anxious when facing it again.
However, when you are new to a situation, you might not have the confidence to face it because you are naïve. This state of mind makes you prone to mistakes, which can be costly and damaging in some situations.
Other Details
- 1 Ebook (PDF), 81 Pages
- 2 Graphics (PSD, PNG)
- 1 Salespage (HTML)
- 1 Promotional Ad Material (Emails)
- Checklist, Mind Map, Landing Page, Lead Magnet, VSL
- Year Released/Circulated: 2021
- File Size: 59,069 KB
License Details:
[YES] Can be sold
[YES] Can be used for personal use
[YES] Can be packaged with other products
[YES] Can modify/change the sales letter
[YES] Can be added into paid membership websites
[YES] Can put your name on the sales letter
[YES] Can be offered as a bonus
[YES] Can be used to build a list
[YES] Can print/publish offline
[YES] Can convey and sell Personal Use Rights
[YES] Can convey and sell Resale Rights
[YES] Can convey and sell Master Resale Rights
[NO] Can modify/change the main product
[NO] Can modify/change the graphics and ecover
[NO] Can be given away for free
[NO] Can be added to free membership websites
[NO] Can convey and sell Private Label Rights