Salespage Snapshot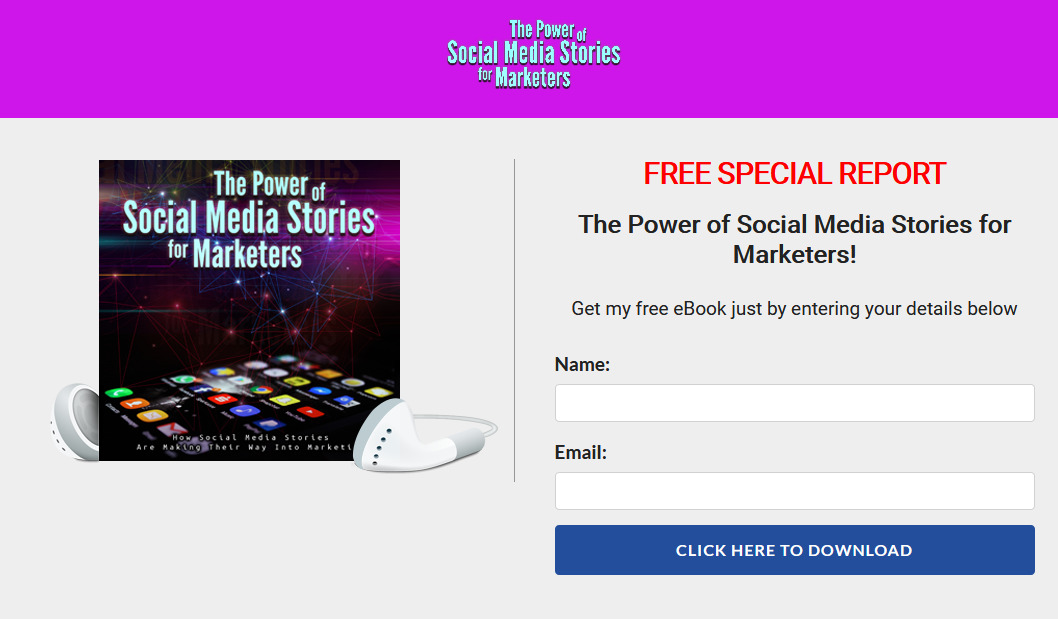 >> Click Here To View Sales Page...
Sample Content Preview
The first way to ensure that your images look professional is to use a good camera. This is very important and can be the difference between images that look amateurish and images that have the professional sheen. If you intend on taking all your Story photos from a phone – which is an option – then make sure it is one with a good camera. The best options right now are the Google Pixel phones or Apple iPhones.
Using a high quality camera doesn't necessarily detract from the 'behind the scenes' feel of a Story. A shot of your office after-hours is still a shot of the office after hours, but by using a high quality camera you show your business in a slightly better light.
Likewise, while you might have a messy desk in real-life, this is something else you might want to tone down. Not only will the image look better if the background is less cluttered, but it will also present your business as a more organized one. You want to show people a little behind the curtain but still ensure that your image is carefully orchestrated.
You also need to think a little bit about the composition of your photos. Don't just point and click, but instead arrange the various elements in a way that gives your photo depth. For instance, using a path leading into the distance can draw the eye from the centre to a focal point, while at the same time giving your image a greater 3D feeling. Likewise choosing images that are in both the foreground and background can give your picture more layers.
Framing is another useful strategy which means taking a photo so that there's an element such as a tree along one side of the photo, while you should also look at the different ways to play with expectations: the subject doesn't have to go right in the middle of the shot, why not have them slightly to one side? Making pictures interesting and showing that you gave at least a little thought to them can make a huge difference to the way that they come across.
Consider lighting too. Don't just shoot a person with a strong light source behind them, as they'll look dark and the exposure will be all wrong. The best angle for lighting is for it to hit the subject at a 90 degree angle. Take that extra moment, and your shot will look all the better for it.
How to Photograph Products
This becomes extremely important if you want to promote a product. This is one scenario where you want to ensure your brand looks professional, and that the subject of the photo has a sheen and an appeal.
To photograph a product, there are a few different things to keep in mind. Some of these are things we've already considered. For example: it's important to consider lighting. Here, investing in at least a small light box can make a huge difference by creating some dramatic shadows.
Thinking about backdrop is also important. And one of the most popular options when it comes to backdrops for products is plain white. A MacGyver way to achieve that is simply to take a white bed sheet and then to pull it taut over a table or similar. Now you can stand your product in the middle and shine your light just how you want it.
ALWAYS make sure that the product is crystal clean. Find a microfiber cloth and take the time to wipe it down. Otherwise a few fingerprints or a little bit of dust or lint can make it seem significantly less impressive.
Another option is to zoom right in on specific aspects of your product. If you choose a camera wide a wide aperture then you can set the focus to the extreme foreground. This will blur out everything in the background, which is idea if you want to show off – say – the keyboard on a shiny new computer. Then there is always the argument for showing products in use and the way that they help make their owners' lives better.
Photo Editing With Photoshop
And of course, don't forget editing! If you really want to take your Stories to the next level, then doing a little editing before uploading them can make a world of difference.
Learning to use Photoshop is a very worthwhile skill to develop and one that can be useful in a large number of situations. Of course if you're at all interested in web design, graphic design, photography, art or even app development; being able to create your own backgrounds and images will be a great help and could even enhance your career! And actually, being able to list Photoshop skills on a CV can help with a great many different jobs.
But of course what we're interested in right now, is using Photoshop for Stories.
So how do you go about starting to learn?
Come Up With a Small Project
A very good piece of advice when trying to learn any new skill is to give yourself a small project to work towards. In other words, rather than just blindly trying to acquire as much information about Photoshop as you can – start with a particular image in mind that you want to edit and then look up the skills necessary to do that as you go.
What this does, is give you a foundation and a direction that allows you to ground what you're learning in some kind of context. It means you learn why certain skills are useful and how to use them – rather than just learning in a more abstract manner. It also makes the learning process much more rewarding!
Other Details
- 1 Ebook (PDF, DOC), 11 Pages
- 1 Audio (MP3)
- 1 Graphic (PNG)
- 1 Squeeze Page (HTML)
- Year Released/Circulated: 2020
- File Size: 9,380 KB
License Details:
You're granted master resell rights, resell rights or to resell with personal use rights.
You may add this product to your PAID membership site
You may giveaway the product as a bonus when people buy through your affiliate link
You may edit the included opt-in / squeeze / landing page
You may giveaway the eBook for Lead Generation purpose
No, you may NOT edit the contents of the eBook
No, this product does NOT include private label rights. You are granted Master Resell Rights only