Salespage Snapshot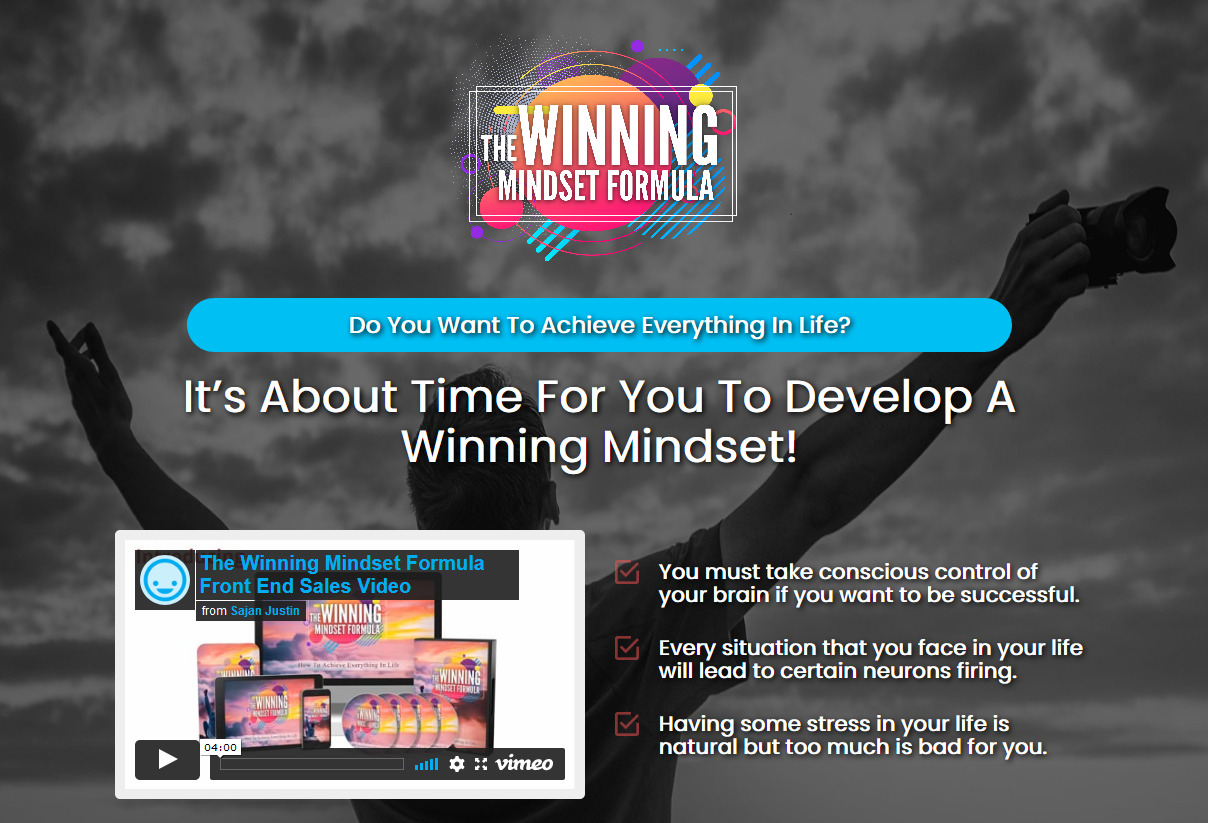 >> Click Here To View Sales Page...
Sample Content Preview
When your conscious mind receives information from your 5 senses it will make decisions based on what you deem relevant in your life. The conscious decisions that you make have a significant impact on your subconscious mind.
Every day of your life your conscious mind makes decisions that reprogram your subconscious mind. This happens without you realizing it. Your beliefs, thoughts and habits all end up programmed in your subconscious.
It is a "garbage in garbage out" scenario. If your conscious mind decides that you are not good at making money then this gets programmed into your subconscious. It will stay there until you reprogram your subconscious.
Train your Subconscious
The first step to developing a winning mindset is to train your subconscious to think successfully. You may think that this sounds an extremely difficult or even impossible thing to do. After all, your subconscious has had years of programming. But it is possible if you use the right techniques and put in consistent effort.
In the first chapter you learned about neurons and neurotransmitters. The configuration of the firing of neurons comes from your subconscious as does the neurotransmitters released. If your subconscious believes that you are no good at making money then when you think about making money it will fire off the appropriate neurons and release specific neurotransmitters.
The result of this is that you will experience a thought in your head something like "you have never been any good at making money so don't waste your time". Have you ever had thoughts like this? Of course you have – we all have. To develop a winning mindset you have to change your subconscious programming so that you experience different thoughts.
Can you reprogram your subconscious mind? Yes you certainly can, and it is what this guide is all about. The reason why most people do not change the way that their subconscious minds are programmed is because it takes effort and consistency. It's much easier to sit on the couch watching meaningless TV and eating chips!
But you are different. The fact that you are reading this guide puts you streets ahead of the majority of the population. Reading this guide will make you aware that you can develop a winning mindset – taking consistent action will turn this into a reality for you.
If you have a number of limiting beliefs buried in your subconscious mind then you can change these. You can turn negative habits into positive and empowering ones. It is essential that you believe that you can do this. Without unwavering belief you will fail.
The first two chapters of this powerful guide showed you how your brain works and the power of your subconscious mind. By changing the programming in your subconscious you will change the way that your brain works in terms of the firing neurons and released neurotransmitters.
The concept is simple but the practice isn't. You will need to use the right techniques which you will learn in this guide and then act on them on a consistent basis. This has worked for other successful people and it will work for you too.
In the next chapter we will discuss knowing what you want from your life…
Imagine that you have gathered 100 strangers in a room and 50% are male and 50% female. You then ask them this question:
What do you want from your life?
What do you think the response will be?
Well there will probably be a lot of painful expressions on the faces of a number of the people as they think hard to try and answer the question. The responses are going to be different with each group of people but most likely they will be as follows:
• A very small percentage (around 3%) will tell you exactly what they want from their life.
• A larger percentage will say that they have some ideas but have not decided yet.
• The vast majority will tell you that they have no idea or have not even thought about it.
Here is the bottom line – if you don't know what you want then you will end up with whatever life throws at you. Sadly this is how most people live their lives. They do not have a purpose in their life that drives them. They do not have a winning mindset.
How do you think the people will react if you ask them where they will be in five years time? Most of them will have no idea and only a very small percentage will be able to tell you where they will be without hesitation. These people are winners. They know what they want and where they want to be.
You must decide what you want
You can only develop a winning mindset if you know what you want. If you are not clear on what you want right now then don't worry this guide will help you. The reason that most people don't know what they want is that it takes effort to think about it and then decide. You are different because you want to develop a winning mindset.
You need clear goals and a reason WHY. The setting of goals will provide a clear path for your success. Developing as WHY statement for your goals will provide you with the motivation to achieve your goals.
Anyone can set goals. In order to achieve your goals you need an emotional driver. The emotional driver is your WHY statement. It makes you jump out of bed in the morning ready to take massive action and move closer to your goals.
So here is what you need to do now. Set aside some time to think about what you want. The best way to identify what you want is to ask yourself a number of questions and then write down the answers.
Other Details
- 10 Articles (TXT, DOC)
- 1 Ebook (PDF), 30 Pages
- 7 Graphics (JPG, PNG)
- 1 Salespage (HTML)
- 10 Ecovers (JPG)
- 2 Promotional Ad Materials (Emails, Banners)
- Resource Report, Cheat Sheet, Mindmap, Social Media Images, Legal Page, Sales Video,
- Year Released/Circulated: 2020
- File Size: 223,725 KB
License Details:
[YES] Can be sold
[YES] Can be used for personal use
[YES] Can be packaged with other products
[YES] Can modify/change the sales letter
[YES] Can be added into paid membership websites
[YES] Can put your name on the sales letter
[YES] Can be offered as a bonus
[YES] Can be used to build a list
[YES] Can print/publish offline
[YES] Can convey and sell Personal Use Rights
[YES] Can convey and sell Resale Rights
[YES] Can convey and sell Master Resale Rights
[NO] Can modify/change the main product
[NO] Can modify/change the graphics and ecover
[NO] Can be given away for free
[NO] Can be added to free membership websites
[NO] Can convey and sell Private Label Rights