Salespage Snapshot: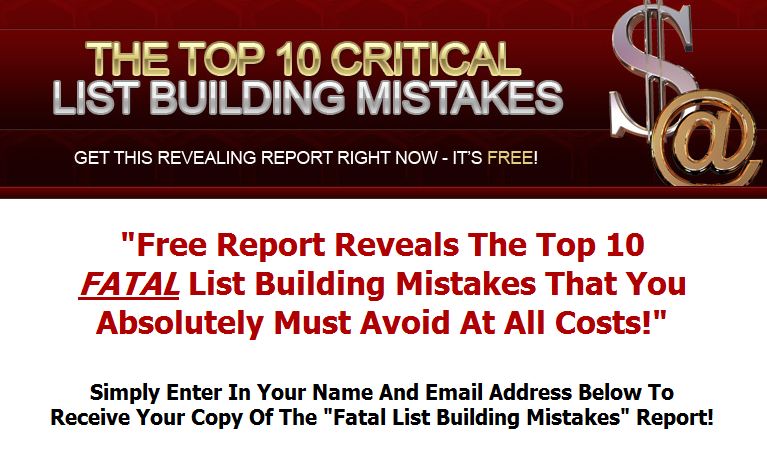 >>> Click Here To View Full Sales Page…
Table of Contents
LIST BUILDING MISTAKES TO AVOID 4
MISTAKE #1: NOT USING A PROFESSIONAL AUTORESPONDER 6
MISTAKE #2: POORLY STRUCTURED SQUEEZE PAGE 9
MISTAKE #3: FAILING TO SPLIT TEST 12
MISTAKE #4: FAILING TO BUILD BRAND AWARENESS 14
MISTAKE #5: PROMOTING IRRELEVANT PRODUCTS 15
MISTAKE #6: FAILING TO DELIVER QUALITY CONTENT 17
MISTAKE #7: LETTING THEIR LISTS RUN COLD 19
MISTAKE #8: FAILING TO SEGMENT 20
MISTAKE #9: COPY & PASTE FANATICS 22
MISTAKE #10: FAILING TO MONETIZE 23
Sample Content Preview
Keeping a pulse on your subscriber base and how well they respond to your broadcasts this will help you improve your mailings and tailor your campaigns so that they directly communicate with those who have subscribed to your lists.
You can review detailed statistics for your entire newsletter by logging into your autoresponder administration panel (most autoresponder services should offer enhanced features, some with the option to upgrade for access to advanced tools)
IMPORTANT NOTE: It is quite difficult to switch autoresponder providers once you have established a mailing list as your subscribers will have to resubscribe to your new list. Keep this in mind when you begin building your lists and choose to create an account with a reputable autoresponder company right from the start.
Here are a few of my recommendations: Get Response: www.GetResponse.com Aweber: http://www.Aweber.com And we really recommend Sendtextalerts.com if you want to be on the cutting edge of mobile phone list building. http://sendtextalerts.com These are more than just professional email senders. Anyone serious about building a list should visit these websites and compare features.
MISTAKE #2: POORLY STRUCTURED SQUEEZE PAGE
One of the most important elements of a successful email marketing campaign begins with a well-constructed squeeze page.
Your squeeze page is the 'doorway' into your email marketing system and if it fails to convert visitors into subscribers; you will struggle to build your lists. Your squeeze page needs to be very clean and simple.
You want people who visit your website to be given ONE option only; to subscribe to your newsletter.
This means that you need to minimize any external links, and really emphasis your opt-in form.
You also want to limit the graphics that you use on your squeeze page, so that it loads quickly and doesn't distract your visitor from your objective; getting them on your mailing list.
In order to create an effective squeeze page that encourages visitors into subscribing to your list, consider the different types of incentives that you can offer. When it comes to listing the benefits you need to be clear and concise.
Make sure they understand 'what is in it for them', and what you are offering that will assist them (remember, solve a problem, address an issue, offer a way to save time, money, relationships, etc).
When creating the body content for your squeeze page, consider underlining, highlighting or colorizing important information so that you can draw attention to the areas of your squeeze page that you want your website visitors to pay special attention to.
There is no better way to call attention to your offers while looking professional, than by implementing elements to your page like Awesome Slider at Awesomeslider.com.
Savvy marketers feature a "bribe" on their squeeze pages that provide a special offer in exchange for a visitor subscribing to their lists.
You could offer:
Free Report
Free Ebooks
Free Designs or Templates
Free Graphic Packages
Free Video Guides
Free Tutorials
Free Sample Chapter (from a paid product)
Free e-Courses, Newsletter, Magazine
This a very effective method of building your list, however you need to make sure that whatever you decide to offer is directly targeted towards your niche market.
Make sure that your squeeze page looks professional with a clean template and simple layout. If you aren't familiar with HTML and editing code, you will find it easier to purchase a pre-designed squeeze page template that you can easily edit and customize to suit your needs.
MISTAKE #3: FAILING TO SPLIT TEST
Split testing squeeze pages is an important element of a successful email marketing campaign.
Regardless how well you design your site, or how thoroughly you analyze each section of your squeeze page, there is no way that you will be able to accurately predict how well your visitors will respond to your offer, without comparatively testing alternative layouts.
One easy method of testing your pages and evaluating conversion rates is by using Google's Website Optimizer, a free tool that will help you run simple split tests of any websites you own.
You can sign up for a free account at: http://www.google.com/analytics/
When split testing, start with only one element at a time.
For example, if you change the headline on your squeeze page, leave everything else in its original state until you determine whether tweaking your headline helps with conversion rates.
Since you are split testing different layouts and overall structure, you don't have to get it right the first time, as long as you consistently work to tweak your copy until you are able to significantly maximize conversion rates. Once you have determined what headline works best, change another element of your squeeze page, such as the color scheme, opt-in box frame, or summary of your offer.
Always test the original against the variation and give it enough time to accurately determine whether your changes have increased your subscription rate before making any permanent changes.
Google's Website Optimizer tool will provide you with enough information to be able to quickly analyze and evaluate your progress.
MISTAKE #4: FAILING TO BUILD BRAND AWARENESS
It's important to build brand awareness and develop a relationship with your subscriber base, because the more that your list members trust you and the product recommendations that you make, the easier it will be to convert those subscribers into repeat customers.
Every message and broadcast that you send to your subscriber base should directly represent you.
You should also register your own domain names and set up professional hosting accounts that can house your squeeze pages and websites. It's important that you establish an online presence and give people clear direction as to how they can reach you or find out more about you. There are many different providers available online that offer both domain names and hosting accounts including http://www.hostgator.com you can set up an account to host your site for as little as ten dollars a month.
MISTAKE #5: PROMOTING IRRELEVANT PRODUCTS
It's important to build brand awareness and develop a relationship with your subscriber base, because the more that your list members trust you and the product recommendations that you make, the easier it will be to convert those subscribers into repeat customers.
Every email you send to your list should directly work towards strengthening your brands recognition for value. This means that you must be extremely careful with the kinds of products you promote as well as the quality of the products you endorse.
Whether you are the developer or not, if you give it your stamp of approval, your subscriber base will hold you accountable, should the product or service fail to deliver.
To save yourself from wasting time reviewing products that are not good…Here is a list of products pre-screened and have a high level of proven quality from Simon Hodgkinson. http://hodgkinsonpublishing.com/clickbank/
You should therefore always review each product or offer you are planning to promote so that you can not only stand behind it, but also can directly answer any questions that your subscribers may have about the offer. You also need to make sure that the products and services you are advertising are relevant to your newsletters overall theme or topic. If your subscriber originally signed up for your newsletter in order to receive information on "dog training", they aren't likely going to be responsive (or impressed) if you begin to send out content relating to "online marketing". Keep your emails focused and relevant. If you end up venturing into a new niche or are interested in exploring other markets, you should work towards creating individual segmented lists for each niche.
Other Details
- 1 Ebook (PDF, DOC), 27 Pages
- 7 Part Autoresponder Email Messages (TXT)
- 1 Squeeze Page (HTML, PSD)
- File Size: 8,607 KB