Salespage Snapshot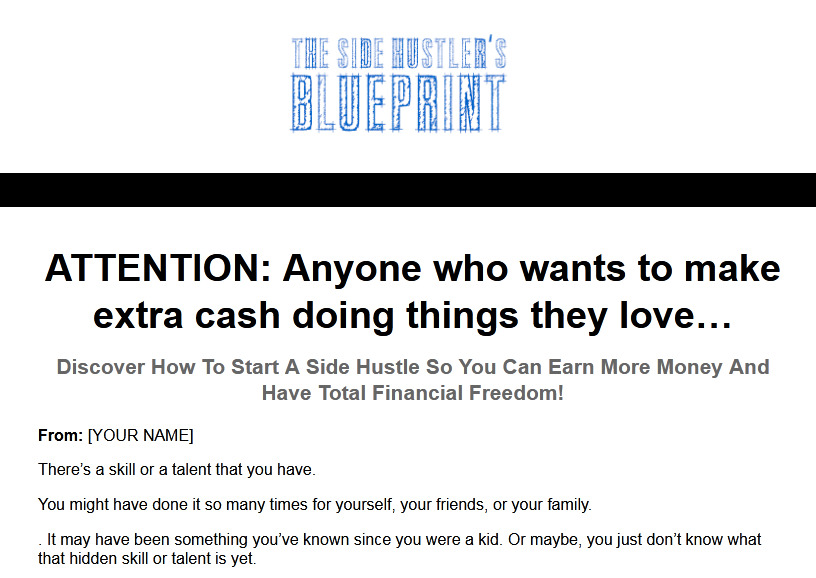 >> Click Here To View Sales Page...
Table of Contents
Introduction 6
Chapter 1: Embracing The Side Hustler Mindset 9
Discovering the Benefits of Side Hustling 10
Cultivating the Right Attitude for Success 11
Overcoming Common Side Hustle Challenges 11
Chapter 2: Identifying Profitable Side Hustle Opportunities 13
Assessing Your Skills, Interests, and Passions 13
Researching Lucrative Market Niches 14
Evaluating the Viability of Your Ideas 15
Chapter 3: Planning Your Side Hustle For Success 18
Defining Your Side Hustle Goals and Objectives 18
Creating a Solid Business Plan 19
Setting Realistic Expectations and Milestones 20
Chapter 4: Building A Strong Brand And Online Presence 23
Developing Your Personal Brand 23
Establishing a Professional Online Presence 25
Leveraging Social Media for Marketing and Promotion 27
Chapter 5: Marketing Strategies For Your Side Hustle 29
Identifying and Targeting Your Ideal Customers 29
Crafting Effective Marketing Messages 30
Utilizing Online and Offline Marketing Channels 32
Chapter 6: Managing Your Time and Resources 35
Effective Time Management Techniques 35
Maximizing Productivity in Your Spare Time 36
Managing Finances and Resources Wisely 38
Chapter 7: Scaling And Growing Your Side Hustle 40
Strategies for Scaling Your Business 40
Expanding Your Product or Service Offerings 41
Building Customer Loyalty and Retention 42
Chapter 8: Overcoming Challenges and Sustaining Success 45
Dealing with Setbacks and Obstacles 45
Balancing Your Side Hustle with Other Commitments 46
Maintaining Long-Term Success and Growth 47
Conclusion 50
Sample Content Preview
Chapter 1: Embracing The Side Hustler Mindset
Whether you are a firm believer in the Law of Attraction/Assumption, believe that like attracts like, or have no interest in any of that at all, you still need to understand that owning a side hustle takes some serious mindset work. While you might be champing at the bit to work on taking action and building your business from the ground up, you need to stop and do some inner work first. If you approach the outer action with a serious mindset, then you will get a lot more done than if you try to take action while sabotaging yourself with your inner talk.
First, you need to get excited about your side hustle. Far too many people see side hustling as a massive mountain that they need to climb. Much like a real mountain, you might start off with some serious enthusiasm, but about halfway up you will start to get tired and want to go back down. This can cause some serious problems if you have invested a lot of money into your side hustle, but then want to quit when the going gets tough.
The fastest way to overcome this problem is to continually get excited about your side hustle, and the best way to get excited is to focus on the benefits. Side hustling can bring a lot of benefits to your life and it is important to not just remind yourself of them at the start of your business journey, but also during the journey so you can keep pushing ahead.
Discovering the Benefits of Side Hustling
Obviously, the first benefit is that you get to do something you love, and you get to work with your passion. Whether your side hustle is baking cookies for people, writing custom code for business, or providing coaching about something that you really care about, you should be extremely excited and passionate about the topic you are working with. Working with your passion, and working on your side hustle, should bring you some serious joy and excitement in your life.
You should be extremely excited every single time you sit down to work on your side hustle because it is something you are very excited about. That"s one of the biggest benefits, and it can really make you feel good after a long and hard day to come home and work on your side hustle.
Another big benefit of having a side hustle is that you can make some extra money sharing what you love with the world. Whether you are making money by sharing a product or service or performing commissions for a fee, getting a little extra income never harmed anyone.
Additionally, you will be able to watch your customers benefit directly from what you are doing and selling. Being able to watch your products, services, or talents make someone else smile can be a massive benefit that just makes you feel good.
Cultivating the Right Attitude for Success
Once you have all of the benefits laid out in front of you, you need to focus on having the correct attitude. A side hustle should, at its core, not feel like work and not drive you crazy. You don"t want your side hustle to become a source of stress for you and your family, you want it to keep feeling fun and exciting because that is going to keep you motivated in the face of some of the challenges that will pop up.
So don"t get discouraged when challenges and obstacles pop up that threaten to stop your progress in its tracks. Instead do your best to have some fun with it and see each challenge as just that. It is a challenge that you are going to do your best to fully overcome.
Overcoming Common Side Hustle Challenges
Persistence is going to be the hardest thing to do, because it is one thing to get the mindset when things are easy and you are eager to keep on working. But it is another whenever life is grinding you down and the side hustle isn"t doing what it should to make you money. So make sure to have strategies in place to get you into that mindset of excitement where everything is possible, even if the world is falling apart around you.
Other Details
- 1 Ebook (PDF), 51 Pages
- 2 Graphics (JPG, GIF, PNG)
- 1 Salespage (HTML)
- Checklist, Resource Cheat Sheet, Mindmap, Optin Page, Social Media Images, Email Swipes
- Year Released/Circulated: 2023
- File Size: 46,681 KB
License Details:
[YES] Can sell and keep 100% of the sales
[YES] Can edit the sales letter
[YES] Can be bundled into another paid package & sell at a higher price
[YES] Can be used as a bonus to another product you are selling
[YES] Can be sold in a Dime sale event
[YES] Can be added into a PAID membership
[YES] Can pass on the Master Resell Rights privilege to your customers
[NO] Can be given away for free
[NO] Contents of the product can be edited, modified or altered
[NO] You may NOT giveaway the main eBook for free. Must be sold for at least $10