Salespage Snapshot: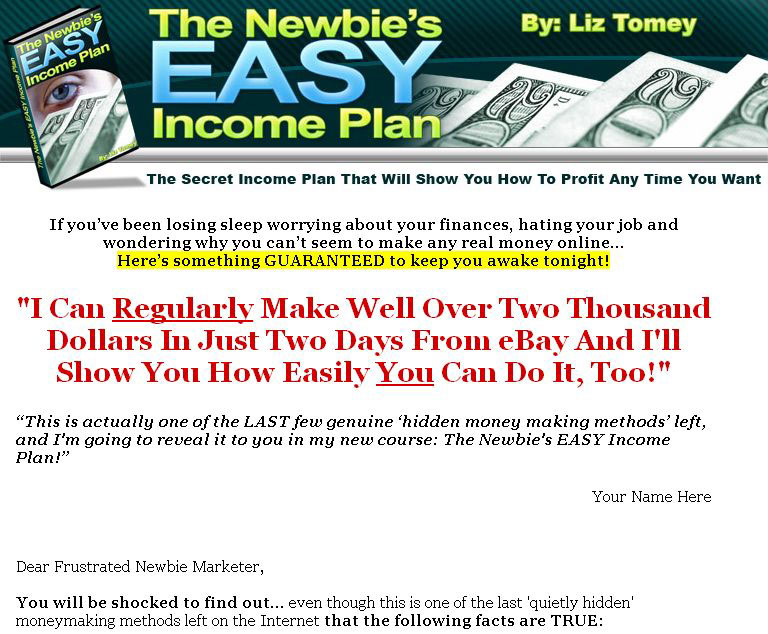 >>> Click Here To View Full Sales Page…
Sample Content Preview
Welcome to The Newbie's Easy Income Plan
One of the hardest things to come to grips with when you start out on your Internet marketing career is that money is quite easy to come by if you put your mind to it.
As workers in the 3-D world, most of us have been told from an early age that we must work for our money and that hard work equates to financial reward. Rubbish! Complete and utter rubbish.
How long would it take you to raise a thousand dollars now? I've mentioned in previous ebooks how I've seen grown men in tears because they needed a little extra cash and couldn't conceive how they would get it. To them an extra thousand dollars might as well be an extra ten million!
So would you have to work overtime for a month of two? Would you have to max out your credit card or go humbly begging to the bank?
Listen – a thousand dollars in small change compared to the money you could make from Internet Marketing and Joint Ventures. I'm going to show you how you can bring in over a thousand dollars time after time in around 2 days – maybe 2 weeks if you're starting from absolute scratch and need a little preparation work.
Please let me explain… and then it will all become crystal clear to you.
A little while ago I sent an email to an Ebay seller. It was a very informal email. It started with the word 'Hiya' and I offered him a joint venture because I have a large list.
(I'll be giving you the exact wording of that email later on in this course.) No, my email to the seller was not very professional I agree, but it was exactly what was required, because the following 48 hours resulted in me banking $3,500 (well it actually went into my Paypal account then my bank account a few days later). Unfortunately only half this money was mine, but still not bad for two days work.
The Ebay seller was someone I'd never contacted before. A total stranger except for the fact that I knew of him because I'd spent some time browsing the listings. Still I had no doubt that he would reply, even if it was a polite 'no'. And, in reality there was little chance of a 'no' really – would you say no to an email that suggested you could make a nice lump sum in two days from your own product? At the very least you'd probably want to hear more.
Other Details
- Ebook (PDF), 32 Pages
- Salespage (HTML)
- Ecover (JPG)
- Year Released/Circulated: 2007
- File Size: 1,267 KB
License Details:
• You have full master resell rights to this product.
• You MAY resell this product and give resale rights to your customers.(Suggested value:$47)
• You MAY offer this product as a bonus to a PAID product.
• You MAY include this product on a PAID membership site.
• You CANNOT give this product away for free.
• You CANNOT include this product on a free membership site.
• You CANNOT sell this product or give it away on Ebay or any other auction site!
• You CANNOT change ANY of the content