Salespage Snapshot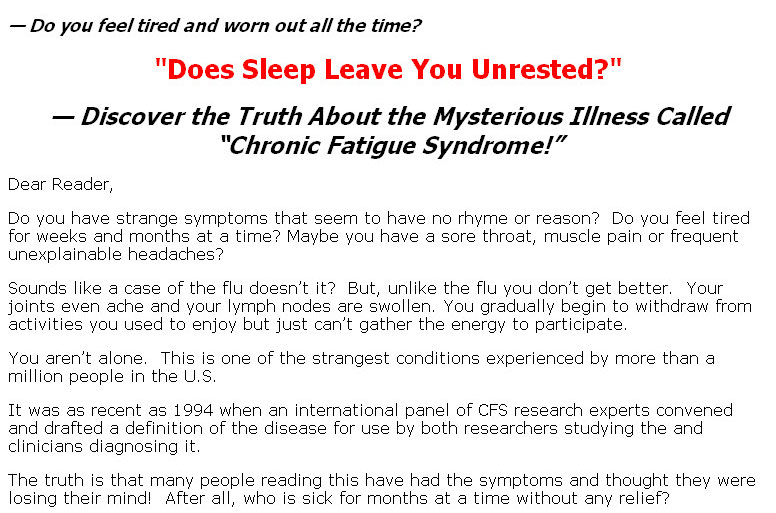 >> Click Here To View Sales Page...
PLR Ebook Table Of Contents
What is Chronic Fatigue Syndrome?
What Causes Chronic Fatigue Syndrome?
What Are the Symptoms of Chronic Fatigue?
Who Gets Chronic Fatigue Syndrome?
Diagnosing Chronic Fatigue Syndrome
Who Treats Chronic Fatigue Syndrome?
Gualfenesin and Chronic Fatigue Syndrome
Complications of Chronic Fatigue Syndrome
What Tests Are Available for CFS?
What Are The Psychological Ramifications of CFS?
Chronic Fatigue Syndrome and Depression
Treatments for Chronic Fatigue Syndrome
Experimental and Drug Therapies for CFS
Alternative Treatments for CFS
Support Group Therapy
PLR Ebook Sample Content Preview
What Is Chronic Fatigue Syndrome
Chronic fatigue syndrome (or CFS) is a complex disorder characterized by a profound fatigue that is not improved by bed rest. Moreover, it may be worsened by physical or mental activity.
It is a condition classified by the World Health Organization as a nervous system disease, of unknown etiology, and potentially causing severe disability that can last for months and years.
It was only in 1988 that the name Chronic Fatigue Syndrome is attached to the mysterious illness.
Symptoms
Persons afflicted with CFS have a lower level of activity than they were capable of before their illness. Patients report that they experience not only weakness, but also muscle pains, impaired memory or mental concentration, insomnia and fatigue that can sometimes last for more than 24 hours.
Some CFS cases persist for years, with cause or causes still unidentifiable up to the present. The biggest reason is the unavailability of specific diagnostic tests.
Other Details* Sales Page:
Included, HTML, MS Word Doc
* File Format:
MS Word Doc, PDF
* Number of Pages:
75
* Included Graphics:
Ecovers, PSD
* Download File Size:
2,496 KB