Salespage Snapshot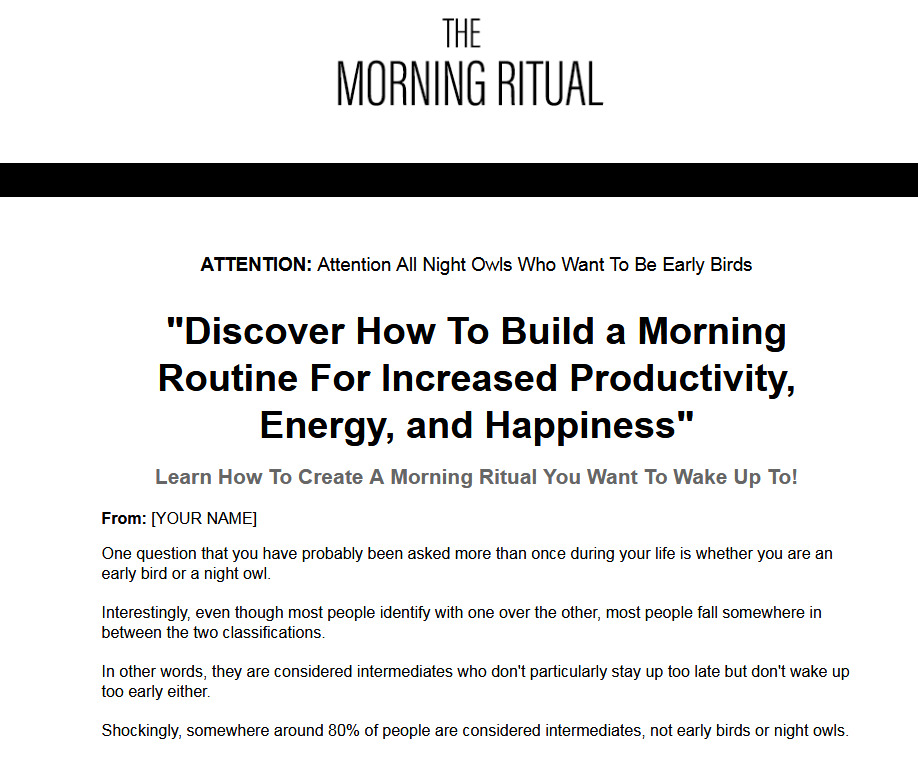 >> Click Here To View Sales Page...
Table of Contents
INTRODUCTION . 6
HOW A MORNING RITUAL CAN BENEFIT YOU…… 9
Increases Productivity ……. 9
Boosts Energy Levels ……. 9
Increases Happiness ……10
Develop Healthy Habits ..11
Will You Actually See These Benefits? …12
Recap ……12
START WITH WHAT YOU HAVE …..15
Keep A Morning Journal .15
What Do Your Mornings Look Like? …….16
Go About Your Morning As Usual …17
Reflect on the Journal …..17
Recap ……18
KNOW WHAT YOU WANT FROM YOUR MORNING ROUTINE…..20
Perception …….20
Know Your Main Objective for Creating a Morning Routine …21
Prioritize Your Goals …….22
Know What To Keep and What to Change …..22
Select Activities That Match Your Goals .23
Focus On One Activity At A Time …24
Recap ……24
MORNING ROUTINES FOR BUSY MORNINGS …..26
Why You Need A Busy Morning Routine 26
What To Keep In Mind When Creating A Busy Morning Routine …26
Busy Morning Routine Ideas And Tips ….27
Recap ……29
MORNING ROUTINES FOR SLOW MORNINGS…..31
Why You Need A Slow Morning Routine 31
What To Keep In Mind When Creating A Slow Morning Routine ….31
Slow Morning Routine Ideas And Tips ….32
Recap ……34
CONSIDER DITCHING DEVICES…..36
Dangers Of Using Devices In The Morning ….36
How To Cut Out Devices 37
Why You May Want Your Phone In The Morning …38
Recap ……38
DO NOT FORGET ABOUT YOUR NIGHTTIME ROUTINE……40
Make Decisions The Night Before ..40
Prep Ahead of Time 41
Create a Nighttime Routine …..42
Go To Bed At A Decent Hour ..42
Recap ……43
KEEP IMPROVING …45
The Journey Is Not Over .45
Evaluate Every Year …….45
Make Changes As Necessary .46
Be Flexible ……46
Recap ……47
CONCLUSION…49
Sample Content Preview
Increases Happiness
Happiness seems like such an odd result of a morning ritual. After all, how could a morning routine really make you feel any more content or happy with your life? Although it is easy to think these thoughts, morning rituals actually improve your happiness in a number of ways.
One reason that morning rituals increase happiness is that they lower stress. People tend to find mornings incredibly stressful. Whether it is oversleeping, rushing around to get your kids ready, or not being able to find all of your needed items, mornings come with a lot of stress and anxiety.
When you use the morning ritual correctly, a lot of the stressful parts of the morning are naturally taken care of. They are completed the night before, or you wake up early enough to complete them stress-free whenever you wake up.
Another cause for morning stress is being thrown into your work life or social pressures too quickly. If you jump on social media or scroll through your emails, you might not have a chance to fully wake up, making you feel stressed practically the second you open your eyes.
However, with a morning ritual, you cut out time in your day to focus purely on yourself and not get invested in work or social pressures too early. As a result, you do not feel as stressed and instead feel more optimistic in the mornings.
Having a morning ritual increases happiness because it also improves your relationships. Whenever you eliminate stress and focus on yourself more healthfully, your relationships naturally improve, especially with those who are around you the most.
By cutting out time for yourself every morning, you are able to deal with your own issues and not project them onto your partner or family members. It can also help you to assist your children in their morning routines, creating a stronger bond with them.
Develop Healthy Habits
In many ways, we are our habits. If our habits are unhealthy and damaging, we will be unhealthy in our life. If you repeatedly hit the snooze button, you very well may have several unhealthy habits that you need to break and healthy habits you need to form.
Having morning rituals is a great way to develop healthy habits that last throughout your lifetime. Whether your new healthy habit is working out in the morning or waking up at the same time, the habits will impact your life and extend elsewhere.
Will You Actually See These Benefits?
Whenever people start telling you the benefits of different techniques or habits, you may naturally wonder if you will see the benefits for yourself.
This is a natural and wholly understandable question. Luckily, you should see the benefits of a morning routine rather quickly.
Many studies have been conducted to test how morning routines impact a person's life. Almost all of these studies show that having a good morning ritual will benefit your life for the reasons listed above and more.
Not to mention, there are plenty of anecdotal stories that supplement these studies. Some of the most successful people in the world all have a great morning routine that helps to kickstart their day. Mohammed Ali, Arianna Huffington, and Elle Russ are just a few examples of successful people who use morning rituals to improve their lives.
It is important to mention that you might not notice benefits immediately. After all, your body must adjust to waking up earlier, but it should not take long to see the benefits. As soon as you get used to waking up and not pressing the snooze button, you should start to see the benefits pretty quickly.
Recap
Morning rituals are a great way to boost your productivity, increase your energy, enhance your happiness, and develop healthy habits. Although you will need to adjust to committing to your morning routine, expect to see these benefits rather quickly.
START WITH WHAT YOU HAVE
Now that we have gotten the benefits of a morning ritual out of the way, we can jump right into crafting the perfect routine. Crafting the perfect morning ritual starts by looking at what you do already. It is impossible to know what to improve or change if you do not observe your current habits first.
Of all the steps, this one will likely be the easiest. You do not have to change a single thing. The only thing you need to do is roll out of bed like you normally would and reflect on what you do and how you feel after you wake up. It really is as simple as that.
In this chapter, we are going to look at how to observe your current morning routine to create your new and improved one.
Keep A Morning Journal
The only thing you should be doing differently at this stage is keeping a morning journal to log your experiences and feelings in the morning. This journal aims to connect how you feel in the morning and the rest of the day to how you approach waking up.
Your morning journal does not have to be extensive, thorough, or take up a lot of your time. You can simply keep it in the notes section of your phone or dedicate an actual journal to it. Just keep all of the thoughts in an organized place so that you can find them later on.
It is important to log your feelings and emotions right after you get started in the day. This will help you better reflect on how your current morning routine affects your self, body, and stress. In addition, track your energy and productivity for the rest of the day. You want to see how your current morning affects how you live your life too.
Although you can personalize how long you track your current morning routine, it is best to do this step for about one to two weeks. Repeating this process over a series of days will give you a better idea of how your morning routine impacts your life as a whole.
If you only reflect on one morning, you might not be getting the whole picture. After all, some mornings are busier than others. Make sure you get busy mornings, slow mornings, and unforeseen mornings in your journal to have a complete picture of how your morning affects your day.
It is important to note that you should keep a physical journal instead of simply noting situations in your mind. By the time the week is up, you are likely going to forget many of the emotions and facts of your days.
Keeping a physical journal, whether it be in a notebook or phone, will help remind you during the reflection stage.
What Do Your Mornings Look Like?
Now that you have your journal, try to predict or imagine what you think your morning routine is already like. Do you perceive your mornings as being rushed or stressed? Or do you view them as being relaxing and a good stage for the day?
Thinking about how you perceive your mornings will tell you a whole lot about them. In many ways, perception matters more than reality. If you view mornings in a negative light, you will often respond very poorly to them. Take note of what you think your mornings are currently like so that you can compare them to reality.
It is important to physically write down (or type) what you think your mornings look like in your morning journal. After the observation period is up, compare how your perception matches or differs from reality. If you do not write down your perceptions, it will be hard to know what you initially thought about your morning routine.
Go About Your Morning As Usual
As I already said, this step will be really easy. Go about your morning routine as usual. Press the snooze button as many times as you want, do as few productive activities as possible, and do not change a thing. Do not even feel pressure to improve in the slightest.
If you are dishonest about your current morning routine, you will not be able to create a better ritual. In other words, do not even slightly act better than usual in the mornings during this step. Just go about your morning as usual.
Other Details
- 1 Ebook (PDF), 50 Pages
- 2 Graphics (JPG, GIF, PNG)
- 1 Salespage (HTML)
- Checklist, Resource Cheat Sheet, Mindmap, Optin Page, Social Media Images, Email Swipes
- Year Released/Circulated: 2021
- File Size: 55,838 KB
License Details:
You're granted master resell rights, resell rights or to resell with personal use rights.
You may add this product to your PAID membership site
You may giveaway the product as a bonus when people buy through your affiliate link
You may edit the included sales page and opt-in page
No, you may NOT edit the contents of the eBook(s) & videos
No, this product does NOT include private label rights. You are granted Master Resell Rights only
No, you may NOT giveaway the eBook(s) & videos for free.