Salespage Snapshot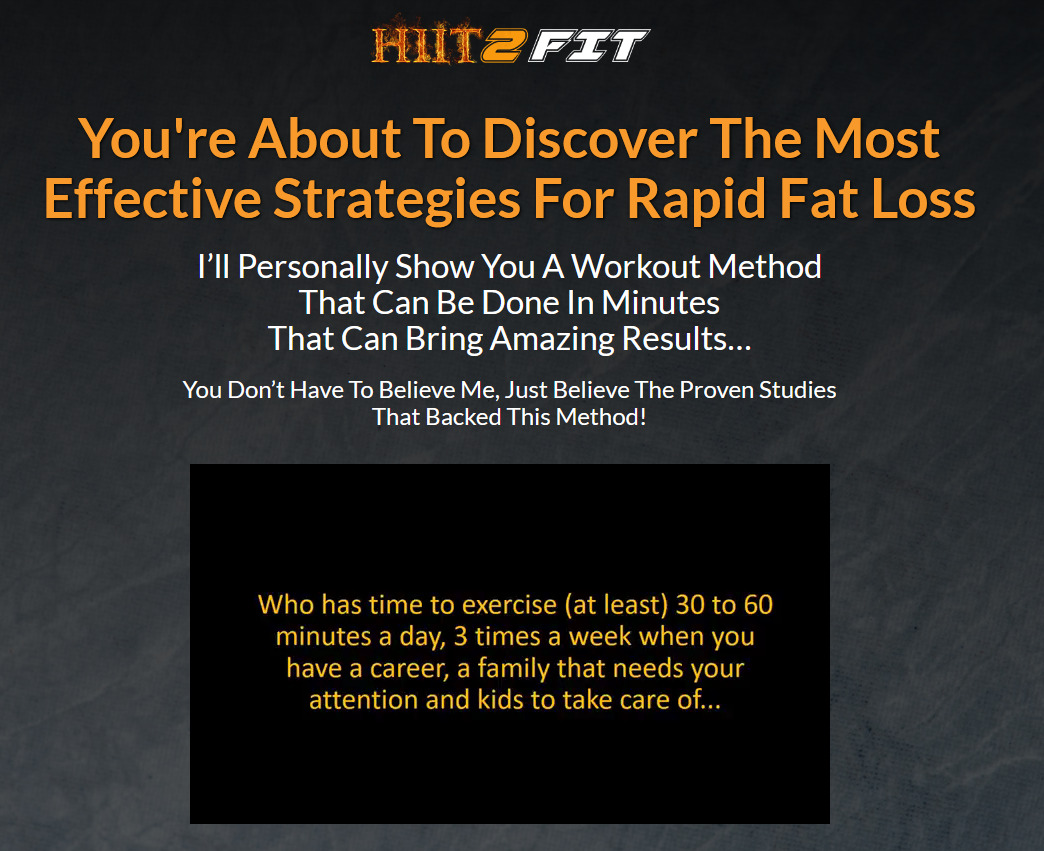 >> Click Here To View Sales Page...
Table of Contents
Introduction ……. 6
Chapter 1 … 8
What is HIIT? ….. 8
The Science Behind HIIT ……. 11
The EPOC Effect .. 12
Is HIIT Right For You? .. 14
Chapter 2 . 16
Benefits of HIIT 16
Improves Oxygen Consumption …. 17
Cardiovascular Benefits …….. 18
Helps Reduce Blood Sugar … 19
Boosts Metabolism …… 20
Time Saving Features That Require No Equipment . 21
Create Customized Workouts ……. 21
Challenging And Entertaining …….. 22
HIIT Is Efficient …. 23
Chapter 3 . 25
The Essentials of HIIT …….. 25
What Equipment To Use In HIIT? .. 25
How Intense Should The Workouts Be? 27
How Restful Should The Rest Periods Be? …… 28
How Long Should The Workouts Be? ….. 29
How Frequently Should You Do HIIT Workouts? ….. 30
How To Prevent Muscle Burn During HIIT? …. 31
Chapter 4 . 34
HIIT for Fat Loss and Muscle Gain ……. 34
How Does HIIT Cause Fat Loss? ….. 35
HIIT And Fat Oxidation 38
Increase In Growth Hormone Levels …… 38
How Does HIIT Build Muscle Mass? ……. 39
Metabolism And Muscle Mass …… 40
Chapter 5 . 43
HIIT for Endurance … 43
How Is Endurance Built? …… 44
How Does HIIT Build Endurance? .. 45
HIIT and VO2 …… 46
HIIT Builds Endurance In Skeletal Muscles ….. 48
Motor Units And HIIT .. 49
Does HIIT Affect Qmax? ……. 49
Chapter 6 . 52
Common Mistakes When Doing HIIT … 52
Opting For Longer Workouts 53
Not Warming Up 53
Choosing Complex And Complicated Movements .. 54
Not Paying Attention To 'Recovery' Intervals . 55
Not Being 'Intense' Enough .. 56
Diet And Clothing Matter ….. 57
Not Staying Determined Enough .. 57
Doing HIIT Too Often … 58
Choosing The Wrong Timing 58
Chapter 7 . 61
The Best Diet for HIIT …….. 61
Pre-Workout Nutrition 61
Post Workout Nutrition …….. 63
3 Day Meal Ideas 66
Chapter 8 .. 71
Supplements for HIIT 71
Greens Supplement ….. 71
Creatine Monohydrate 72
Caffeine ….. 73
L-Carnitine L-Tartarate 74
Betaine …… 76
Citrulline …. 77
Conclusion ……. 79
Sample Content Preview
The EPOC Effect
Also known as the afterburn effect, EPOC helps burn more calories long after finishing your workout. This occurs when the quantity of oxygen consumed after exercise exceeds that of the pre-exercise level.
During recovery, energy resources need to be replenished, blood needs to be re-oxygenated while circulatory hormones need to be restored. Plus, body temperature needs to return to normal along with the breathing and heart rates. All these physiological reactions require oxygen and so EPOC experiences an increase in calories post exercise as compared to pre exercise.
Now, while EPOC is applicable to most types of intense workouts, research indicates that HIIT is the most effective means to trigger the EPOC effect. This is because when you perfrom your exercises at a higher intensity and demand immediate energy, anaerobic pathways provide the needed ATP at a much faster rate.
This is also the reason why high intensity activity can only be maintained for a brief period of time. So HIIT is effective because high intensity bouts create anaerobically produced ATP and once it is exhausted, it needs to be replenished aerobically.
This also ties in with the fact that EPOC is more affected by the intensity of the workout and not so much by its duration. So even when HIIT workout is done, the body continues to use aerobic energy pathways to replace ATP used up during the session, which boosts the EPOC effect.
The higher the EPOC effect, the more calories you burn at rest and the higher your Resting Metabolic Rate or RER. This spike and recovery pattern is key to making HIIT work flawlessly. Not only does this pattern improve cardiorespiratory endurance but it also allows for greater caloric expenditure during and after the workout when compared to moderate aerobic workouts.
Having said that, it's still crucial to remember that at least 48 hours of recovery time should be allowed between high intensity exercise sessions and should not be performed more than three times a week.
Is HIIT Right For You?
Since HIIT is all about intensity, you need to be in fairly good health with an elementary level of general and core strength along with mobility. You also need to be aware of your personal physical limitations.
People who want to take on HIIT should be willing to try out a number of different exercises and be knowledgeable about performing these moves not only correctly but safely as well. If you are above the age of 55, then it is recommended that you take on HIIT with a doctor's approval.
HIIT is not recommended for anyone with any orthopedic limitations such as knee, back, or shoulder conditions. Likewise anyone suffering from cardiovascular issues like hypertension and heart palpitations should not take on such an aggressive form of exercise.
Chapter 2
Benefits of HIIT
Everyone wants the fastest, most efficient way to get in shape and HIIT delivers. As such, the idea of being able to work out for only a short period of time and still have washboard abs sounds like a no brainer. So when you are pressed for time but want to stay lean and healthy, HIIT training is the ideal way to get the job done quickly and effectively.
That said, HIIT is an ideal solution for anyone who does not have the time to exercise for long durations. Individuals on the go, those with hectic schedules or not willing to invest too much time into fitness can benefit, although effort is non-negotiable.
While additional calorie burn, fat loss, muscle gain and improved endurance are a given with HIIT training- and will be discussed in greater details later on, here are some of the most promising benefits HIIT training can offer:
Improves Oxygen Consumption
In simple terms, oxygen consumption can be described as the ability of the muscles to use oxygen. For non-athletic personnel, typically this is possible only after regularly cycling or running but with HIIT, the benefits can be achieved by anyone and in a much shorter period of time.
HIIT improves the stroke volume which is the volume of blood pumped around the body in one contraction. This volume increases when you exercise given the body's higher need for oxygenated blood.
A study conducted regarding oxygen consumption stated that in a five-week time period, working out four days weekly with 20 minute HIIT workouts led to improved oxygen consumption by almost 9 percent of the subjects. The result is the same as cycling for 40 minutes every day which requires far greater energy consumption.
So HIIT may improve oxygen consumption as much as traditional endurance training, even when you exercise for only half as long.
Cardiovascular Benefits
In terms of health benefits other than weight loss and improved oxygen consumption, HIIT can provide immense cardiovascular health benefits.
Perhaps the most important thing in this regard is lowering resting heart rate and reducing blood pressure.
While it is well known that extreme training delivers extreme results, most people find it hard to push themselves to an anaerobic zone. HIIT training makes it easier to get into the anaerobic zone as it requires you to perform each bursts with maximum intensity whereby your heart beats faster, you lose your breath more often and then lowering your heart rate during the rest interval that follows. Over time, this training can result in a lower resting heart rate, which also lowers the risk of having heart diseases.
Likewise, HIIT can also help with lowering blood pressure levels as this form of intense exercise can help reduce arterial stiffness. High intensity interval training can also improve endothelial function which is the ability of the arteries to dilate better than moderate intensity training. Good endothelial function is important for blood pressure control and blood vessel health.
Comparative studies have shown that HIIT to be more effective than traditional cardio done at a steady pace in lowering blood pressure readings.
Helps Reduce Blood Sugar
When done over a period of 12 weeks, HIIT can also be beneficial for reducing blood sugar levels. Not only does it improve metabolism but also optimizing insulin resistance.
Patients with diabetes are often asked to exercise to bring their blood glucose levels down. Research now shows that HIIT training rapidly improves diabetics' glucose metabolism in muscles and insulin sensitivity in type 2 diabetes.
Intense muscular contractions during HIIT stimulates muscles to take up glucose from the blood to be used as fuel which lowers glucose concentrations. Interestingly, the same also happens whether insulin is present or not, so the approach can also work with people with type 1 diabetes.
Other Details
- 1 Ebook (PDF), 80 Pages
- 2 Graphics (PNG)
- 1 Salespage (HTML)
- 5 Promotional Ad Materials (Emails)
- Checklist, Mind Map, Landing Page, Lead Magnet, VSL
- Year Released/Circulated: 2018
- File Size: 29,100 KB
License Details:
[YES] Can be packaged
[YES] You Can Use This Product Yourself
[YES] Can be sold as it is not less than $7 price tag!
[YES] Can pass on the Resell Rights privilege to your customers
[YES] Can Add This Product to a Membership Site or Bundled Within a Product Package as a Bonus
[YES] Can be used to create audio/webinar/video products
[YES] Can Give Away The Product (NOT The Source Code Files) To Your Subscribers, Members or Customers as a Bonus or Gift
[YES] Can change sales page and/or graphics
[YES] Can be added to paid memberships
[YES] Can sell master resale rights
[NO] Add to a free membership sites
[NO] You can't just pass away the product to anyone
[NO] Contents of the product can be edited, modified or altered