Salespage Snapshot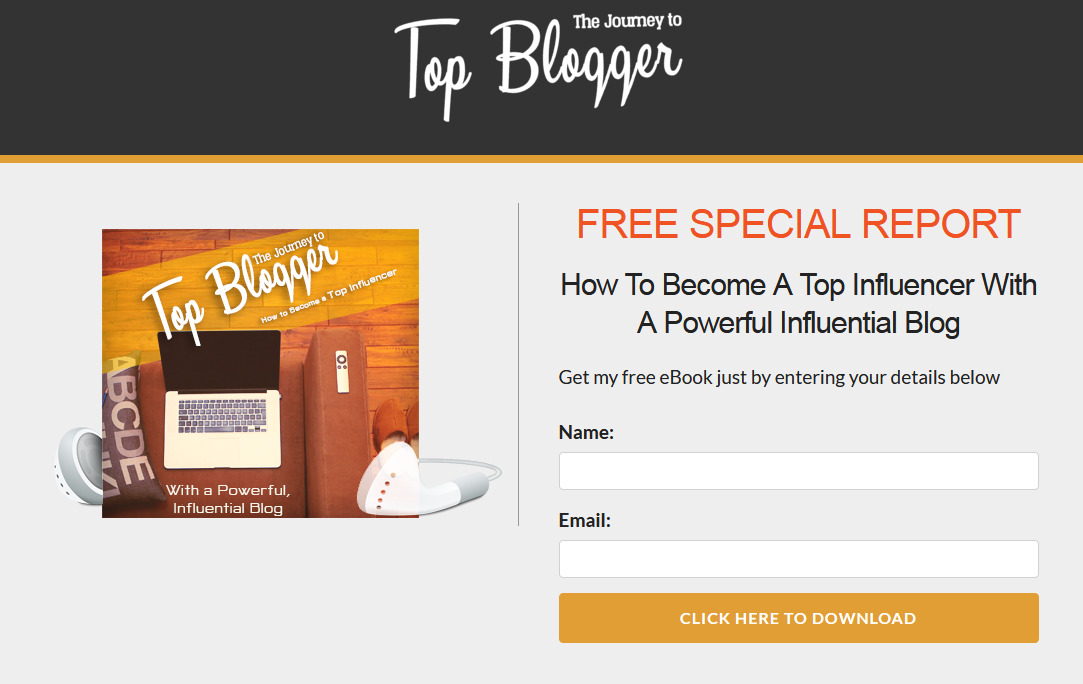 >> Click Here To View Sales Page...
Sample Content Preview
Another option is to combine niches. The 'fitness for nerds' niche is an example of this and it will give you the opportunity to blog both about fitness and about nerd culture. This is something that is done very well by the excellent blog 'Nerd Fitness'.
Either way, make sure you stand out and make sure that you have something that sets you apart on the basis of niche alone. Don't be 'just another fitness site' because that doesn't give your visitors any reason to subscribe to you. There are plenty of fitness sites out there already!
Mission Statement
In order to build a top blog, you need to begin thinking about the brand too. Note that 'brand' in this case does not just mean the logo – a brand is actually much more than a logo and instead speaks to the very 'mission statement' and the very objective of your site.
A mission statement is basically a statement of intent: this is your way of saying what you want your site to accomplish and why you're passionate about that. This is what sets your blog apart and if you have combined multiple different subject matters, then your mission statement is somehow going to communicate that.
A mission statement has nothing to do with you making money and nothing to do with 'what' you do on a daily basis. This is why you do what you do and it is why people should care and why they should be excited.
Your mission statement sets you apart because it can be completely different for two different sites that have apparently the same niche. For example, one fitness site might have this mission statement:
"A place for iron warriors to gather, exchange war notes and push themselves to the limit"
Or it might have this one:
"Helping to make readers happier, fitter and more functional in their daily lives. Healthy life = happy life!"
These two sites have completely different tones and they have a completely different target audience. But that is what makes them different from a generic blog that lists exercises and that's what will make people excited about the niche.
And here is the thing that really matters: in order to make a top blog, you need to have something that sets you apart and you need to make sure your passion is coming across. This is coincidentally why it is also so important that you only ever choose a subject matter for your blog that you are truly passionate about. If you are not passionate about the blog subject you have chosen, then people are not going to want to read what you have written because it won't be different from anything else out there. Even if you hire a top writer, unless they are passionate experts in the niche you chose, then the content is just going to sound generic and plain – because all they can have done is top research it from other sources online and then regurgitate it in their own words.
Choose a niche you really believe in and let your personality come across. Bring something completely new to the subject matter and make sure that you are challenging the status quo with genuinely remarkable ideas.
And one more reason that your blog needs to be in a niche that you're passionate about? Because it is the only way that you can keep writing about it every single day without getting bored. Even the best blog in the world will not be a massive hit overnight and that means you're going to need to find the will to keep going even when you feel a little disheartened. The only way you'll be able to do that is if you really love the subject matter.
Creating Your Logo
Once you've done this, you can then begin to create your logo.
It is very important that you create a logo that you are proud of and that really sums up your site. What's even more important is that it should look professional. The logo is the most important part of your marketing because every single piece of marketing or advertising you create is going to feature it. Likewise, your logo is going to be featured on the website itself and it is going to be have an influence on the way that you design your website!
If your logo looks poorly designed, then it will make your site appear amateurish and it will instantly prevent people from getting behind your movement or putting trust in what you have to say.
To make your logo, you first need to come up with an idea.
To come up with your idea, one strategy you can use is to create a 'mood board'. A mood board is essentially a collage that includes a range of different images and other sources of inspiration. This will include logos from other sites, as well as various different words and various different images that speak to the topic of your site.
Think about your mission statement: what words come to mind based on that? What images? Draw them, find them online and collect them all in one place. As you do this, turn off your 'filter' and accept that there are no 'bad' ideas.
Once you've done this, you can then start trying to combine these ideas in different ways. Put different images together and try working them into the text that makes your site's name. Eventually, you should find a few ideas you like.
Try to avoid generic or cliched ideas. Images like globes, ticks or lightbulbs are badly overused and will come across as cliched.
At the same time, try to keep your design as simple as you can. Simple doesn't mean childish – it means subtle and understated. Think of the Nike tick – it is incredibly simple and this is part of what makes it so successful. A simple logo is something that can easily be recreated and that will also be inherently more versatile, allowing you to incorporate it into more different situations whether those are banner ads or even products that you are going to sell.
To actually bring your idea to life, you need to use a tool called Adobe Illustrator. This is important, because it can be used to create 'vector files'. Vector files are files that don't use pixels in a map (which is what a regular 'raster file' uses) but instead use instructions that tell the computer how to draw the image. Those instructions might include things like: line this length and in this angle, move 30 degrees, line this length…
The reason this is important, is that it means that image can be blow up indefinitely without any loss in image quality or resolution. The ratios of the distances and angles are simply increased and the image is drawn again, only larger.
Other Details
- 1 Ebook (PDF, DOC), 11 Pages
- 1 Audio (MP3)
- 1 Graphic (PNG)
- 1 Squeeze Page (HTML)
- Year Released/Circulated: 2020
- File Size: 6,178 KB
License Details:
You're granted master resell rights, resell rights or to resell with personal use rights.
You may add this product to your PAID membership site
You may giveaway the product as a bonus when people buy through your affiliate link
You may edit the included opt-in / squeeze / landing page
You may giveaway the eBook for Lead Generation purpose
No, you may NOT edit the contents of the eBook
No, this product does NOT include private label rights. You are granted Master Resell Rights only