Salespage Snapshot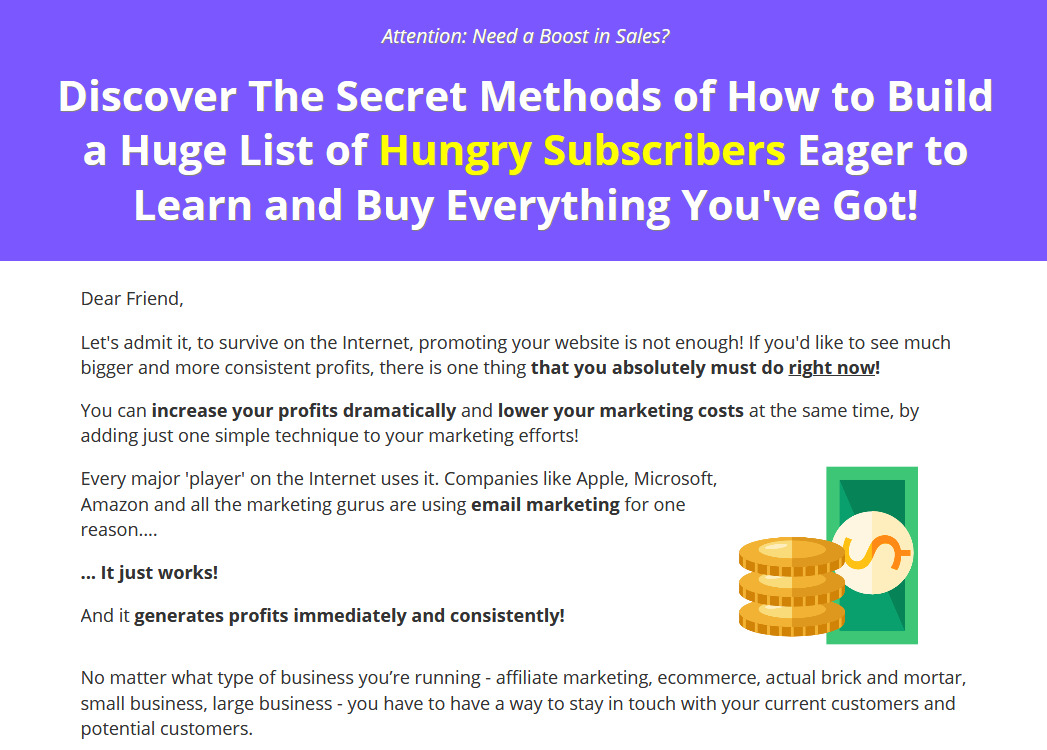 >> Click Here To View Sales Page...
Table of Contents
Chapter #1 – Why You Need a List…….7
Consumer Behavior……7
Without A List, You Are Losing Money……8
What Lists Bring To Your Business…9
Chapter #2 – Picking an Autoresponder…….11
Why You Should Use a Professional Service……11
If You Want To Host Your Own Autoresponder.12
Factors to Consider….13
Chapter #3 – Setting up an Opt-in Form……16
Complying With The CAN-SPAM Act……..16
Differences Between Autoresponders…..17
The Power of a Squeeze Page……..17
Designing Squeeze Pages…..18
Remember To Split Test Squeeze Pages..19
Chapter #4 – Ways to Grow Your List.21
15 Techniques to Build a Huge List21
Do Not Forget…23
Create Demand Through Third Party Platforms24
Chapter #5 – List Segmentation………26
Market Segmentation26
Possible Segments…..27
Why You Should Use Segments…..28
How This Impacts Your Marketing.29
Chapter # 6 – Plain Text Emails vs. HTML Emails…31
What Products Do You Want To Promote?…….32
What Is Your Target Audience?…..33
What Is The Type Of Newsletter That You Offer?…….33
A Word About Branding…….33
Developing Your Brand……..34
Chapter #7 – Structuring Your Email..36
Example of the First Email to Send to Your Subscribers……..39
Chapter #8 – Writing Attention-Grabbing Subject Lines..41
Offering Value to Your Audience…42
Giving a Sense of Urgency….42
Giving a New Knowledge…..43
Psychological Triggers43
Chapter #9 – Using Emails To Build a Relation With Your Audience…46
A Note On Establishing Trust With Your Audience …. 46
Personal Branding and List Building ……. 47
Types of Content That Always Work For Your Email Marketing Campaign 48
Chapter #10 – Tracking Your Metrics ……… 51
A Note About Split Testing . 52
Tracking Your Campaign With Aweber .. 53
Conclusion ……… 54
Sample Content Preview
Chapter #2 – Picking an Autoresponder
There was a point in time where building a list and maintaining it required a great deal of manual work. Before the autoresponder, people who wished to maintain a list were faced with the daunting task of adding contact information, crafting messages, sending messages, etc.
Companies would spend so much time maintaining communications with their customers that would take away from other aspects of their business. Thankfully, this is no longer the case. The autoresponder has streamlined this aspect of businesses.
When you set out to begin building a list, one of the most important things to have in place is an autoresponder.
An autoresponder allows you to acquire, store, and communicate with your leads. Once you capture a lead, your autoresponder will allow you to get the most out of your lists.
Why You Should Use a Professional Service
Before we get into what you should do with an autoresponder, here are some reasons why you should choose a professional autoresponder service:
1. Professional autoresponders offer many benefits. They ensure that your message is deliverable by offering spam filter checks that will alert you if your email is likely to be sent to your customer's spam folder. Overall, it is the goal of the autoresponder service to ensure that your messages have maximized delivery. Without a professional autoresponder, you run the risk of failing to recognize potential errors.
2. Aside from automatically capturing leads for you, autoresponders will take care of any opt-out/unsubscribe requests, which will free up the time you may have spent trying to do this manually.
3. Professional autoresponders frequently backup your lists, which significantly decreases the chance that you will lose your list.
After investing time in building your massive list, the last thing that you want is to lose your list to something unexpected.
4. As stated before, there are a number of advantages to using a professional autoresponder. If you plan on keeping track of your open rate, opt-out rate, response rate, and things of that sort (which you definitely should be doing to increase the effectiveness of your campaigns), a professional service will provide analytics for those areas.
Some of the most popular autoresponder services that are available are: Constant Contact, AWeber, MailChimp, OfficeAutoPilot, Infusionsoft and iContact.
If You Want To Host Your Own Autoresponder
The advantage of hosting your own autoresponder is that once you purchase the software, you own the program and you do not have to worry about additional fees. You do not have to pay a company to run this software and you will not incur monthly charges.
If you are interested in taking this route, check out these autoresponders:
1. Interspire
2. arpReach
Ultimately, keep in mind that this option will require more work on your part to ensure that you are maintaining your list. However, this may turn out to be an option for you.
Factors to Consider
When choosing an autoresponder, you should compare services and decide what is best for your situation. Some factors that you should compare are:
1. Usability: the interface should be simple enough for you to manage quickly and effectively.
2. Cost of service: make sure that the cost of the service is one that fits within your budget. Some services may even be free up to a certain amount of emails or may include trial periods.
3. Features: not all services provide identical features. For example, some give you the option to create your own email templates, others may be beneficial for split testing, some may have larger image storage, etc.
Whichever route you decide to go with your autoresponder, keep in mind that it is best to research different software and services thoroughly before making a decision. You do not want to lose time trying to transfer a large list to another system later on down the line. Choose the best option for your situation early on to avoid this pitfall.
Chapter #3 – Setting up an Opt-in Form
Now that we have discussed how to select an autoresponder, we can move on to setting up an opt-in form. An opt-in form is what you will use to capture your leads. You may have visited a site recently and noticed a pop-up form or even a form that has been strategically placed on the website encouraging visitors to join their mailing list. That form you encountered is the opt-in form.
When a user fills out your form and decides to opt-in, they are giving you permission to send emails to them. Some autoresponders will provide what is known as a double opt-in, in which a user will receive a confirmation email to make sure that you have the correct information. If the service you provided gives you the option to use double opt-in, it is good to use this as it will help you filter out unresponsive customers.
Complying With The CAN-SPAM Act
By using the opt-in form, you are also complying with the CAN-SPAM Act. There is some confusion about what the CAN-SPAM Act means, but all that is does it set guidelines for marketers to send emails in a legitimate manner.
The CAN-SPAM Act requires marketers to obtain permission for sending emails from users. It also requires that you provide a way for users to optout in each email that you send. The process for opting out should be easy for the user; one click should allow the user to be removed from your list.
Furthermore, you cannot charge a fee for removal from the list, and you cannot require them to sign in to remove themselves. That being said, REMEMBER THAT YOU MUST RESPOND TO OPT-OUT REQUESTS IMMEDIATELY! There is a time limit imposed upon marketers for the response to removal requests.
Differences Between Autoresponders
Remember the discussion about the difference between autoresponder services and owning your own autoresponder? If you are utilizing a service provider, the CAN-SPAM Act requirements are automatically implemented into your email. You will not have to remember to place certain information in your emails (such as your email identifier and optout link), and you will not have to remember to remove a user if they optout, because this will be done automatically by the service provider.
The Power of a Squeeze Page
A squeeze page is a page that is dedicated to the sole purpose of capturing leads. A squeeze page is the wisest option for capturing leads, because it eliminates the possibility of a user wandering aimlessly on your site.
While designing a squeeze page, remember to provide a layout that is similar to any ads that you may be running. If a person has arrived on your squeeze page from another link, they want to be certain that they are definitely signing up for exactly what they clicked on. If your layout is inconsistent with their expectation, you will certainly drive them away.
Designing Squeeze Pages
The squeeze page should have a bulleted list of things that they are going to receive by opting in. This is your time to convince the visitor why they should give you their contact information, so you want to make it good! Here are some tips:
1. Make the headline powerful and personal. If you make the user feel like this is something that will be exclusive to them, they will be more inclined to opt-in.
2. Offer something in return for their contact information. Many companies offer some sort of free, relevant content/item that entices the user to join the list.
3. The shorter the form, the more likely a user is to opt-in. If possible, obtaining a first name and an email is all you need to be effective. DO NOT MAKE YOUR FORM LONGER THAN NECESSARY!
4. Tell them exactly what to do by providing a strong call–to-action button.
5. Ensure that the opt-in box is above the fold, so that users do not have to scroll or search in order to join your list. KEEP IT SIMPLE AT ALL TIMES!
Remember To Split Test Squeeze Pages
The value of a split test is also present in squeeze pages. It is vital that you create multiple squeeze pages and track their conversion rates in order to see which design works best with customers. You would be surprised to learn how small tweaks in design can impact the overall effectiveness of a squeeze page.
If you are not that familiar with coding, there are resources to help you overcome that obstacle. Autoresponders offer the ability to design squeeze pages, and in some cases they also give you the ability to split test.
Here are a couple of autoresponders that provide this service:
1. GetResponse
2. AWeber
If you are more advanced, you may elect to build a squeeze page yourself without the assistance of an autoresponder. This is perfectly fine, but remember that the same guidelines for design apply.
Other Details
- 10 Articles (TXT)
- 1 Ebook (PDF), 55 Pages
- 5 Graphics (PNG)
- 1 Salespage (HTML)
- Resource Report, Cheat Sheet, Legal Page, Email Swipes
- Year Released/Circulated: 2021
- File Size: 12,199 KB
License Details:
[YES] Can be used for personal use
[YES] Can be sold
[YES] Can sell with Resale Rights
[YES] Can sell with Master Resale Rights
[YES] Can be packaged with other products
[YES] Can be offered as a bonus with other things you sell
[YES] Can be added to paid membership sites
[YES] Can be offered through auction sites
[YES] Can be added to free membership sites
[NO] Can be given away
[NO] Can sell with Private Label Rights