Salespage Snapshot: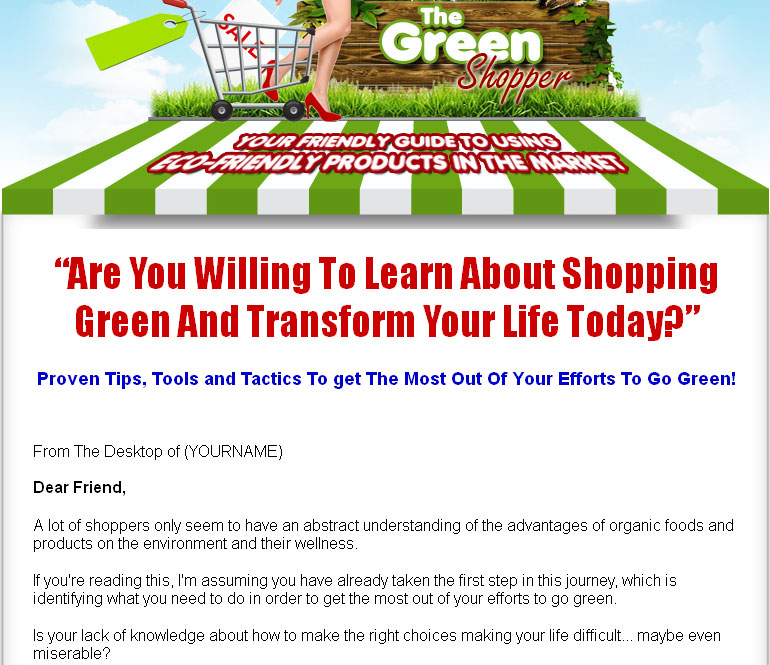 >>> Click Here To View Full Sales Page…
Table Of Contents
Foreword
Chapter 1: Introduction
Chapter 2: Nutrition And Organics
Chapter 3: Organics And Your Health
Chapter 4: Organic Skin Care
Chapter 5: Choosing Organic Skin Care Products
Chapter 6: Organic Bath Soaps
Chapter 7: What About Organic Gardening
Chapter 8: Tips For Organic Gardening
Wrapping Up
Final Words
Sample Content Preview
Chapter 5: Choosing Organic Skin Care Products
Synopsis
The increasing popularity of organic skin care has paved the way for the manufacture of a wide assortment of organic skin care products. This chapter supplies insight and info about organic skin care products along with tips on selecting true and quality organic products.
Tips On Choosing
Take a stroll along any beauty or skin care aisle and you'll be bombarded by products laying claim to the fact that they're "all-natural" or "organic." The high demand for organic skin care products has driven major skin care product and cosmetic manufacturers to mass-produce.
Regrettably, while this seems like great news, mass producing skin care products and cosmetics isn't pragmatic unless manufacturers utilize preservatives and additional chemicals to increase the shelf life of their supposedly "organic" products. As such, care has to be taken in selecting organic skin care products to assure authenticity and quality. Here is a guide to help you in selecting true organic skin care products:
1. Look for the Department of Agriculture organic seal of approval.
The Department of Agriculture has imposed a lot of requirements for organic skin care products. Each product claiming to be organic has to bear the Department of Agriculture organic seal of approval. This means that the product has been examined and had met the quality criteria set by the Department of Agriculture for safety.
The Department of Agriculture sign means that the product and its elements have passed tests conducted by the Department of Agriculture for antibiotic and hormone utilization in livestock and crops.
2. Go beyond face-value.
Don't take the manufacturer's word for what it is. As an alternative, read the label to get a thorough idea of the components used for the manufacture of the product. If manufacturers place "organic" or "all-natural" labels on their products, they may be stretching the truth a little.
A few unscrupulous manufacturers might have used an organic ingredient however this doesn't make their products "organic." Instead, check and read labels thoroughly to see to it that the product you are going to purchase is indeed organic. Whenever possible, take note of some components you don't understand in the label and look it up online before your purchase to assure that they are not preservatives or chemicals.
3. Be acquainted with Department of Agriculture organic ranking.
The Department of Agriculture grants its organic seal of approval to products that cleared its organic standards. In addition, the Department of Agriculture likewise implements a system that specifies a product as purely organic or not. Being familiar with this system assures that you won't be fooled when it comes to selecting an organic product. First of all, only products that utilized purely organic substances in their manufacture may be labeled "100% organic." Next, products with 95% or more organic components may be labeled "organic" in their primary label. Following, products with 70%-95% organic components may only be described as "made with organic components" with 3 of these organic components listed on the label. Finally, products with merely 70% organic components or less may only use the word "organic" in their ingredient section.
By comprehending what the manufacturers mean when they label their products as organic, you are able to minimize the risk of buying scam products masquerading as organic skin care lines. Better yet, research on the Net for reviews and recommendations on the most beneficial organic skin care products around to make your selection simpler.
Chapter 6:
Organic Bath Soaps
Synopsis
Instead of soaping up your body with harsh chemicals why not take time to learn why organic bath soaps are becoming the first choice for people all over the world. These organic bath soaps come from natural resources. The soaps and bath products will provide protection for your skin.
Soaps
Visit the Net where you'll find a nice assortment of organic bath soaps. A few of the soaps are hand carved and cold processed. These soaps are amazing for those individuals that battle sensitive skin. You are able to find liquid soaps, organic gel soaps, and non-toxic cleaners by shopping on the Net.
Shopping on the Net is smart as you have a broader selection of organic soaps to consider. You will discover natural blends, traditional blends, processed soaps, and so forth. Even if you have highly sensitive skin, you will discover organic soaps that will not bother your skin.
Organic soaps are healthier than a few of the shampoos, soaps, and so forth manufactured with all the extra unneeded stuff. A few of these soaps have harsh chemicals that link to particular types of cancers.
Check the ingredients on your shampoo or soap package and do an in-depth research on the Net to learn more about the chemicals in non-organic soaps, shampoos and so forth. This will help you appreciate how valuable organic soaps may be for you.
More and more individuals these days are going back to natural living. This is because they're finding out that fabricated products in most cases are not so great after all. Individuals are discovering that
organic living is encouraging healthy skin, healthy hair, and longer life.
So be certain to check out the wide assortment of organic soaps online. You will find an assortment of soaps, Shea butter, primo incense, pet shampoo, skincare solutions, organic wash, organic horse shampoo and more.
See even your pet may get the benefits of living healthy and natural.
The organic soaps give you a mixture of water, alkali and oils. A few soaps likewise have glycerin mixed into the bar so that you have a moisturizing solution.
All ingredients are natural, coming from a few of the finest plants, tree life and so on. A few of the best organic soaps include the Aloe-Vera based soaps. Aloe Vera is an amazing natural source that will moisturize your skin.
Other Details
- Ebook (PDF, DOC), 35 Pages
- Salespage (HTML, PSD)
- Ecover (PSD, JPG)
- Thank You, Earnings Disclaimer & Privacy Policy Page (HTML)
- File Size: 42,771 KB