Salespage Snapshot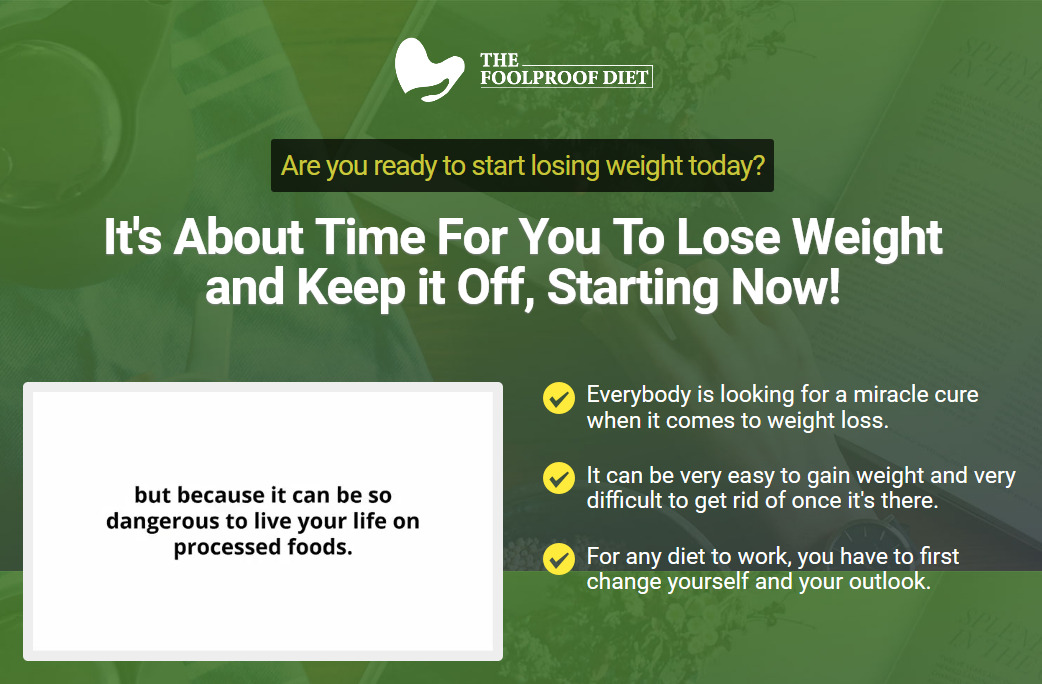 >> Click Here To View Sales Page...
Table of Contents
Introduction 04
Chapter 1: Tracking Your Current Diet 07
Chapter 2: Starting a Food Journal 10
Chapter 3:Getting Ridof Problem Foods 14
Chapter 4: Slow and Steady Wins the Race 19
Chapter 5: Combining Exercise for Best Results 23
Chapter 6: Creating a Calorie Deficit for Weight Loss 26
Chapter 7:Introducing Fruits and Vegetables for Weight Loss 30
Chapter 8: TheImportance of Drinking Water for Weight Loss 34
Chapter 9: Lean Meats and Healthy Protein Sources 40
Chapter 10: Planning Meals and Other Tips and Tricks 44
Conclusion 48
Sample Content Preview
Everybody makes mistakes, and when you follow a bad habit long enough, it can be difficult to do any differently. However, the trick is not in shaming yourself but in accepting where you are at and being completely honest and transparent about it. Not everybody is able to view the hard truths of a situation with the strength it takes to implement changes using the information they have observed about themselves, but it is something that can be drastically healing and a very useful tool in making positive life changes, now and for the future days to come.
Once you have begun to track your current diet and have a good understanding of what it is that you are doing that may prevent you from making progress on your weight loss journey, it is a good idea to begin a food journal. A food journal is a great way to help you to keep track of recipes you want to prepare and creating meal plans that will help you to stick to a healthy diet full of fruits and vegetables. Not only that but it will help you a lot in creating the type of accountability you need to make healthy changes and stick with them.
Your food journal can consist of the same record you took to see what your every day diet is generally like. But it doesn't have to be. You could also use a different notebook to create your food journal. The food journal is a very useful tool in aiding weight loss and keeping on track with your diet. You want something that will help you to take accountability for what you are putting into your body every day, otherwise it can be difficult to remember that we are staying on track for a reason.
Humans have a tendency to think on a short-term scale and lack the ability to plan for the future. When you are able to plan for future, such as using a food journal to help you to list ingredients and meals you need or would like to try, it can really give you a solid foundation and give you a rare opportunity to see how every single tiny choice you make can be something that either improves your future or prevents you from becoming the person that you want to be.
When you understand the profound consequences of your every action, it will help you to think more in depth about the choices that you have to make on a daily basis. When you don't understand, it can be nearly impossible to stay on track with a program or regimen that provides your body with the healing sustenance that it requires in order to thrive.
It can be so easy to be addicted to bad foods. But by utilizing a food journal, you will be able to see when and where your cravings for certain foods may creep up. For example, you may realize that when you are stressed out or too tired to cook, you begin to crave things that are far more unhealthy for you. But when you are less stressed out or have plenty of time to cook, you find that you are a lot more okay with taking the extra effort to make sure you are eating healthy foods and doing things that will move your health forward.
To best utilize a food journal, you should first and foremost make sure that you are being honest with your entries. Write in it every day, and try to record the foods you are eating directly after eating them. If you want to, you could also make a record of their nutritional value so you have a sense of what you are consuming on any given day, that way you aren't surprised at the end of the week if you find you have either gained or lost weight.
Next, as you may have considered with the word "journal" involved, you should also record how you felt about the foods you were eating and how you were feeling prior to eating said foods. You should also take some time to consider how you felt after eating these foods, because it can be very telling of a food's nutritional content and compatibility with your body if you are able to accurately assess the moods you have following a certain food. For example, if you find you are intolerant to nuts or soy, but don't have an outright allergy, you may find that after consuming such things you feel more irritable or moody or agitated. This is because your body has sensed a threat and you are receiving a stress response in order to deal with the body's perceived threat. Pay close attention to what works with your body and what probably doesn't agree. That will give you a chance to really assess what foods work for you in a way that is personal and in depth. This way, you will truly understand why it is not good for you to eat certain things, while others may not be so difficult for you to enjoy.
Overall, having a food journal is a good way to get in touch with yourself and with your food. In most cultures, food is a spiritual experience that should be shared and enjoyed. It is given far more consideration than it is generally in north America. For this reason, it can be a great and healing thing to be able to take comfort in specific foods knowing exactly what type of relationships our bodies will have with those foods when they are put into our bodies.
One of the most important keys in creating a foolproof diet plan is in knowing our bodies and being in touch with ourselves enough that we are making good choices as often as possible. when we are out of synch with ourselves, it can become nearly impossible to do what is best for us. But having a food journal is a great way to help us get our bodies and minds connected and focused on one of the key elements of improving our health and wellbeing.
We all have our vices, and these problem foods can sometimes be the downfall of any well-intentioned dieter. Trying to maintain her self control can be very difficult if we aren't careful. This is especially true of dietary habits, because most of the time we develop them because we want an easy solution to a ravenous hunger. When we don't find that solution in an easy way, we get agitated and frustrated, and often times give up entirely on cooking. Have you ever had one of those days where you can find something easy to make it home and so you went out and bought something easy instead?
Now is the time to begin identifying these behaviors and seeing how they are affecting you in the long term. Sometimes it can be very dangerous to have a reliance on fast and easy foods. Processed foods come with a whole slew of potential health problems that can make your body suffer over the course of time, even if it feels like a quick solution and you feel good because of all of the fats and sugars that are giving your body chemical reactions that convince you that you are enjoying this food and that is what your body wants or needs.
Problem foods are in every house, and every cupboard or pantry may have problem foods lurking there waiting to be discovered. If you find that you are fighting off the urge to eat problem foods that you have in your own home, then that is the first sign that you should get rid of them.
First of all, you are going to want to get rid of sodas and other sugary drinks. Most people don't realize just how much sugar is in juice. We think that it is healthy because it comes from fruit, but fruit is full of natural sugars, and when it is juiced, we are not getting the natural fibers that actually make the fruit healthy. Instead, we are getting a concoction of concentrated sugars from the fruits that are present in the juice and added sugars as well most of the time. This is true of other foods that have been deemed healthy, such as yogurt or granola bars. They are packed full of sugar, and in eating those sugars, it can be almost impossible to lose weight and see any results.
If you want to get rid of sugar entirely, you probably could, and you would see very fast results from that as well. For the most part, at least try to make sure that you are limiting your sugar intake to about 30 g of sugar per day. This can be difficult, because when you start to look at the ingredients list on your foods and your soft drinks, you find that most of these drinks have two servings in them, and a single serving is about maximum the sugar that you should be intaking if you want to see results in the weight loss department.
Don't be upset at yourself for having been tricked by these supposedly healthy foods. Just remember the next time that you are shopping not to invest in them. They are only going to hold you back from achieving your goals, and this can have a very negative effect on your self-esteem. Keep after grocery list, and if you see them in your house, you can either give them away or throw them away. Something many people struggle with is a sense of feeling as if they are obligated to eat the food that is in front of them. This can be theresult of childhood conditioning by parents who wanted to make sure that we were well fed whether we like the food in front of us or not.
Try not to feel bad for wasting food that is going to contribute to either weight gain or potential health problems in the future. If you know that it is something that isn't good for you, but you have a lot of it, see what you can donate to a food bank or give away to friends or other family members who are not on the same weight loss or health journey that you are on. Sometimes, this is the only way to make great changes. We have to be stronger than our negative impulses, and the only way to begin to do that is to try.
Other Details
- 20 Articles (TXT, DOC)
- 1 Ebook (PDF), 41 Pages
- 10 Graphics (PNG)
- 1 Salespage (HTML)
- 10 Ecovers (JPG)
- Promotional Ad Material (Emails, Banners)
- Resource Cheat Sheet, Mindmap, Sales Video, Social Media Images, Legal Page, Resource Report,
- Year Released/Circulated: 2018
- File Size: 53,993 KB
License Details:
[YES] Can be packaged
[YES] You Can Use This Product Yourself
[YES] Can be sold as it is not less than $7 price tag!
[YES] Can pass on the Resell Rights privilege to your customers.
[YES] Can Add This Product to a Membership Site or Bundled Within a Product Package as a Bonus.
[YES] Can be used to create audio/webinar/video products
[YES] Can Give Away The Product (NOT The Source Code Files) To Your Subscribers, Members or Customers as a Bonus or Gift.
[YES] Can change sales page and/or graphics
[YES] Can be added to paid membership sites
[YES] Can sell master resale rights
[NO] Add to a free membership sites
[NO] You can't just pass away the product to anyone
[NO] Contents of the product can be edited, modified or altered.