Salespage Snapshot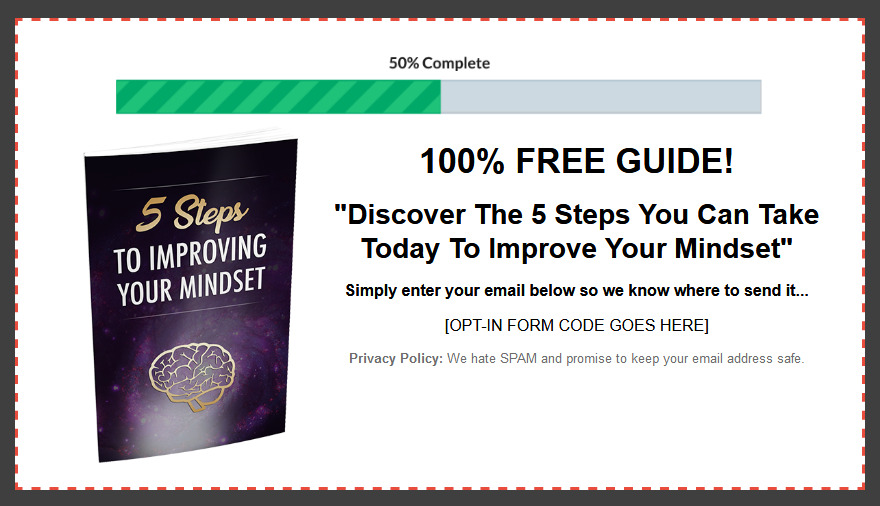 >> Click Here To View Sales Page...
Sample Content Preview
Once you've taken responsibility, your next task is to decide the direction you want to go in and more to the point, the goal or vision that you are working toward. A lot of people are a little directionless in this sense. How can you spot he opportunities that arise if you don't know what it is that you want to achieve?
The key thing here though is to recognize that the goals or visions you set for yourself don't have to be the cliched goals that everyone is going after. You don't need to want to be a top executive. It is not a requirement that you try to get rich.
If you feel that you would be happier living in a cabin in the woods, then go ahead and let that be your goal!
What you want to try and employ here is a strategy that is known as 'lifestyle' design. So, lifestyle design effectively means that you are looking at the things that you want to get from your life and you are looking at the different factors that might be getting in the way or that might provide opportunities.
The problem that a lot of people have is that they go after the wrong goals. Many of us don't feel all that attached to our jobs and yet we work for eight hours a day, spend a lot of time commuting… even stay in the office late on regular occasions. Then when the opportunity to take on a promotion and work longer comes along… we take it!
Instead, look at the things that really have value to you in your life. That might mean the love of being creative whether you are a writer, a videographer or an artist. Or it might mean spending time with family.
Now look at what kind of job you can do that will help you to get more of the things you love in life. Your sense of progression and accomplishment doesn't need to come from your job. There's no reason you can do a stress-free job to pass the time and then feel passionately about the art projects you take on in your spare time. You might find that simply removing your commute makes you wealthier and happier at the same time. That it gives you more time to be yourself.
Finally, come up with a vision for what you want life to be like in the future. This should be a highly motivating vision, something that is emotionally charged and that you are highly excited for. It might be to become an online entrepreneur, or it might be to buy a beautiful home somewhere scenic and secluded.
Step 3 – Opportunity
Once you know your goal and your vision, the next step is to look for opportunities to climb higher towards it.
The thing is that when you learn to look, opportunities really do open themselves up all the time. This is one example of just what a key difference having the right mindset can make.
The way to open yourself up to these opportunities is to recognize that sometimes the opportunity won't come in the precise form that you expect it to.
In other words, let's say you want to be become an author. That doesn't necessarily mean that the opportunities are going to take the obvious form of being writing opportunities. Just as likely, you may find that they present themselves differently.
The perfect example of this comes from Sylvester Stallone, who wanted to be an actor. Unfortunately, no one would take him seriously and they all saw him as unfitting for lead roles.
So instead he wrote an amazing script. The script was of course what we know today as Rocky and in an acting audition, he mentioned that he also dabbled in writing and was invited to bring in his script. The script was such a hit that they started offering him huge amounts of money to buy it off him. He refused however. The only terms he would accept were if he was cast as the titular character. The rest is history.
So, what Stallone did here was to find a different avenue to reach the goal he wanted. He seized opportunities, he played up his best skills and he took advantage of his connections.
Let's say you want to be a famous rock star. The conventional route is a difficult one to say the least. So why not instead try creating a YouTube channel to show off your skills and see what comes from that?
Step 4 – Will
In martial arts, there is the popular notion of 'chi' (also qi or ki). This is often described as being a kind of life energy and often it is treated as quite esoteric – even being mystical. This is the same 'energy' that we see characters in Street Fighter and Dragon Ball Z firing from their hands.
So of course, many people view chi with scepticism. Others will describe it as being simply a way to visualize kinetic energy.
But the reality is something different altogether. While you're free to form your own interpretations, the one that I prefer is to look at chi as being will power. Chi is the ability to call upon your strength in every day tasks. It is your energy and your vitality.
And in fact, the roots of the word are strongly connected to health. If you ask someone how their chi is, this can be interpreted as asking if they feel strong and energetic.
Other Details
- 10 Articles (TXT, DOC)
- 1 Ebook (PDF, DOC), 12 Pages
- 1 Audio (MP3)
- 4 Graphics (PNG)
- 1 Squeeze Page (HTML)
- Year Released/Circulated: 2020
- File Size: 11,014 KB
License Details:
You're granted master resell rights, resell rights or to resell with personal use rights.
You may add this product to your PAID membership site
You may giveaway the product as a bonus when people buy through your affiliate link
You may edit the included opt-in / squeeze / landing page
You may giveaway the eBook for Lead Generation purpose
No, you may NOT edit the contents of the eBook
No, this product does NOT include private label rights. You are granted Master Resell Rights only