Salespage Snapshot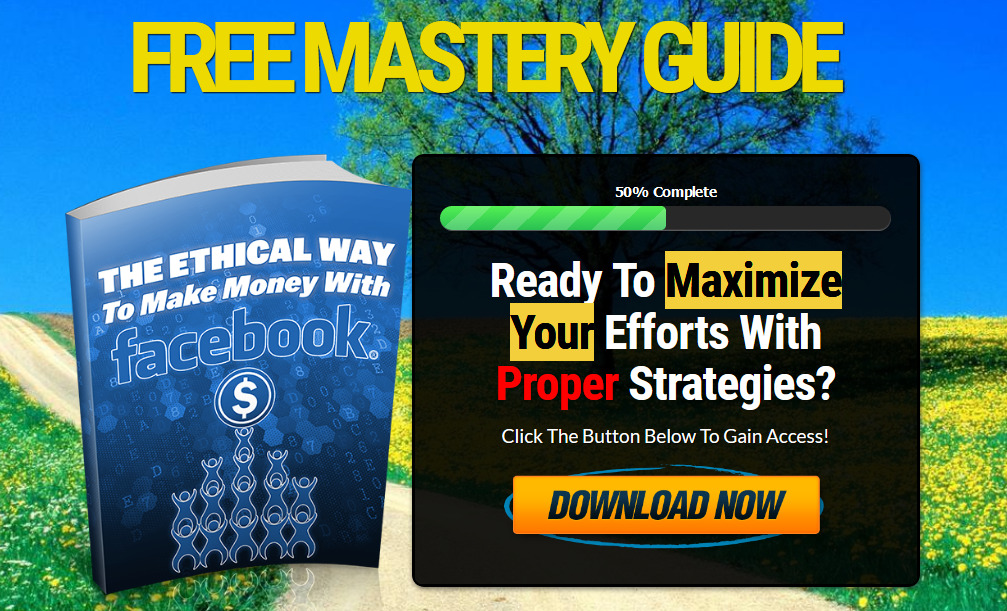 >> Click Here To View Sales Page...
Sample Content Preview
THE MARKETPLACE
You can load this application from the main Facebook page via the toolbar at the bottom of your Facebook interface. It will allow you to add items via geographical location to the Marketplace. There are different areas in the Marketplace. There is an "Items for Sale" area, Housing, Vehicles, and Jobs. You can add your own listing to any one of these areas, but the audience will be filtered by geographical results.
LOCAL SALES
Your results and the results that others see are based on the geographical region you put in your profile. This can be changed to view a wider geographical region of sales, but for the most part, they will be local sales that you see, and you have to deliberately change this setting to see results from other geographical regions. That means that if you are a local business, it can be a great way to advertise some of your offerings. If you want buyers from all over the globe, it'll be harder to use this part of Facebook for your offerings. However, there are other ways to get people back to your sites to market to them later.
THREE WAYS TO ADVERTISE
1. Sell It Pretty self-explanatory. You are going to put a price on some item and try to sell it. There are multiple categories that you can choose from to keep your sales item more highly visible.
2. Give It Away Used for pets, but could be used to give away a freebie that is associated with your business. Just because you're not selling something doesn't mean that you shouldn't try to collect more friends or traffic back to your profile via this way.
3. Ask For It Generally, this is for buyers who are wanting a particular item. It isn't for selling things, but it's still in the Marketplace because people may have trouble finding what they want. You can check these ads to see if you have something someone else wants and then sell it to him/her.
WAYS TO USE THE MARKETPLACE
Even if you are selling real estate, you can go and post a ad in housing. If you are a car dealer, you could use the vehicles area to sell a car. Any other type of item will most likely go in the "Items For Sale" area. Try to stick to the terms of service and only offer products that don't get your account banned.
SOCIAL ADS
Advertising is a viable way to get traffic to your sites and offers, and Facebook has its own version of advertising called Social Ads. These advertisements can be very finely tuned due to the demographic data that Facebook collects on all of its users. You can use social ads to advertise your own offerings or applications on Facebook that you create. There is no restriction to advertising your own offerings even though it's a social network site. You do have to pay for the service, and it is one of the ways in which Facebook generates income, but it also can generate income for you too if properly used.
CPC AND CPM
All you have to do is to set up a campaign, either a CPC (cost-per-click) or CPM (cost-per-impression) model. In the CPC model, you will pay an agreed upon price for each click that is generated from your advertising. In the CPM model, you will pay per every 1000 impressions, which is how many times your ad was loaded onto a Web page. Either way, you can set up great advertisements within a budget that is suitable for you.
UTILIZE FACEBOOK'S DEMOGRAPHIC DATA
Next, you will want to figure out who you will target with your campaign. You can set various demographic restrictions on your ad, which would be nearly impossible to do elsewhere. That's because Facebook collects all of this data and serves up ads based on who you tell it to serve, not based on keywords or large groups of undefined or unknown people. When you create an ad campaign in Facebook, you can be assured that it is being served up to people in the demographic you have targeted, thereby increasing the potential for income.
MAKE MONEY ADVERTISING WITH FACEBOOK
In addition to advertising your website, your links, and your affiliate offers, you can also advertise your events and applications within Facebook. This will generate a lot more attention for these areas and can produce income if more people attend your event or if your application goes viral. At some point, you can sell the application and generate income that way too.
Social ads appear to the left of everyone's profile. They show up exactly how you tell Facebook to post them, and they are very popular with users. As long as you only advertise things that are in accordance with Facebook's policies, it is an ethical way to promote your offerings on Facebook without offending anyone by spamming. CREATE AN APPLICATION
Applications are third party software applications created by programmers that can be selected and downloaded by users of Facebook to perform some function or to entertain them. It may come as a surprise to know that YouTube was once just an application embedded within MySpace and it grew so popular that it eventually got its own website, and the rest is history. There is big money in applications, and creating them is not that hard, even if you're not a programmer. You just need a good idea.
OUTSOURCE CREATION
You can hire programmers on Elance.com or RentACoder.com who would be willing to create an application for you if it is really complicated. Some applications like L'il Green are very popular with users and are just galleries of graphic flowers to add to your garden. When you get sent a flower or a plant, it plants it in your garden. You can see other people's gardens and water and care for them too. By doing so, you can earn Greenbucks, with which you can buy other things on L'il Green. However, there are ways to buy plants using real money too. You can promote specific offers on your application since you put in the advertising too. It can lead to offers that make you a lot of money through referrals or commissions. The more popular an application becomes, the more people will tell their friends about it and get them to join. This can really increase the exposure of your audience.
MATCH THE APPLICATION TO YOUR DEMOGRAPHIC
L'il Green works because it targets people who like gardening. Other offers that you can get will be related to this niche. Similarly, if most of your offers are about dating, you application should be related to personality profiles, matching interests, and so on. Always match the application to whom you plan to market with it later. You won't get much money initially just from rolling out an application as people subscribe to it for free. You have to lay the groundwork for further income or for selling it to someone within that niche from the start. Otherwise, you risk spending money to outsource the creation and making none back.
CREATE YOUR OWN FOR A TEST
If you want to test an idea, and your application is mostly just images and nothing fancy, you can create your own application within Facebook fairly easily. Just fill the gallery of images and see if you attract people to install the application and what happens next. It's a fairly easy way to break into application creation without investing too much money into programmers.
Other Details
- 1 Ebook (PDF), 12 Pages
- 1 Squeeze Page (HTML)
- 2 Ecovers (PNG)
- Year Released/Circulated: 2019
- File Size: 3,369 KB
License Details:
[YES] Can sell and keep 100% of the sales.
[YES] Can edit the squeeze page.
[YES] Can be bundled into another paid package and sell at a higher price.
[YES] Can be used as a bonus to another product you are selling.
[YES] Can be sold in a Dime sale event.
[YES] Can be added into a paid membership site.
[YES] Can pass on the Master Resell Rights privilege to your customers.
[YES] Can be given away for free AGAINST an email address (lead generation)
[NO] Contents of the product can be edited, modified or altered.