Salespage Snapshot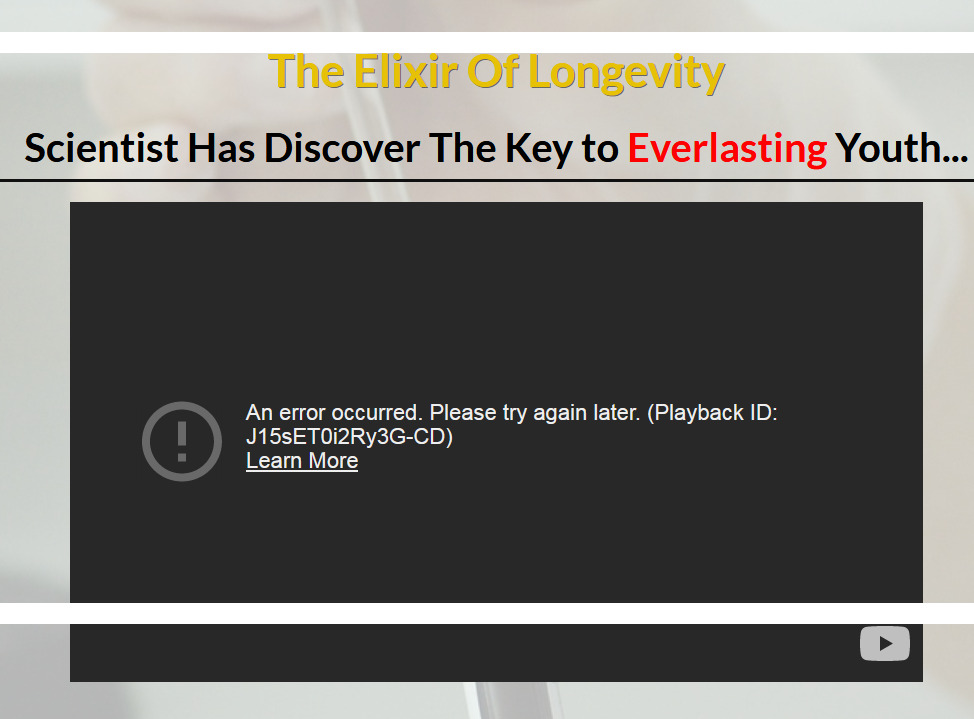 >> Click Here To View Sales Page...
Table of Contents
What Is AGING? ……… 6
Causes of Aging …… 6
1. Lifestyle: … 6
2. Genes ……. 6
3. Free Radicals: …….. 7
4. Stress: …… 7
Rejuvenate 7
Youth, Better Health & Beautiful Skin; Why People Want It? 7
Proven and Beneficial Ways of Staying Forever Young ………. 7
1. Exercise/Workout: 7
2. Proper Sleeping Schedule: . 8
3. Avoid Alcohol: ……. 8
4. Use Sunscreen: ….. 8
History behind REJUVENATION 101… 10
Myths about Aging ………… 10
Myth: If You Didn't Exercise In Your 20s, 30s, 40s, It's Too Late To Start In Your 60s, 70s, 80s 10
Myth: Getting Older Makes People Depressed … 10
Myth: You Lose Your Creativity As You Age ……… 11
Myth: Your Brain Shrinks with Your Age . 11
Myth: Your Joints Become Creaky and Ache More ………. 11
Misconceptions and Myths ………… 11
1. Black Magic: …….. 11
2. Ancient Times: …. 12
3. Consuming Virgin Blood for Immortality: .. 12
Modern Time Anti-Aging … 12
Chapter I – Mind Over Matter ………… 14
Aging: The Negative Stereotype …. 14
The Incentive to Get Younger …….. 15
How to Fix These Problems ………… 15
Exercise More .. 15
Eat Right ……….. 16
Empower Your Mind ….. 16
Chapter II – The Powers Within You … 18
Understanding Limiting Beliefs …… 18
Adopting a 'Can Do' Attitude ……… 19
Question Your Existing Beliefs … 19
Define Your Goals ……… 20
Overcoming Social Stigmas ………… 20
You Are Too Old To… …….. 20
Chapter III – Knowledge Knows NO Limits …… 22
It's Never Too Late to Learn ……….. 22
Where There's a Will, There's a Way ………. 22
How to Get Started ……….. 23
What You Gain ….. 24
Chapter IV – The Nourishment of Your Soul Begins With What You Eat ………… 25
What to Eat ………. 25
Oranges ………… 25
Salmon 26
Lean Beef ………. 26
Whole Grains…. 26
What Not to Eat … 26
The Risk of Lapsing ………… 27
Principles of Clean Eating .. 27
Chapter V – First Step Towards Achieving Greatness And Beyond… ….. 29
Benefits of Regular Workout and Exercises 29
Weight Lifting ……. 30
Yoga ……… 30
High Intensity Aerobics ….. 31
Running/Jogging … 31
Chapter VI – The Secrets to Looking Forever Young… . 33
The Importance of Toning and Shaping …… 33
The More You Sweat, The More You Burn . 34
Why You Should Work Out Outdoors ……… 34
Reasons to Work Out Outdoors: …. 34
Cycling . 35
Tennis .. 35
Walking ………… 36
Chapter VIII – Crazy Powerful Thing Called Faith ……… 37
Steer Clear of Negativity … 37
Appreciate the Progress …. 38
Should You Keep Going? … 38
Conclusion … 40
Sample Content Preview
The nutritional value of these foods and how they contribute to you staying young forever is discussed in chapter IV.
History behind REJUVENATION 101
Facial rejuvenation is the latest trend as it is increasing day by day. Many people opt for it to avoid aging and to look younger. Rejuvenation is basically a cosmetic treatment that involves different steps. It is essential to follow these steps properly in order to achieve desired results. The two types of rejuvenation are surgical and non-surgical.
Surgical Rejuvenation targets the depths. It can correct facial symmetry by altering the skin.
Non-Surgical rejuvenation is more of a shallow treatment. It focuses on wrinkles, freckles and hyper pigmentation.
However, it is always better to avoid any surgical methods and live a natural and organic life. This will automatically enhance the beauty and freshness of your skin. Myths about Aging
There are numerous myths that are linked to aging. A lot of the time people believe these myths and start thinking of it as an aging process. These myths are not the real cause of aging, and we can discuss broadly what these myths related to aging are:
Myth: If You Didn't Exercise In Your 20s, 30s, 40s; It's Too Late To Start In Your 60s, 70s, 80s
It is never too late to start working out. A study was conducted where people at the age 70 plus are given a workout plan. By the end of their workout program, it was observed that their muscles are stronger than before.
Myth: Getting Older Makes People Depressed
Depression is not something that is found in older people only. These days it can be easily found in people of any age. As depression is becoming more common day by day, treatment is also more widely available now, and is becoming advanced.
It is easy to treat depression only if people admit that they need help. The depression gets worst because people refuse to get it treated and it further develops memory and learning problems.
Myth: You Lose Your Creativity As You Age
Creativity actually offers great benefits for older people. Painting, gardening and doing other creative arts lets you stay active and sane. It helps older people divert their attention away from the thoughts they may have concerning their body aging. A study had a group of older people join a choir. It was noted that the older people felt less depressed, more active and happy by the end of the study.
Myth: Your Brain Shrinks with Your Age
The hippocampus, a part of the brain responsible for memory was said to be smaller in older people as compared to younger people. Later, a study was conducted where Dr. Lupien scanned the brains of people in the age bracket of 18-84. The results showed that people from 18-24 years of age had smaller hippocampuses than of the ones in some adults. Hence, it was concluded that the shrinking of the hippocampus was not due to ageing but due to stress.
Myth: Your Joints Become Creaky and Ache More
Your joints don't get creaky when you age. There are a lot of young people who face this issue of creaky joints too. The core reason for creaky joint is lack of exercise. As scientists say, that even by developing a simple habit of walking daily, every morning, this problem can be nullified.
If older people follow an exercise routine they can avoid all the myths that are related to aging.
Misconceptions and Myths
The desire to look young has always existed since the dawn of human civilization. Going back in history, there were plenty of myths regarding anti-aging. Let's discuss a few of these those misconceptions at some length:
1. Black Magic:
Back in the 18th century, there were people who believed that they can gain youth by performing black magic. They would sit inside of graves or stand on one leg throughout the night to please the dark lord. In some extremes, people would even sacrifice certain animals. For example, the mythic animal, the unicorn. People used to believe that by consuming a unicorn's blood they would stay forever young.
None of which is true. Neither does the unicorn exist nor does any such thing as staying forever young.
2. Ancient Times: The ancient Greek, Egyptians and Indians had their own misconceptions regarding ageing and staying forever young. The Greeks and Egyptians thought that using soap for bathing would make their skin age earlier than usual. So they would use baking soda for bathing.
The Greek used to think that the use of olive oil instead of typical moisturizer would make their skin healthy and dewy. This can be considered useful because recent studies also claim that the lesser use of chemicals on your skin helps in preserving youthfulness.
On the other hand, Indians used sandalwood. They would use it to clean and moisturize their skin. Even today, sandalwood is used in various skin treatments. Indians would always mix sandalwood with other ingredients to make creams and skin care remedies. Studies have shown that sandalwood in its purest form is more effective.
3. Consuming Virgin Blood for Immortality:
There was a time in the late 17th century when people believed that consuming the blood of a virgin human would make them immortal. These were people who desperately had the desire to stay young and live forever. They would sacrifice humans for the sake of youthfulness.
At that time, people used to think that the witches were real, and that it was these witches that consumed virgin human blood to stay young forever.
All these misconceptions and superstitions are now largely forgotten, and thankfully nobody goes out for the search of unicorns or to sacrifice humans to drink virgin blood. These misconceptions were created by people who were desperate to gain youthfulness.
Other Details
- 1 Ebook (PDF), 40 Pages
- 4 Graphics (JPG, PNG)
- 1 Salespage (HTML)
- 1 Promotional Ad Material (Emails)
- Special Report
- Year Released/Circulated: 2018
- File Size: 107,971 KB
License Details:
[YES] Can be sold
[YES] Can be used for personal use
[YES] Can be packaged with other products
[YES] Can modify/change the sales letter
[YES] Can be added into paid membership websites
[YES] Can put your name on the sales letter
[YES] Can be offered as a bonus
[YES] Can be used to build a list
[YES] Can print/publish offline
[YES] Can convey and sell Personal Use Rights
[YES] Can convey and sell Resale Rights
[NO] Can modify/change the main product
[NO] Can modify/change the graphics and ecover
[NO] Can be given away for free
[NO] Can be added to free membership websites
[NO] Can convey and sell Master Resale Rights
[NO] Can convey and sell Private Label Rights