Salespage Snapshot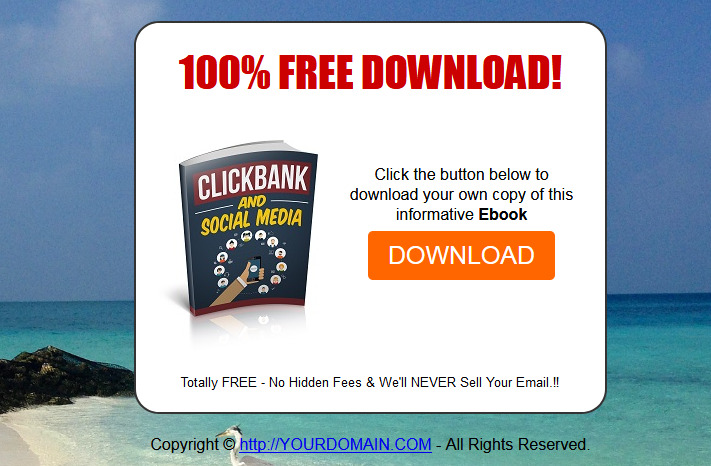 >> Click Here To View Sales Page...
Table of Contents
1. Using Clickbank
2. Preparations
3. CB How To
4. Reputation Management
5. Pros & Cons
6. The World Of Social Media
7. The Active Internet
8. How To Be Social
Sample Content Preview
FINANCES
ClickBank has pay periods that end right after 12:00 midnight Pacific Time on the first and sixteenth of each month, and chooses to pay by check only, said checks to be void 90 days after the date of issue and mailed within 15 days after the end of each pay period. Any checks for amounts over five-thousand ($5,000.00) USD (United States Dollars) are sent at ClickBank's expense by US Priority Mail and amounts over ten-thousand ($ 10,000.00 USD) are shipped overnight by FedEx when possible. You are allowed to set a predetermined minimum for which you are willing to have a check cut, ranging from ten USD to ten-thousand in your preferences. The default setting is one-hundred USD. Once the minimum payable balance is reached and a payment date occurs the amount minus a $2.50 fee is issued and will be shipped as described above.
TRANSACTIONS
ClickBank obtains products from publishers at a 7.5% discount plus a $1 stocking fee, and can also collect EU VAT taxes if required. If the sale is generated by an affiliate site then the wholesale price is split between the publisher and affiliate according to the percentage set by the publisher and credits are generated as appropriate at the moment of the sale. Should a return occur due to a customer dispute the customer received a 100% refund and the payouts are debited back from the accounts and the publisher will also be charged $1 for returned online check sales but not for credit card refunds. If a 'charge back' or revoked sale is caused by a customer's bank there will charges as appropriate and should any product generate more then 1% charge backs in any 90-day period a $35 penalty will be assessed and the product may be delisted.
GET PAID
No delivery service is perfect, and sometimes deposits are not made before a check is expired or a check may even be stolen – all of which can result in payments that have been issued not being received. ClickBank handles this in a fairly standard manner: should you wish to cancel a check and have it reissued there is a $20 cancellation fee and said check will be cut on the next twice-monthly issuance date. Requests received by the 10th of any month will be handled in the order they are received. Should a check grow 'stale' that is expire and need to be reissued marking it VOID and sending it to the Paycheck Department will allow a new check to be issued.
As required by US law ClickBank will withhold payments until sales made with five or more credit card numbers including at least one Visa and one MasterCard account have been made.
Should you ever wish to close your account any balance less then ten USD ($10) will be forfeited, or if you wish to transfer or move your account to another name or payee this can be accomplished with a signed authorization statement via certified mail and a fifty ($50) fee. Accounts that have no earnings for an extended period may be deemed 'dormant' and a fee of $1 a pay period ($2 a month) or $10 a period ($20 a month) after 365 of dormancy may apply.
A WORD ON THE IRS
It is recommended that you obtain an IRS issued Employer Identification Number (EIN) to use as your taxpayer ID number from the IRS site noted HERE.
This will help simplify the 1099 reporting requirement and if you earn more then $600 you are required to have some form of Taxpayer ID affiliated with your account anyway, and your social security number is often considered too private to list.
This details most of what ClickBank is about, how it's contract works and payment methods are determined, who is responsible for which elements of the sale and advertisements etc. – now only you can know if this particular affiliate is right for you and your business, but some key elements to consider include:
I. Do you have product of your own to sell and if so what is it? ClickBank for instance is an excellent place to market eBooks, software or downloadable goods but they don't handle physical products.
II. How much exposure does your web site have and does your average viewer seem the type to purchase information and eBooks or software online? If so, linking to affiliate sales and eBooks from your site can be a good revenue generator with little to no risk by participating in ClickBank's affiliate program.
III. Is starting to sell your eBook, software etc. at a low cost or becoming a vendor site for others at no cost something that appeals to you? Selling some products such as eBooks can be as low as a $49.95 setup fee and fees of about 8% on each sale and they handle collections, refunds and paying of affiliates.
Whether you are a creator and writer of eBooks, software, video or music that needs a cheap and easy way to market your products or just a website owner seeking to link to various information to sell to your visitors and obtain a piece of the profit ClickBank is custom tailored to your needs. If however you sell physical products or need a lot of marketing and advertising done for you then this venue may not be optimum for your considerations.
The next section will give you the exact steps you need to follow in order to get your ClickBank website setup for maximum profit…
Preparations
This section is dedicated to a fast, low down & dirty system for making sure that you get your account running without much hassle or time requirements…
Not everyone has the know-how to create online scripts and secure credit card processing. That is one reason why companies like ClickBank have flourished and why they can be such a great resource to so many individuals – but a little knowledge and some careful application of the right types of feature sets can go a long way into making your online marketing and sales capabilities for your ClickBank product or affiliate links go further and do more to increasing your bottom line.
First and foremost ClickBank requires that you not list your product on any 'free' web sites, and that you own the domain name in use. This requires understanding a little about domains, how to register a domain name, how to best select and choose a name etc. so let's go over a few of these details of online commerce to make certain you are currently set up for an optimal ClickBank experience, and if not how to prepare your site correctly. Online commerce or 'ecommerce' as it is often referred to, is the process of accepting payment for goods and / or services sold across the World Wide Web, or Internet. In many cases, as with ClickBank or other affiliate sales the goods are downloadable products in the form of information or software, but ecommerce refers to any sale even of physical goods that are shipped from a location or locations when ordered online. There are many aspects to ecommerce but the most important success or failure associated with online businesses is the look and 'feel of the web sites and associated pages related to the business in question.
Having extravagant and showy features while often popular and considered 'cool' by many web page designers has proven not to be of much benefit to increasing customer sales and in fact polls have shown most customers prefer a non-showy but quick and easily navigated site over the more elaborate displays, especially on sites they visit a lot. Having a quick-loading and easy to work-through site is more important then having one that impresses when you are trying to sell something.
Of course if you are selling flash media objects and custom design then examples and flashy entries may be just the thing – as with all 'rules' there are exceptions and you need to tailor your site to the types of customers you have and their level of knowledge and understanding. In any case the first step in creating a web site once you understand the general layout and market segment you wish to get into is identifying and obtaining a domain name.
Other Details
- 25 Articles (TXT)
- 1 Ebook (PDF), 56 Pages
- 1 Squeeze Page (HTML)
- 2 Ecovers (PNG)
- Year Released/Circulated: 2018
- File Size: 2,149 KB
License Details:
[YES] Can sell and keep 100% of the sales.
[YES] Can edit the squeeze page.
[YES] Can be bundled into another paid package and sell at a higher price.
[YES] Can be used as a bonus to another product you are selling.
[YES] Can be sold in a Dime sale event.
[YES] Can be added into a paid membership site.
[YES] Can pass on the Master Resell Rights privilege to your customers.
[YES] Can be given away for free AGAINST an email address (lead generation)
[NO] Contents of the product can be edited, modified or altered.