Salespage Snapshot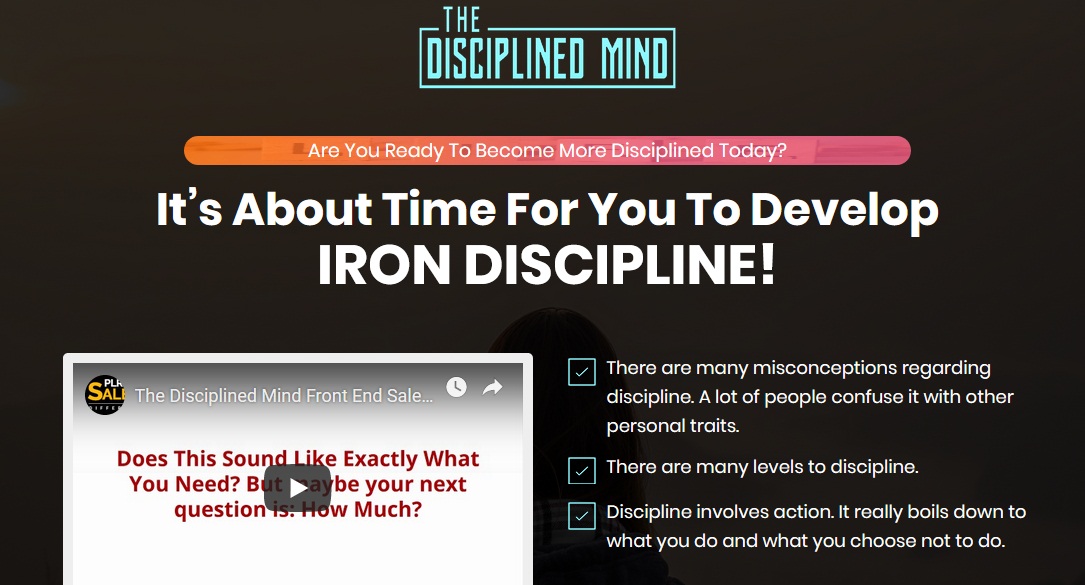 >> Click Here To View Sales Page...
Sample Content Preview
Competence Produces Confidence
In US educational institutions and school districts, the idea of self-esteem as the gateway to confidence has been the received institutional wisdom for several decades now. The idea is if you make kids feel good about themselves, eventually, they will become more competent.
Eventually, they will be able to figure things out and achieve.
Well, it turns out that it's actually the other way around. According to research studies in the 1990s, when children become competent in something or anything, they become more confident. When they're more confident, they experiment more and they try harder and they increase their levels of competence. It turns out of that competence produces confidence which enables people to develop even higher levels of competence.
Confidence does not flow from self-esteem. Instead, self-esteem flows from competence.
Understand how this works. Adopt this mindset.
Let's face it. You may not be all that confident about certain things in your life right now. However, the more you master them, the more competent you become. You will then feel more confident to tackle more things and go out on a limb on many areas of your life.
The more confident you become, the more you try, and the more competence you build. This leads to even more confidence, so on and so forth. You just need to start somewhere, and this means doing.
You may think that you would do a lousy job today, but that's okay. You have to start somewhere. The good news is as long as you choose to put in the work to become competent, the confidence will follow.
Momentum is on My Side
Believe that moment is on your side. If you believe this, you will eventually reach a point where it becomes harder and harder for you to stop than to start. I know this sounds crazy at this point. At this point, you're probably having a tough time staying from foods that you know are bad for you and sticking to foods that don't taste all that good.
The good news is the more you stick to it, the easier it becomes over time. In fact, you could reach a point of momentum where it becomes harder to stop your behavior than to start. All it takes is to keep trying and to keep on pushing.
When this becomes your routine, this action changes the way you look at things and the way you feel about things. This eventually becomes part of your identity.
Build Discipline Using the Things You're Already Doing
As I mentioned in the introduction of this book, what makes this book different is that you're going to choose to build discipline doing the things that you're already doing. You're not going to be assuming weird yoga poses. You're not going to adopt exotic meditation or mindfulness practices. You're not going to be doing any of that.
Instead, you're just going to look at what you currently do and build discipline doing those things. This may seem small. In many cases, they may even seem trivial. However, just as small streams combine to produce big rivers, all these small tasks when practiced routinely and mindfully pursued can lead to increasing levels of personal discipline over time.
Meet Deadlines
If you work, chances are you are dealing with deadlines already. There's also a high likelihood that you probably have blown through a deadline or two in your career. You can build discipline by making it a point to meet deadlines every single time.
I understand this can seem like a tall order right now. However, the more you commit to this, and the more you achieve it, the easier it becomes. You just have to consciously commit to doing it and understand what's at stake.
It is not just a matter of getting stuff done by a certain point in time so your boss would be happy. Instead, it's all about practicing discipline in a very practical way that you can repeat over and over again. Simply commit to meeting to meeting them more often and make it a point to put in the effort to meet your deadlines each and every time.
I understand this is probably not going to happen the first time you do it. That's okay. However, the more you try, the easier it becomes until, eventually, you don't even notice because it's become part of your routine.
Put in the Work
I know this seems kind of obvious. After all, if you have a job, it is easy for you to automatically think that you're already working. What if I told you that typical employees' eight hours can actually be condensed into one productive hour of work?
I know it's quite shocking, but it's absolutely true. Just pay attention to what you yourself are personally doing. Do you work all eight hours when you are at your job? Chances are you don't.
Chances are you spend a lot of time on the phone, checking e-mail, checking social media updates, shuffling paperwork, reading unrelated stuff, talking about unrelated stuffy, and other activities. All these add up to quite a bit of time. When you just zero in on the stuff that actually matters, as far as your employer is concerned, you'd be lucky to get one hour of actual work done.
Use this as a golden opportunity. Put in the work. Commit to more output. I'm not just talking about random output here. I'm talking about output that actually contributes a tremendous amount of value to your employer.
Next, you should commit to pure work. In other words, cut down on the social media updates. Set aside the e-mail time. Restrict unrelated activities to a bare minimum.
If that isn't challenging enough, you should also commit to hitting quality guidelines. It's not enough that you are producing work at the right amount. You should also make sure that whatever work you produce meets the highest quality standard.
Let me tell you, you would always have this opportunity if you work for other people for a living. Every single hour you are at your job is an opportunity to do this.
The good news is if you consciously work to build up your discipline by committing to hitting high-quality guidelines and producing a lot more output, you stand to benefit in more immediate terms.
Not only does committing to more productive work help you become a more disciplined person, but it can actually help you get promoted more. It can also help you to get paid more.
Stick to Regular Meal Schedules
Believe it or not even the simple act of eating can build discipline. How? Well, if you're like most people, you probably have shifting schedules as far as your meals go. Sometimes you get so busy in the morning that you skip a meal. Sometimes things pop in the middle of the day and you have lunch at weird hours.
By deciding to stick to regular meal schedules, you actually build up your personal discipline level. The secret here is not just setting up a schedule. The secret is setting up the consequences of missing your schedule. I am, of course, talking about refusing to eat if you miss your scheduled meal time.
If you set things up this way, then there is a consequence to your action. This sets you up for meeting your regular meal schedules because you have an incentive to do so. This goes a long way in pushing you to eat at regular times during the day.
Your mind becomes more disciplined and, most importantly, your body becomes more disciplined. Don't be surprised if you regulate your weight more effectively just by simply sticking to regular meal schedules and refusing to eat if you miss your meal times.
Give Yourself Consequences
The big challenge in building personal discipline is the fact that a lot of people look at this whole project as something that "would be nice" if it happened. In other words, they're setting it up as an option. It is not an option. You're actually engaged in the most important things you could ever do with your life.
Like I described in an earlier chapter, it has a profound impact in many areas of your life. It also applies across the board. Unfortunately, if you were to view this as something that would be nice if it happened, you don't really set up any negative consequences for yourself. If you don't show up to work on time, that's just another blown schedule. If you don't eat a meal on time, welcome to the club.
You have to get out of those mindsets. You have to instead give yourself consequences if you drop the ball. For example, if you did not stick to your regular meal schedules, you skip your meal. If you spend money in an unscheduled way, you reduce your budget.
There has to be some sort of negative consequent for your failure to act in a disciplined way. Unfortunately, nobody is going to step in and do this for you. You're going to have to do this yourself.
Other Details
- 20 Articles (TXT, DOC)
- 1 Ebook (PDF), 33 Pages
- 6 Graphics (JPG, PNG)
- 1 Salespage (HTML)
- 10 Ecovers (JPG, PNG)
- 2 Promotional Ad Materials (Emails, Banners)
- Checklist, Resource Report, Cheat Sheet, Mindmap, Optin Page, Social Media Images, Legal Page, Sales Video
- Year Released/Circulated: 2019
- File Size: 192,233 KB
License Details:
[YES] Can be sold
[YES] Can be used for personal use
[YES] Can be packaged with other products
[YES] Can modify/change the sales letter
[YES] Can be added into paid membership websites
[YES] Can put your name on the sales letter
[YES] Can be offered as a bonus
[YES] Can be used to build a list
[YES] Can print/publish offline
[YES] Can convey and sell Personal Use Rights
[YES] Can convey and sell Resale Rights
[YES] Can convey and sell Master Resale Rights
[NO] Can modify/change the main product
[NO] Can modify/change the graphics and ecover
[NO] Can be given away for free
[NO] Can be added to free membership websites
[NO] Can convey and sell Private Label Rights