Salespage Snapshot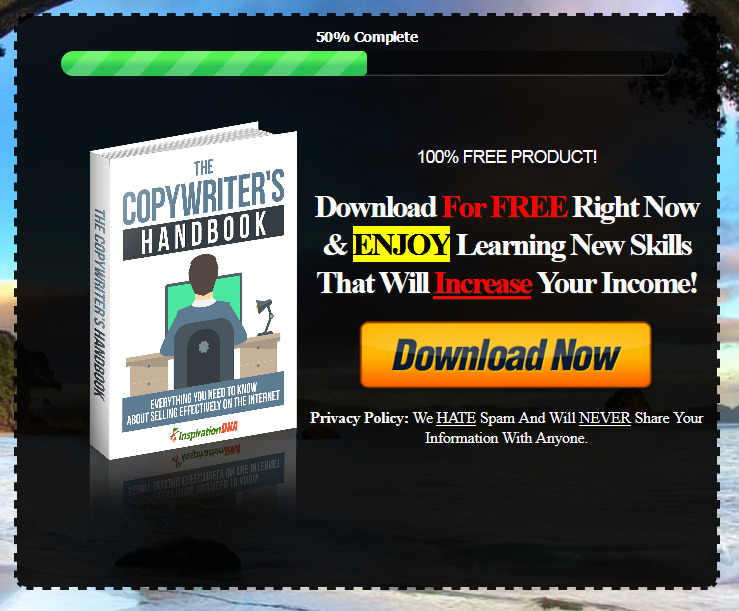 >> Click Here To View Sales Page...
Table of Contents
Foreword
Chapter 1:
Introduction
Chapter 2:
Basics Of Copywriting
Chapter 3:
Headline Essentials
Chapter 4:
USP vs. ESP
Chapter 5:
Call To Action
Chapter 6:
Handling Objections
Chapter 7:
Copywriting Mistakes To Avoid
Chapter 8:
Swipe Files
Wrapping Up
Sample Content Preview
Chapter 2:
Basics of Copywriting
Copywriting is used in many places throughout your online business funnel. Here are some examples of common used places:
The Basics
-Website content
-Blog posts
-Landing Pages
-Email Marketing
-Sales Pages
Remember, the ultimate goal of copywriting is to get your readers to perform your most desired outcome. E.g. making a purchase or signing up into your mailing list.
Therefore, it's very important that you determine what your desired result is before you embark on your copywriting crusade. Clarity is power so it's important to know what you are after so that when you write, things will go the direction you want it to go.
Okay, let's look at some basics. Bearing in mind that we want our readers to perform our most desired result, we also can't be too forceful. Here's rule number one:
Keep it casual
You want to be seen as a friendly person who is also an authority figure in your field and not like a blatant salesman. The latter will cause people to dislike you can treat you as spam.
The next thing you must know is that some rules are pretty illogical. But one thing that makes sense is this, good practices have been tested and proven (split-tested) by top online marketers for years, so rather than trying to re-invent the wheel, follow what works and reap the rewards!
However, I strongly encourage you do a little split testing of your own as well. Eliminate things that don't work and duplicate or multiply things that do – that is the surefire way to success!
Next up, we'll look into one of the most important components of a good copy – headlines.
Chapter 3:
Headline Essentials
The headline is the most important part of any copy. If your headlines fail to grab the attention of your readers, it doesn't matter how good your offer is or how good the rest of your copy is. You only have 5 seconds to make an impact on your readers before they move on, so make it count.
Here's an example of a good headline:
The headline has to be eye-catching and bolded to immediately get your reader's attention. The sub headline will reinforce the message of the headline.
In this case, the writer used font face "Impact" and red fonts to grab the reader's attention. The black words in the header are to break the monotony of the headline. It's also used to exemplify the important points (Free Of Charge).
Here's an important thing to note: You should never use FULL caps for your headline. Only use it when necessary.
"IMAGINE WHAT THIS WOULD LOOK LIKE IF THIS WAS ON THE TOP OF YOUR WEBPAGE!!!"
It looks like someone screaming at you – Who would like that? Also, full caps looks spammy and nobody nor Google would like that.
Also, headlines has to use eye-catching words which can instantly excite the emotions. Have you ever seen magazines at a newsstand? The headlines usually sound catchy and uses words which excite curiosity and emotions with topics like sex, money and drama.
Ask yourself, what niche are you in? What words can you use to excite emotions and create drama in your niche?
Chapter 4:
USP vs. ESP
We talked a lot about emotions in the previous chapter. Back in the days, many businesses use something called "Unique Selling Point" or "Unique Selling Propositions" to differentiate themselves from their competitors to rake in more sales.
Which One
While that is very important, in the online world, we have something additional called "Emotional Selling Point" – Which is the ability use tap into the emotions of your readers so that you can make them carry out your most desired action.
Here's an example of an emotional selling point:
"I knew what it was like struggling as a new marketer, learning how to draw traffic to my website. Sometimes, I even had a slice of bread a day because I wasn't making much money from my online business…"
This classic example relates the hardship faced by the marketer to the person reading the sales copy, who is probably facing the same problems he once faced.
Emotional selling points also deal a lot with powerful emotion stimulating words. For example, in the make money online niche you would use words like: "time and financial freedom, free from the shackles of 9-5, quit the rat face". These terms are emotional terms related to the niche that people can easily relate to and connect with.
In short, if you wish to use ESPs effectively to market your business, ask yourself these two questions:
1) What niche are you in?
2) What kind of words/stories/situations that people in your niche can identify with?
Once you have determined the answer to these two questions, you can try and brainstorm as many ESPs as possible that you can use in your sales copies or marketing content.
Other Details
- 1 Ebook (PDF), 30 Pages
- 2 Graphics (PNG)
- 1 Squeeze Page (HTML)
- Year Released/Circulated: 2017
- File Size: 2,238 KB
License Details:
[YES] Ebook Can be given away against an email address
[YES] Can sell the WHOLE product and keep 100% of the sales
[YES] Can sell the WHOLE product with Resale Rights
[YES] Can sell the WHOLE product with Master Resale Rights
[YES] Can edit the Squeeze & TY + MRR Upsell Pages
[YES] The WHOLE product can be packaged with other products you sell
[YES] The WHOLE product can be offered as a bonus with other products you sell
[YES] The WHOLE product can be added to paid membership sites
[YES] The WHOLE product can be offered through auction sites
[NO] WHOLE Product can be given away
[NO] WHOLE Product can be added to free membership sites
[NO] Ebook can be modified in any way
[NO] Can sell with Private Label Rights