Salespage Snapshot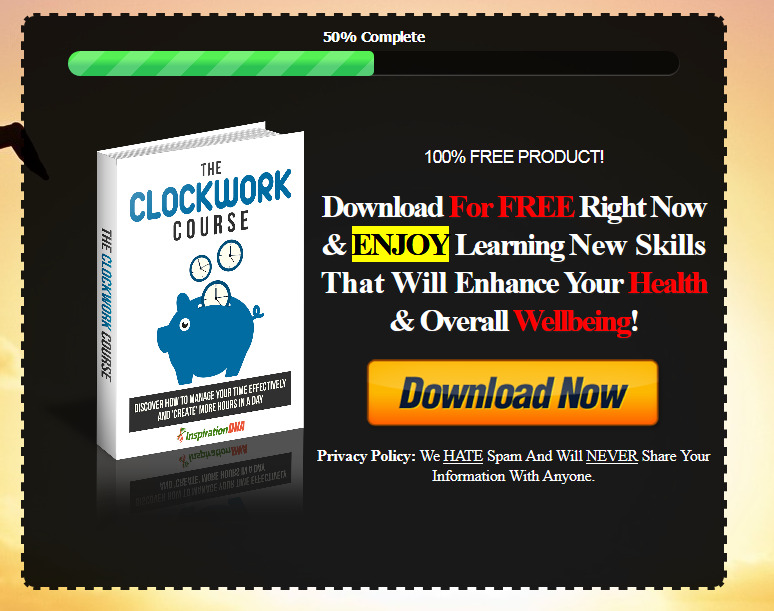 >> Click Here To View Sales Page...
Table of Contents
Foreword
Chapter 1:
Time Management Basics
Chapter 2:
Make A Time Log To Figure Out Daily Time Wasters
Chapter 3:
Clarify Your Objectives
Chapter 4:
Learn To Stay Focused
Chapter 5:
Make A Daily To-Do List
Chapter 6:
Set Time Limits For Every Task
Chapter 7:
Combine Tasks
Chapter 8:
Make Sure To Completely Finish Tasks
Chapter 9:
Use Positive Self Talk To Defeat Procrastination
Chapter 10:
The Detriments Of Daily Time Wasters
Wrapping Up
Sample Content Preview
Chapter 2:
Make A Time Log To Figure Out Daily Time Wasters
Making a daily time line log would be a simple exercise. Creating complicated one will not only take up unnecessary time but also end up being too overwhelming to follow. Complicated time lines can be discouraging rather than helpful.
Track These
Creating a daily log which is tagged to a functional time line will help the individual to better manage their daily routines efficiently and effectively. In doing this regularly one is able to have a check and balance visual track of the progress made. This also enables the individual to make the necessary changes to improve in the areas that are in need.
It is a popular belief that most people waste precious time on efforts made when there is no urgency or time managements elements involved in the exercise or task at hand. One way of successfully avoid this is to make a daily time log. Here are some tips that can help anyone interested in following this proven efficient formula.
Start with making a list of all the things that need to be done or require attention in an approximately 12 – 15 hour cycle. After this is done, rearrange the items according to its importance or urgency.
If it is difficult to decide, then categorize them into those that will have the most impact either long term or short term against those that wont effect any impact at all.
It may be surprising to note that half if not more, of the items listed are of no real importance at all. Once this is firmly decided, allot a realistic time line for each item to be completed. Then try to stick to
these targets without being distracted in any way and don't take on any other unlisted items, as this may cause unnecessary distractions.
At the end of each day, unbiasly review the results achieved based on the time line given for the day. From this review one will be able to make the necessary changes to ensure better time management for the next day's projections.
Chapter 3:
Clarify Your Objectives
Having an objective in mind when planning something, is very similar to having a goal. Both these similarities require the disciple and complimenting tools to help produce the success desired.
Objectives are popularly thought of as statements for specific outcomes that are to be achieved within a certain time frame and criteria. A another popular way of looking at objectives is as a hierarchy of steps based on forward moving terms which help set and execute the terms and conditions of an endeavor.
Get Clear
In order for the desired results to be achieved there are certain necessary steps that should be taken. Below are some of the recommended steps to be considered with a degree of seriousness as they all contribute to the percentage of success achieved.
The first step to be clear about is the purpose of the endeavor. Questions like why, who, what, where are all very important and need to be properly addressed in order for a clear and complete picture to be visualized.
Then the vision behind the endeavor should be explained and thoroughly understood by all concerned. The overall aspiration should be clearly accepted and discussed.
General statements based on the aims and goals should be voiced so that the relevant time lines and project management aspects can be adequately addressed. Also to be addressed at this point is the intended achievement that is being sought during the execution of the said endeavor.
Finally a clear and preferably very visual objective should be portrayed for all those involved to have a clear as possible view in the mind's eye of the objective. Precise and detailed statements, goals, and aims should be well documented for all to know.
When all the above is clearly and precisely shown, success of the objective will be easier to achieve and the moral of those participating will be kept at all time highs.
Chapter 4:
Learn To Stay Focused
Staying focused is very important when embarking on any kind of endeavor. Staying focused helps to keep the individual committed to completing the said endeavor in a satisfactory manner. Most times people allow themselves to be distracted and thus the end results are never pleasing or even finished.
Center
Everyone goes through periods of lulls in their zest for getting things done. The enthusiasm levels are high and the excitement is ever present, but when a shift occurs and the burnt out feeling starts to seep in, it's time to stop and take a fresh look at the situation at hand and make the necessary change and quickly.
There are some recommended steps which are commonly used to starve off the lull into becoming a permanent feeling. Clearing all unnecessary distractions from the general lifestyle of the daily routine is a good place to start.
Everyone has a certain amount of distractions in their lives, but the important thing is to never allow these distractions to become the domineering factor. Distractions like television, video games, unhealthy foods, and laziness to name a few. None of these distractions are very difficult to give up. All it takes is a little discipline and focus.
Create a lot of new and good habits. Replacing a bad habit with a good one will help the individual shift the negative the onset of a lull. However, practicing the good habit, daily, must be done consistently for about a month. This will ensure the end goal is still in sight and attainable.
Other Details
- 1 Ebook (PDF), 32 Pages
- 2 Graphics (PNG)
- 1 Salespage (HTML)
- Year Released/Circulated: 2017
- File Size: 2,856 KB
License Details:
[YES] Ebook Can be given away against an email address
[YES] Can sell the WHOLE product and keep 100% of the sales
[YES] Can sell the WHOLE product with Resale Rights
[YES] Can sell the WHOLE product with Master Resale Rights
[YES] Can edit the Squeeze & TY + MRR Upsell Pages
[YES] The WHOLE product can be packaged with other products you sell
[YES] The WHOLE product can be offered as a bonus with other products you sell
[YES] The WHOLE product can be added to paid membership sites
[YES] The WHOLE product can be offered through auction sites
[NO] WHOLE Product can be given away
[NO] WHOLE Product can be added to free membership sites
[NO] Ebook can be modified in any way
[NO] Can sell with Private Label Rights