Salespage Snapshot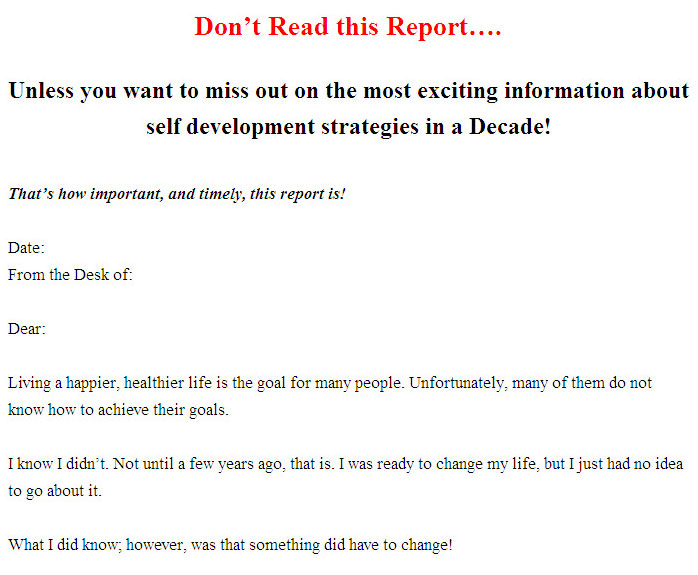 >> Click Here To View Sales Page...
PLR Ebook Sample Content Preview
The Business Strategies for Self Development
Picture it…think of a time in your history that you were in the wrong place at the wrong time. Think of a moment that you had a roadblock when trying to find the right things to say. Consider the people in your life. Think of a time that it seemed as though the right time was out of sight.
Wrong place – wrong time –
Visualize a man standing in front of an ambitious audience, prepared to hear a speech. The speech is intended to focus on self-development. The man gets on the stage with a somewhat drawn out plan of action, and fail proof goals.
What do you think is going to happen? Let us consider that this person failed to research his speech topic thoroughly. The man steps on the stage casting a glance, peering into the audiences' eyes shortly and starts to stammer. He hesitates and glances down at the stage. Starting he gives the audience an overview of the topic. The topic is strategies for self-development.
His starting line goes as follows: To prepare for self-development you need to find your path in life. (Good start) He then states (as he stands there failing to glance left, right, right, left, center): Self-development is a learning process, (Good point), yet many of us fail to see our way. We often stumble because we do not have the tools we need to succeed. Then he hesitates once more, and as he starts to resume he says, speech is a problem in our society. We often do not have speech sessions that whereas positive messages encourages others to act on issues in our society. We must learn to take action.
This man is failing at this conference, since he is breaking off and jumping the track. What he failed to do is set goals, research his topic thoroughly, note points, outline the speech completely, and he failed to create workable plans that helped him to stay on track.
This information is evident, yet what he also failed to do is focus on the audience, circumstances, location and the content of his speech. If he had strategies set up that worked, he would have effectively given a good speech and stayed on course. He also failed to use body language in his favor, which included eye contact with the audience. Always look right, left, center, left, right when given a speech. Of course, you do not want over do it.
Other Details* Sales Page:
Included, HTML, MS Word Doc
* File Format:
MS Word Doc, PDF
* Number of Pages:
144
* Included Graphics:
Ecovers
* Download File Size:
878 KB