Salespage Snapshot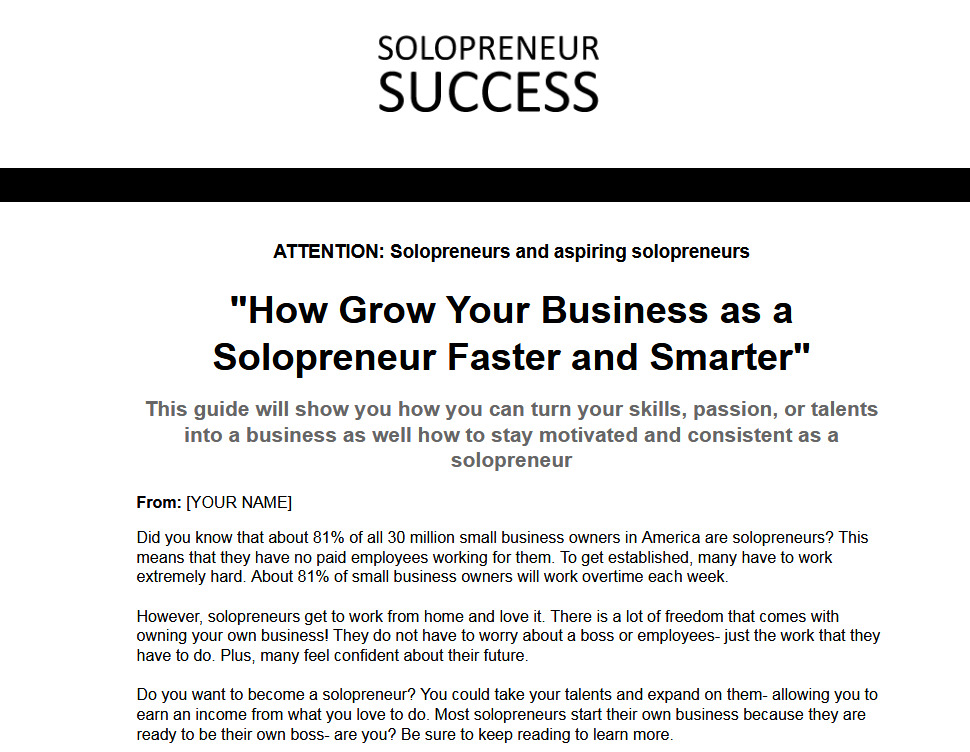 >> Click Here To View Sales Page...
Table of Contents
Introduction……6
Chapter 1: The Rise of the Solopreneur………………. 8
What is a solopreneur?…..8
What a Solopreneur Does……………………9
What an Entrepreneur Does……………..10
Solopreneurs and Professional Growth……………….10
How You Know You are Ready to be a Solopreneur……………..11
Chapter 2: Create a Single Business Focus……..14
Choosing Your Business Focus……… 15
How to Sell to a Niche Market…………. 16
Building a Market………….. 17
Chapter 3: Work Smarter, Not Harder………………….20
Get Rid of Distractions… 20
Hire a Virtual Assistant…21
Outsource and Delegate Work…………21
Develop Your Time Management Skills……………… 22
Use Technology……………..23
Chapter 4: Staying Productive………… 26
Follow a Consistent Routine……………..26
Get Organized……………….. 27
Setting Goals…………………. 28
Staying Productive at Home……………..29
Learn Your Productivity Hours………… 30
Try a Small Task First…..31
SOLOPRENEUR SUCCESS
Chapter 5: Network for Success…….. 33
Building Your Network….33
Connect Through Social Media………. 34
Building Your Audience. 35
Conduct Research…………36
Make Networking Fun…..36
Chapter 6: Know When to Pay For Tools… And When Not to………………. 39
Is It Helpful?39
How Often Will You Use It?……………… 39
Is There a Free Version?………………….. 40
Will It Fit Your Budget…..40
Can You Outsource?…… 40
Examples of Online Tools………………….41
Chapter 7: Focus on Progress, Not Perfection..44
Why You Don't Want Perfectionism. 44
Perfection is Impossible.45
How to Focus on Progress………………..45
How to Track Your Progress……………. 46
Chapter 8: Don't Forget Your Off Time………………. 48
How to Take Breaks…….. 49
What to Do on Your Break……………….. 50
Why We Need Work Breaks……………..51
How Long Your Break Should be…… 51
Boosting Productivity…… 52
Conclusion…..54
Sample Content Preview
It is expected that independent workers receive more career opportunities within the coming years. Plus, records indicate that a majority of solopreneurs feel more comfortable working on their own and prefer it over traditional jobs. Many also feel less stressed with their work and believe it is much better for their mental health.
If you want a job that provides you with consistent growth and satisfaction, then a solopreneur career could be a perfect match for you. With a more flexible life, you can build your schedule to suit you the best.
However, many people confuse solopreneurs with entrepreneurs. It is important that you know the difference if you want to enter into this profession. A solopreneur is the founder and sole employee of the business. An entrepreneur will usually have a team that they manage. Overall, solopreneurs have a lot more freedom between the two positions.
Here, we will cover the main differences in more detail below.
What a Solopreneur Does
A solopreneur is in charge of every aspect of their brand and business. They usually will handle a majority of business tasks and projects on their own. While they may outsource some tasks or hire professionals to help them with the work they can not do, a solopreneur is the only employee of their business.
For example, a solopreneur may hire a graphic designer to help them build and create a website. This process is not part of the day to day business operation of the brand, but it is still essential for the business's growth. As a solopreneur, do not hesitate to work with freelancer professionals when you can not handle the task on your own.
Additionally, the solopreneur is the founder of the business. They are responsible for creating all of their products or services and getting them to their customers.
What an Entrepreneur Does
While an entrepreneur may start their business on their own, it usually does not stay that way for long. They will hire a team to handle projects and tasks- mainly creating the products or services of the company. The employees are also responsible for ensuring the customers get what they pay for. In short, an entrepreneur delegates more work than the solopreneur.
An entrepreneur is more like a manager. They run their business by overseeing the work of the people that they hire. Many people feel more comfortable as a solopreneur, because they are not in a manager position.
Solopreneurs and Professional Growth
As you build your business, you will start noticing more opportunities coming your way. Once you get the ball rolling, trust us, it gets easier. That initial "push" can be very tough, but soon, you will have the chance for plenty of professional growth.
This professional growth can include:
● Higher cash flows
● Reaching career goals
● Learning new skills
● Gaining more experience
Professional growth is essential for any solopreneur to succeed. The more you learn, the better you can use your skills to improve your business. This creates a positive cycle that allows you and your business to continue growing and improving together.
The best way to grow as a solopreneur is to develop your network.
When more people are aware of you, you will have more opportunities to build business relationships with other professionals. You can gain more exposure, and more work or sales, through your network.
Overall, running your own business will put your natural talents to the test.
You will work hard to develop them into professional skills, allowing you to grow further and earn a steady income.
How You Know You are Ready to be a Solopreneur
There are several signs that you are ready to build your own business.
Here are some of them:
● You have a passion
● You believe in your talents and ideas
● You have a brand idea in place
● You have a product or service to offer
● You are ready to learn and make a plan
While there are many signs, the most important is that you love to learn. Solopreneurs need to be a "jack of all trades"- since they handle everything within their business. This means that you will need to learn plenty of skills and techniques in order to succeed.
Of course, all solopreneurs need something they are passionate about. Have you heard the saying "If you love what you do, you will never work a day in your life", that is true for solopreneurs. You will need to invest a lot of your time into managing your business. However, this is going to be what makes you grow.
Plus, when your audience sees that you love your career, they will be much more interested in what you have to offer them.
Chapter 2: Create a Single Business Focus
The first step in starting your new business is to choose a single focus. Solopreneurs usually start by catering to a niche market, where they can build an active and interested audience. You will want to have a steady customer base before you move on to anything else.
Having reliable customers is essential; they keep your business profitable and allow you to engage with them easily. Plus, a solid customer base keeps your business easy to manage. If you start to branch out too much, you might have trouble handling all of the tasks on your own.
Your single business focus will need to be at the center of all your services and products. For example, if you were running a freelance graphic design business, you would focus on delivering the graphics your customers wanted. You would likely not branch out too much into other areas.
This is another difference between entrepreneurs and solopreneurs. An entrepreneur who runs a graphic design business would have a team of designers working for them. They could offer more services- which would be hard for a single person.
Still, your single focus should be what you love. Having one main service or product also allows you to cater to a niche market- where there is less competition. Many independent workers can meet all of their goals by doing this.
So, before you can start working as a solopreneur, you need to know how to sell to a niche market.
Choosing Your Business Focus
Your business focus is going to be the center of everything that you do- you do not want to pick something you might dislike or grow bored with later. What is your passion? Do you have any hobbies you want to market? If you love what you do, you are much more likely to succeed.
Other Details
- 1 Ebook (PDF), 54 Pages
- 2 Graphics (JPG, GIF, PNG)
- 1 Salespage (HTML)
- Checklist, Resource Cheat Sheet, Mindmap, Optin Page, Social Media Images, Email Swipes
- Year Released/Circulated: 2021
- File Size: 51,218 KB
License Details:
You're granted master resell rights, resell rights or to resell with personal use rights.
You may add this product to your PAID membership site
You may giveaway the product as a bonus when people buy through your affiliate link
You may edit the included sales page and opt-in page
No, you may NOT edit the contents of the eBook(s) & videos
No, this product does NOT include private label rights. You are granted Master Resell Rights only
No, you may NOT giveaway the eBook(s) & videos for free.