Salespage Snapshot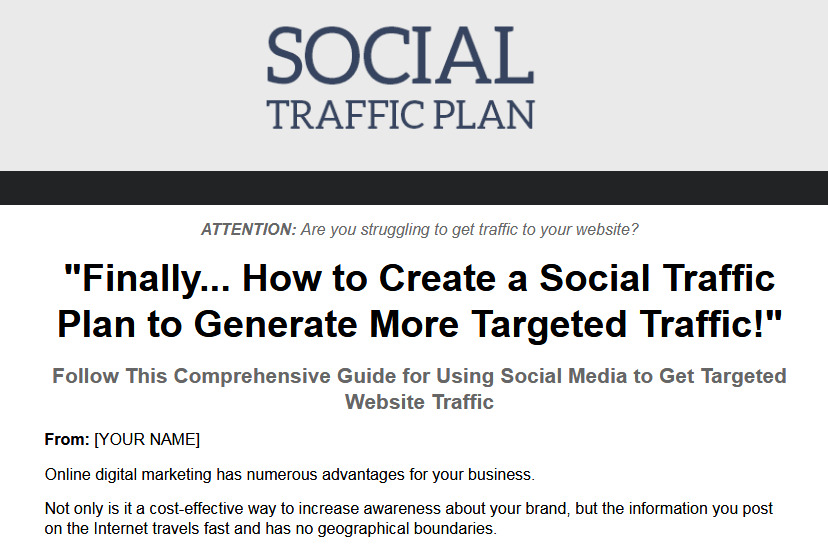 >> Click Here To View Sales Page...
Table of Contents
Introduction . 5
Chapter 1 – Utilizing Facebook … 9
How to Utilize Facebook to Grow Your Business …11
Ask for Testimonials and Reviews .11
Strike a Connection with Your Audience 12
Utilize News Feed Ad Placement …13
Get Feedback from Your Audience 14
Offer Helpful Resources 15
Use Images in Your Posts .15
Chapter 2 – How to Use Twitter for Business …17
An Overview of Twitter …17
Types of Posts on Twitter ..19
Proven Tips to Boost Your Business on Twitter .20
Utilize Hashtags 20
Understand the Best Times to Tweet .21
Make Use of Twitter List Function ..22
Add Value in Your Retweets ..22
Tweet Customer Testimonials …22
Interact with Your Audience …23
Chapter 3 – How to Utilize Instagram to Promote Your Business …24
Growing Your Brand and Business with Instagram 25
Incorporate Your Site Link to Boost Traffic.26
Use Audience-Targeted Hashtags .26
Ensure You are Using the Right Filters ..27
Post at the Right Time …28
Engage with Popular Instagrammers .29
Chapter 4 – How to Utilize YouTube for Your Business…31
How to Use YouTube to Grow Your Business 32
Remain Active …33
Customize Your Channel …34
Think Through Your Titles .34
Engage with Your Audience ..34
Chapter 5 – How Pinterest Can Get You More Targeted Website Traffic.37
How to Use Pinterest to Grow Your Business 38
Create Pinboards that Include Keywords in the Title ..38
Describing Your Ideas …39
Chose Vertical Images to Make the Most of Your Real Estate …39
Embed Pins on Your Blog .39
Use Pins with Timetables in Mind ..40
Utilize Rich Pins 40
Create Bi-Weekly Posts .41
Create Mutual Pinboards …42
Conclusion .43
Sample Content Preview
Chapter 1 – Utilizing Facebook
Facebook is one of the most complex social networking sites for business because they are always changing the algorithms, which can make it challenging to reach your targeted audience.
Facebook offers both profiles and business pages. Profiles allow you to add friends and are a two-way connection to other members of the site. When Facebook business pages, users 'like' the pages, which allow businesses to push content out to the users who 'like' them.
Unlike profiles, business pages are public, which means anyone can follow a link to see everything that has been posted on the page. With a business page, you can also set up paid advertising for both Facebook and Instagram.
For single-man operations, like media personalities and authors, a Facebook profile may be enough. However, for most companies, you should be creating a business page. It is essential that you link your business page to your personal profile. The advantage of using both your own profile and business page is that you can utilize your friends' list form your personal profile on your business page.
With profiles, you can tag friends in business posts, invite them to events, and ask them to 'like' your page, while you also monitor conversations. Understanding your audience based on the content they post is not available with your business page, which is why you should have your personal profile linked.
The best way to grow your network with Facebook is to connect with the professional contacts on your personal profile. Be sure to add any media contacts, collaborators, other people in your industry, and potential clients. You might also be able to find potential friends in various Facebook groups or in the comments of other Facebook pages.
While it is understandable that you might want to keep your professional and personal pages separate, the great thing about Facebook is that you can create friend lists and control what the different lists see. You can have as few as one list for professional contacts, or make 100 lists and segment them in different ways.
When posting content, you can exclude lists from seeing a post or target a specific list, so they do look at your post.
How to Utilize Facebook to Grow Your Business
While you may have a Facebook page for your business, the question becomes whether or not you are using it to its fullest. Facebook is a great tool that can be used to effectively grow your business with a lot less effort than you've been putting in up until now.
In addition to posting updates about your business, there are numerous ways that you can utilize your Facebook page to create awareness among your audience to spread brand awareness and gain more followers.
Here are some of the most effective ways that you can use your Facebook business page to grow your brand awareness and gain more traffic to your company website.
Ask for Testimonials and Reviews
To improve your brand name and spread awareness about your company, it can help a great deal if you post testimonials and reviews on your business page. If you've ever used your page to promote local business, it provides you with the opportunity to gather testimonials and reviews from your customers.
While it might be challenging to motivate your customers to review your business page, you can put a sign up at your place of business to make your customers aware of the option to discuss your business on Facebook.
Apart from having a Facebook page filled with reviews of your customers, you can also select some of the best reviews and post them on your company site so visitors can see what others are saying.
Strike a Connection with Your Audience
An essential element of using your Facebook page for your business is connecting with your audience. Your audience on Facebook will consist of fans of your business, fans of your content, current and former customers, as well as potential customers. When you post content on your page, you need to keep this in mind, because your first priority is to connect with your audience.
If you follow the traditional method of audience engagement, you should be following the 80/20 rule. This means that 80 percent of the content that you post should be value-added content with the remaining 20 percent promoting your business. You can fill the 20 percent with material that is used for marketing, sales, or self-promotion purposes.
It is imperative to engage with your audience if you want to promote your business page. The best way to catch their attention is by posting unique and informative content that is related to your business or industry. To win a loyal and engaged audience for your business, you have to create content that is relevant to your niche.
It is also critical to interact with your audience. This can be done by providing them with the kind of content the desire, as well as replying to the comments they post to your page. To ensure that you produce content that will engage your audience, monitor the comments that are posted so you can find out what your audience likes or doesn't like about what you've posted.
Other Details
- 20 Articles (TXT, DOC)
- 1 Ebook (PDF), 44 Pages
- 4 Graphics (PNG)
- 1 Salespage (HTML)
- 3 Keywords List (PDF, CVS)
- Checklist, Infographic, Optin Page, Lead Magnet, Social Media Messages, Email Swipes, Salespage Headline
- Year Released/Circulated: 2019
- File Size: 23,291 KB
License Details:
Yes you may giveaway this ebook
Yes you may resell this products.
Yes you may sell/pass resell rights/ master resell rights to this products.
Yes you may edit the squeeze/sales page.
You do not have private label rights. you may not sell or giveaway private label rights.
You may not re-title or edit the contents of this product.
You agree to handel any own customer support issues related to this products.