Salespage Snapshot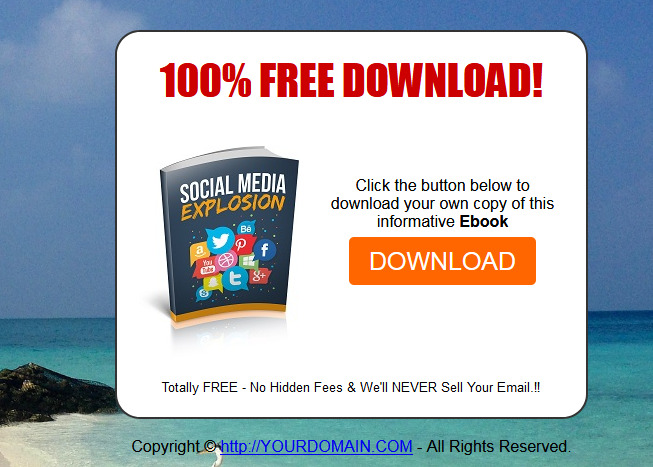 >> Click Here To View Sales Page...
Table of Contents
Social Media A to Z
The Networks
Drilling Down Specifically
Social Video
Live Socializing
Visual Socializing
Wrap Up
Sample Content Preview
Wikipedia Explained
Wikipedia is quickly becoming a valuable way for businesses to attract fresh visitors, simply through educating and informing them on a specific subject. Developing an article with your business link, and then submitting it to a Wikipedia directory, can easily help you reach a variety of targeted visitors who have a specific interest in your subject. The only effort you need to make in this case is to provide a quality article or material, and submit it to the appropriate category on Wikipedia. Wikipedia receives thousands, even millions of web visitors each day. Simply creating one link to your information can be all it takes to reach a wider audience. In the event that a visitor finds the information especially useful, you have the chance to join a social bookmarking network as well; social bookmarkers are always looking for valuable content to link to and submit, and you have a chance to join a new community with each submission as a result.
Social Networking Sites
Social networking communities offer another opportunity to join the social media channels. Every effort you make to identify your brand and web presence can be increased tenfold when you join a consumer-driven and user-generated community such as Facebook, Instagram, LinkedIn, or other social networking platform. These sites encourage regular interaction in a casual and conversational style; although you won't be submitting specific articles or content, you will be growing your brand presence with your users. IN addition, you can use the Search features on any of these sites to narrow down your target market.
This Big Time – Video Sites
Video sharing can work well in conjunction with your article and content submissions, and is becoming especially popular with social bookmarkers. Creating and publishing videos to deliver a message can easily be picked up by many social bookmarkers and shared instantly; the idea is to create something unique and creative so that more people are driven to view it—and ultimately, head back to your website!
Interactive Sites With A Focus On Events
Virtual reality and events are another way to attract new viewers to your website, and can create an instant impact with other marketing efforts. If you submit a press release about your event or the latest innovations on your website to different social bookmarking networks, the chances of increased exposure are much higher. Making sure all of your submissions are tagged and indexed in the right categories will help you create a strong presence in the community; essentially, you are notifying your community of the upcoming event or news in press release form. If you catch onto a trend or other newsworthy subject, you can gain instant favor on a variety of social bookmarking communities such as Digg, Technorati, or Reddit. This is a great example of buzz marketing at its best, and can benefit your website promotion efforts in multiple ways. Podcasting
Developing online audio episodes of content is quickly becoming a popular activity for bloggers and website owners, and including this type of media on your website can help you promote your work in a new way. The immediate attraction of audio on your website can also be submitted to social bookmarking sites and other media channels, and once you have a system in place for publishing these files on your site, you can start sharing the link on a regular basis. Sites including Digg and Technorati now have a section for podcasts and audio files; more people are becoming interested in simply listening than reading, and you can begin to reach a much wider market by taking advantage of this trend.
Streaming Media
If you have a business or website that can create news, tips, or advice, then Livecasting may be another opportunity for you. These segments of online video are designed to share an idea, showcase an event, or even stage a seminar. The idea is to generate enough interested users who 'join' the session from anywhere; livecasts are online events that can be used to generate buzz. A press release that highlights the event can easily be submitted to social bookmarking sites and directories for instant exposure.
Distributing Files
Media sharing is one of the precursors to social bookmarking and networking, developing from the concept of photo sharing and music exchanges. As these sites have grown, more people are learning to share and create profiles so that they can fit into different communities naturally. Flickr this is just ONE example, and you can create a small profile of your own to join. Always remember to include all ink back to your main website, as this will be the ultimate driver of new traffic. All of these social media platforms offer you an opportunity to establish a presence within a community, and then start to network with other individuals. Always keep in mind that any piece of content that is published on the web has potential for sharing; the link is what will be submitted to social bookmarking directories and networks, and you can work on building a profile of your won, or counting on your customers to do this for you. The goal is to create a valuable and consistent presence in a variety of social media outlets so that the chances of being bookmarked and shared are much higher.
Web 2.0 Explained
Building a network of like-minded users and visitors is the basis of Web 2.0 applications on the web today, and social bookmarking is just one element of this growth. Web 2.0 sites are based on a few key principles that encourage interaction and sharing information with ease. By using tagging and breaking down information into keyword structures, everything is organized in a way that makes it easy to search and find specific information. From blogs to shopping sites, Web 2.0 has allowed new, media-rich applications to serve as platforms for all users. Sites such as Digg.com, StumbleUpon, LinkedIN, ThisNext, and dozens of others are building communities and creating networks.
Other Details
- 25 Articles (TXT)
- 1 Ebook (PDF), 36 Pages
- 1 Squeeze Page (HTML)
- 2 Ecovers (PNG)
- Year Released/Circulated: 2018
- File Size: 8,632 KB
License Details:
[YES] Can sell and keep 100% of the sales.
[YES] Can edit the squeeze page.
[YES] Can be bundled into another paid package and sell at a higher price.
[YES] Can be used as a bonus to another product you are selling.
[YES] Can be sold in a Dime sale event.
[YES] Can be added into a paid membership site.
[YES] Can pass on the Master Resell Rights privilege to your customers.
[YES] Can be given away for free AGAINST an email address (lead generation)
[NO] Contents of the product can be edited, modified or altered.