Salespage Snapshot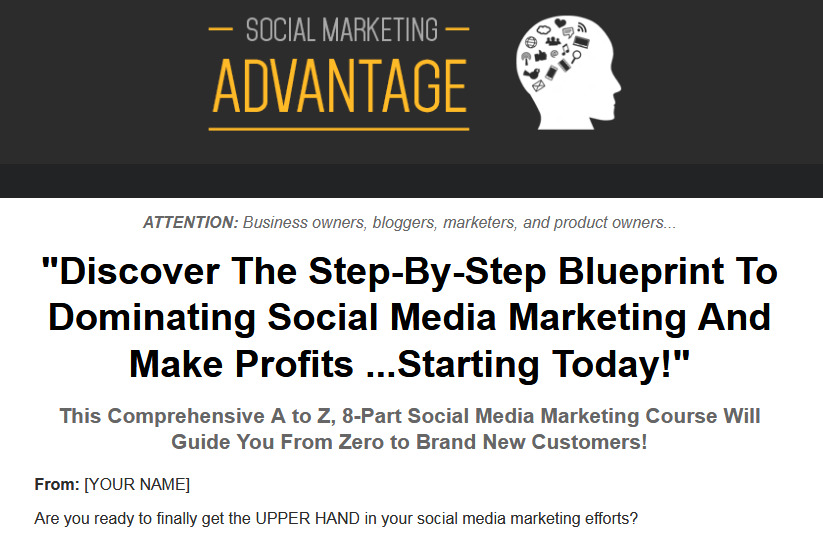 >> Click Here To View Sales Page...
Table of Contents
Develop Your Social Marketing Plan … 4
Goals and Objectives … 5
Branding .. 6
Target Audience .. 7
A Personal Brand . 8
Platform … 9
Plan … 10
Use Social Media for Market Research . 14
Twitter for Short Term Research 14
Learning the Niche . 17
More Data Collection . 19
Surveying Your Audience .. 21
Social Targeting the Perfect Customers 23
Why You Need to Target Someone in Particular 23
How to Target Your Social Media Campaign . 27
Engaging Content Attracts Customers .. 32
Quality Blog Posts . 32
Content On Social Media is Two Way 38
Become the Expert by Providing Value . 41
Why Value = Influence … 41
How to Offer Value on Social Media .. 42
But What is Value? 46
Social Follower Quality Trumps Quantity .. 51
What is a Quality Follower? … 51
How to Create High Quality Followers … 54
Implement A Marketing Schedule That Works .. 61
The Essentials … 62
Optimizing Your Schedule . 67
Track, Test and Improve … 71
Why Analytics Matter . 71
How to Get Started 73
Sample Content Preview
This will help your brand to be 'everywhere' and maximize exposure. And by posting regularly, you will have a greater chance of your posts being seen. There's a saturation point at which you can start to overwhelm your followers but even this can be avoided by setting up 'sister' brands to help promote yourself.
So, there's not really an upper limit. The only upper limit is set by how much you can accomplish regularly.
And this is also going to be affected by other aspects of your marketing, such as your content marketing for instance and any video presence on YouTube.
Thus, your marketing plan is likely to be somewhat limited. Start then by focussing on one channel primarily whether that means Instagram or Facebook. Make sure you at least have a strong showing on the top three.
Think as well about the regularity with which you can post content to your site and where you're going to share that. Again, promoting content on the three big platforms is always a good idea (Facebook, Twitter, Instagram) and you should also look at sharing in online communities like reddit and Google Plus communities.
Finally, look into the different tools you can use to make this process easier and to reach an even larger audience. This will likely mean using things like Buffer or IFTTT in order to automate posts when you don't have a chance to do anything yourself and it could also mean hiring additional services to help you.
Through the rest of these reports you'll learn more ways to grow your social media faster and reach an even bigger audience, so read the whole set and you should be able to come up with an ideal social media strategy to reach a massive audience!
Use Social Media for Market Research
A successful social media campaign is something that any business can benefit from to a massive extent.
That's because social media marketing offers you access to a gigantic network of people and adds tools and features that are ideal for encouraging virality.
But to think of social media only in those terms is short sighted. The power of social media goes far beyond giving you a platform – it also gives you an incredible amount of data and a huge amount of insight. What's more, is that it lets your audience communicate with you.
Before you launch your own social media campaign then, one of the very best things you can do is to use this tool to collect data and build your own strategy. Use it to see what works and what doesn't, to better know your audience and generally to ensure that you are on-the-pulse.
Twitter for Short Term Research
Twitter has occasionally described itself as being the 'pulse of the planet'. What does it mean by this?
Well, essentially, it means that whatever is trending on Twitter is highly likely to be 'trending' in real life. Let's say that you head outside and you hear a very loud alarm coming from the nearby shopping arcade.
You do a Google search and you don't find anything particularly useful on here.
Why not?
Simple: because Google isn't fast enough to keep up with this kind of news. Someone needs to first write an article and then publish it. Then Google needs to 'index' that news with its spiders and it needs to recognize which search terms this is relevant for.
After a while, relevant results will start turning up at the top of Google. But it's not immediate.
Twitter on the other hand, gives you a direct line of communication with the local community. Just search the name of that shopping arcade and you'll see people posting about it. Some people will be asking what's going on and likely there will be a security member there who will post the answer.
This is how Twitter can make the claim to be 'the pulse' of the planet. And likewise, if you look at what is currently trending, you will see longer term topics that lots of people are messaging about. This is the same effect but on a much larger scale.
People might be Tweeting about something that happened to a certain celebrity, or they might be tweeting about some political event in the news. Perhaps they are tweeting about a new computer game, new movie, or the latest Game of Thrones episode.
Either way, knowing these trending topics can be very useful for you as a marketer. And the reason is fairly self explanatory! Essentially, by knowing what topic is 'hot' at any given moment, it makes it far easier for you to create posts on that basis that will get searched.
Writing about 'hot topics' in fact is one of the best ways to get new followers and viewers. Why? Because the faster you are, the sooner you can get your post on Google or your video on YouTube before they are inundated with similar content.
I recently made a video covering the launch of a new phone. I was fortunate enough to get an invitation to the event and because of this, I could cover that event as soon as the embargo lifted with footage, written content and more.
In the first couple of days it had over half a million views. Content on the same page without this 'new' appeal tends to get a few thousand or a few hundred thousand maximum.
You see the difference?
If you can spot a topic this way, as it develops, then you can reach the audience you want to and gain massive traction before anyone else has even landed on the topic!
Likewise, by posting social media content with the right tags, you can also get much more engagement from people who aren't already your followers.
The key in this instance is once again to be early, but also to post content with tags that are popular without being too popular. That might sound a little nonsensical – after all, why wouldn't you want to post on a topic with the biggest reach possible?
And the answer is that if you choose a topic that is a little too popular, then you risk being immediately drowned out by all the other posts on the same subject. This can happen even when you aren't posting about 'trending' topics. For instance, if you post a picture of a sunset with #sunset then you can bet that so too are a million other people. Within the first minute, your image stops showing up in searches.
But if you post 'twilight', then you can be much more successful.
In fact, one of the very best strategies in this regard, is to post about local stuff. Remember that alarm situation? If you had Tweeted about it, then that would have been some guaranteed views for you and probably some new followers and retweets.
Or what if you were to attend a big event like a festival and then post about that event? Here, you'd have hundreds – maybe thousands – of people posting about that subject and searching for it. But it would never go that much larger than just the people in attendance.
Other Details
- 20 Articles (TXT, DOC)
- 1 Ebook (PDF), 79 Pages
- 2 Graphics (JPG, GIF, PNG)
- 1 Salespage (HTML)
- Promotional Ad Material (Emails)
- Checklist, Resource Cheat Sheet, Mindmap, Optin Page, Social Media Images
- Year Released/Circulated: 2017
- File Size: 17,395 KB
License Details:
You may add this product to your PAID membership site
You may giveaway the product as a bonus when people buy through your affiliate link
You may edit the included sales page and opt-in page
No, you may NOT edit the contents of the eBook(s) & videos
No, this product does NOT include private label rights. You are granted Master Resell Rights only
No, you may NOT giveaway the eBook(s) & videos for free.