Salespage Snapshot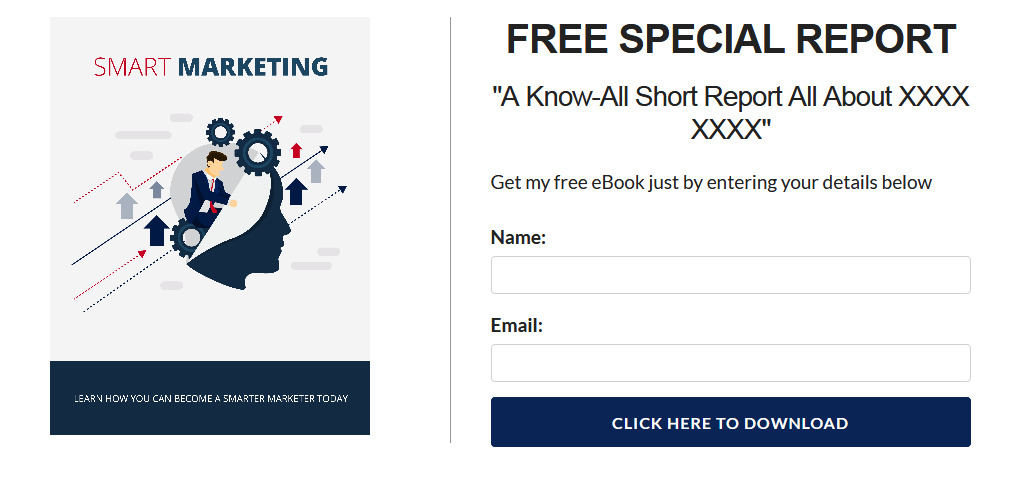 >> Click Here To View Sales Page...
Table of Contents
Introductory 4
Chapter 1: Things You Don't Need To Know . 6
Chapter 2: Short and Short Term Strategy … 7
Chapter 3: Good Guy Marketing ….. 11
Chapter 4: Getting Back To Basics . 13
Chapter 5: Making A Living Online . 15
Chapter 6: Make Your Presence Felt Online! ….. 17
Chapter 7: Internet Marketing for Newbies 19
Chapter 8: Internet Marketing is Important ….. 21
Sample Content Preview
Chapter 2: Short and Short Term Strategy
After spending a lot of time and effort on building a site, many wonder where they should start with Internet marketing.
Site owners can be bombarded with pitches about marketing and it is hard to sort out what should be done. In this article, a short-term marketing strategy is discussed.
Short Term Marketing Strategy
The single best short-term marketing strategy is pay-per-click marketing campaigns. A "PPC" campaign simply involves placing advertisements on the results pages of search engines. In essence, you open an account with the PPCs, develop a list of keywords and create ads for those keywords. The two best PPC platforms are Google AdWords and Overture.
Google AdWords lets you place ads on Google search results. In addition to its own search engine, Google also supplies search results to AOL and other sites. When you create your ads, you can choose to place your ads on "content" or "search" results. Select only "search" results until you are sure the advertisement and your site coverts traffic into revenues.
Yahoo purchased Overture a few years ago for 1.8 billion dollars. Overture places advertisements on search results for MSN and, ta da, Yahoo among others. To build your ads, you search for keywords from a list provided by the PPC and create individual's ads. It can take a long time, but it is worth it.
Which PPC is Best?
Both Google and Overture have serious benefits. Google will send more traffic to your site than Overture. Getting your ad in front of AOL users is particularly advantageous because AOL users are buyers. For whatever reason, they simply seem to be more amenable to buying what you're selling.
If Google is so great, why use Overture? In many ways, Overture has serious advantages over Google AdWords. One of the biggest advantages involves the size of ads.
To effectively run a profitable PPC campaign, you must get the maximum bang for your buck. One strategy for doing this is to qualify your traffic by explaining details in your description. If you only carry one model of a product, say that so money isn't wasted with people who are looking for a different model clicking on your ad. With Google, you only get two to three words in your title and 8 to 10 in your description.
PPC advertising is a tremendous short-term marketing strategy for a number or reasons. First, the advertising gets traffic to your site immediately. Second, it allows you to test the ability of your site to convert traffic into dollars. If conversions are low, you can modify the site and get immediate feedback.
If it's time to get working on your marketing, research the PPC possibilities. Google AdWords and Overture have a lot to offer.
Long Term Strategy
Once your site is up and running, the best method for getting immediate traffic is pay-per-click search engine marketing. Although you have to be patient, you should also be focusing on search engine optimization as a long-term strategy.
Search Engine Optimization – "SEO"
Search engine optimization, or "SEO" as it is better known, is the definitive long-term Internet marketing strategy. So, what is it? SEO simply refers to taking steps to make sure your site appears high in non-paid search results on Google, Yahoo and MSN.
The reason SEO is considered a long-term strategy is…well, it takes a long time. If your marketing is focusing on highly competitive keywords, such as "Europe travel", there is so much competition that you could be looking at two or three years before getting top rankings. The time period is really a factor of how fast you can build links. Sometimes you can move up within 6 months, but sometimes it takes a few years.
Is it worth it to wait for 2 years to get into the top five for "Europe travel"? There are over 2,000,000 searches a month for the keyword phrase. What do you think? If you offer a service or product related to traveling in Europe, how much money would you make if even 1 million people visited your site each month? Think about that.
The Big Three
There are three, and only three, search engines that matter when it comes to SEO – Google, Yahoo and MSN. What about Alta Vista, etc.? They simply don't have enough traffic to make them worth pursuing.
There are four keys to SEO. First, you must research the amount of traffic various keywords are receiving. Second, you must modify your site to include the exact keywords phrases in the meta tagging and text. Third, you must add and add and add content to your site. The more content, the more the big three will like your site. Finally, you must trade links with other sites that have content related to your site.
The keys to pursuing a SEO marketing strategy are discipline and patience. Let's take a quick look at each.
You must have the discipline to stick with your SEO effort when you are seeing no results. The desire to throw one's arms in the air in frustration is going to be strong. Just remember that every step you take today will pay off down the road.
Patience balances feelings of frustration and you are going to have a lot of those. Look, it is going to take a long time, so resist the urge to whine. Stick a sign up over your desk counting off the months or have a regular exercise routine. If nothing else, you can day dream about all of the free traffic you are going to get one day.
Search engine optimization is not for the weak of mind or impatient. If you can stick with it, this long-term marketing strategy always pays off.
Other Details
- 1 Ebook (PDF), 22 Pages
- 1 Squeeze Page (HTML)
- 3 Ecovers (JPG, PNG)
- Year Released/Circulated: 2019
- File Size: 1,384 KB
License Details:
[YES] Each product to be sold for no less than $7.00 each.
[YES] Can be sold
[YES] Can be re-branded as your own
[YES] Can be used for personal use
[YES] Can be packaged with other products
[YES] Can modify/change the sales letter
[YES] Can modify/change the graphics and ecover's
[YES] Can add to ANY membership site (MRR Only)
[YES] Can be offered as a bonus
[YES] Can be given away free to build a list
[YES] Can print/publish offline
[YES]Can convey and sell Personal Use Rights
[YES] Can convey and sell Resale Rights
[YES] Can convey and sell Master Resale Rights
[YES] Can be given away for free
[NO] Can convey and sell Private Label Rights
[NO] Can be given away in PLR format
[NO] Can sell or giveaway the FULL package