Salespage Snapshot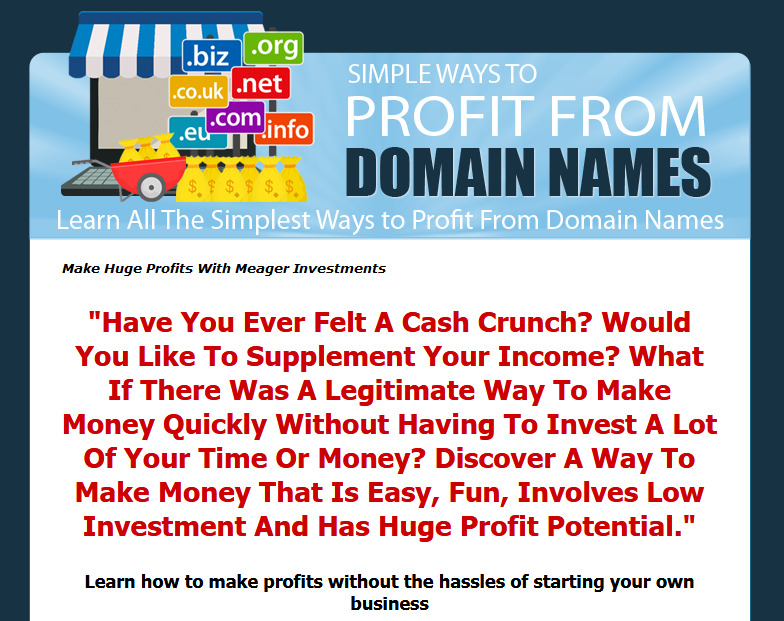 >> Click Here To View Sales Page...
Table of Contents
INTRODUCTION TO DOMAIN FLIPPING … 4
CHOOSING WINNING DOMAINS … 6
THE VALUE IN AGED DOMAINS .. 14
DOMAIN PARKING 101 ….. 19
DROPPED DOMAINS DISSECTED 23
BACKORDERING DOMAIN NAMES…. 25
SELLING YOUR DOMAIN NAMES 25
DOMAIN TASTING REVEALED …. 34
CONCLUSION: FINAL WORDS ….. 36
TOOLS & RESOURCES 39
Sample Content Preview
For other extensions, you will be required to do more in depth keyword and traffic research so let's stick to .com's for now.
Once Moniker is done searching for the domain names you have entered in, you will see a results window where you can choose to register them with Moniker.
Note that you are not required to register them there, you can use whatever domain registration provider you wish, we are simply using Monikers bulk domain checker to sort through our lengthy list to determine availability of each domain name.
For me, I typically register a handful of domain names a day; I never go overboard unless I happen to stumble upon a great list or a good deal.
When you are first starting out, you should set aside $50.00 and try to register 5 domain names to start.
Once you have begun to generate a profit and have a feel for how domain flipping works, you can begin to take a portion of your profits and invest it back into registering domain names.
It will not take long before you have the business paying for itself entirely, including higher priced domain names that you will eventually register and flip.
You can also find tons of expired domain lists on domain forums and blogs. I have included quite a few within the Resources section at the end of this guide, so be sure to check those out.
Whenever you download an expired list of domains, you should begin to weed through it taking notes of the ones that appeal to you either because they are short, memorable or based on keywords that you have found to be in demand.
The only problem with expired domain listings are that if you don't move quickly, a lot of the better domain names will be snatched up as these lists tend to get distributed all over the Internet rather quickly. Another obstacle when browsing through expired domain lists is the fact that often times domain registrars such as GoDaddy.com, will snag any domains that have existing traffic.
This means that some of the domain names on the lists will not become available after they have expired, but instead, held by the domain registrars for a period of 5-7 days before potentially being dropped and made available again. The best way to address this is to go over each lists (and as many different lists as you can), taking notes of any domain names that are appealing.
Write them down in a text file and every day, take a few minutes to check whether the domains have become available to the public. Before you do this however, you should know that there are many domain registrars online that will literally steal your domain research.
What this means is that when you type the domain name into your browser to see if it's available, or if you visit a domain registrar's website and enter in a domain to see its status, these companies analyze this data and may snap up a domain you are considering.
This has been happening for many years and has recently caused quite a stir amongst the domain community when some well-known registrars were caught doing this. To avoid domain snatching, I recommend using a trusted provider, such as www.DomainTools.com managed by Jay Westerdal.
Jay has a strict policy against domain research stealing, so you can rest assured that if you use his service to check for domains, you will not be exposing your considerations to someone waiting to snatch it up.
www.Verisign.com is also another trusted provider, and despite allegations regarding NameCheap from time to time, I have used them for many years without any problems in having my potential domains gobbled up or squatted on by their team.
They are also my chosen registrar due to their lower prices and included WHO privacy protection guard that comes free with every domain registratration.
The Value in Aged Domains
Domains that have been registered and never dropped are called "Aged Domains".
These domains typically sell for more than a new one does because it has been around for awhile, it's usually out of the Google Sandbox and for those who are looking for aged domains, it can help them develop an existence online, a history, or credibility in their niche markets simply because if the domain has been around for years, it appears that they have as well. Aged domains can also be found on forums like DNForum.com and simply by typing in the keywords "Aged Domains" into the search bar you can easily locate domain auctions that include these older domain names. I have purchased dozens of domain names for $40 or less that were anywhere from 5 – 10 years old. Just based on the age alone I was able to flip these domain names for over 5x what I paid.
For instance, one domain name I purchased was never used, meaning it had never featured a website on it, it just sat parked in the users account for over six years.
I purchased the domain for only $30.00 and because of its age, I was able to flip it for $379.00.
That's quite a boost in profit from a domain I paid so little for.
While there is no exact science as to what type of domain names will ultimately be worth the most, apart from the obvious short and memorable domain names, there are a few things to keep in mind:
1) Development Potential
When you analyze the available domains in your list, consider what each domain name could represent and be used for when creating a website presence.
An example of which is whether the domain name is one that could represent a product title, or better served as a personal portfolio, a social community, a directory or perhaps a forum.
While the purpose of the domain name will unlikely match your ideas when it is sold, by thinking of a clear purpose for each domain name will not only help you make sound choices during the selection process, but can also be included in the domain auction, as a way of passing on the ideas to prospective buyers who are considering purchase.
Other Details
- 1 Ebook (PDF), 41 Pages
- 12 Graphics (JPG, PNG)
- 1 Salespage (HTML)
- 1 Squeeze Page (HTML)
- Year Released/Circulated: 2019
- File Size: 2,288 KB
License Details:
[ Yes ] Can sell the eBook to your customers.
[ Yes ] Can give away eBook (PDF Format).
[ Yes ] Can be used as a bonus (PDF Format).
[ Yes ] Can include eBook in membership site (PDF Format).
[ Yes ] Can be combined with other offers or sold as a package.
[ No ] Can include within website flips.
[ No ] Cannot sell Resell Rights to customers.
[ No ] Cannot sell Private Label Rights to customers.