Salespage Snapshot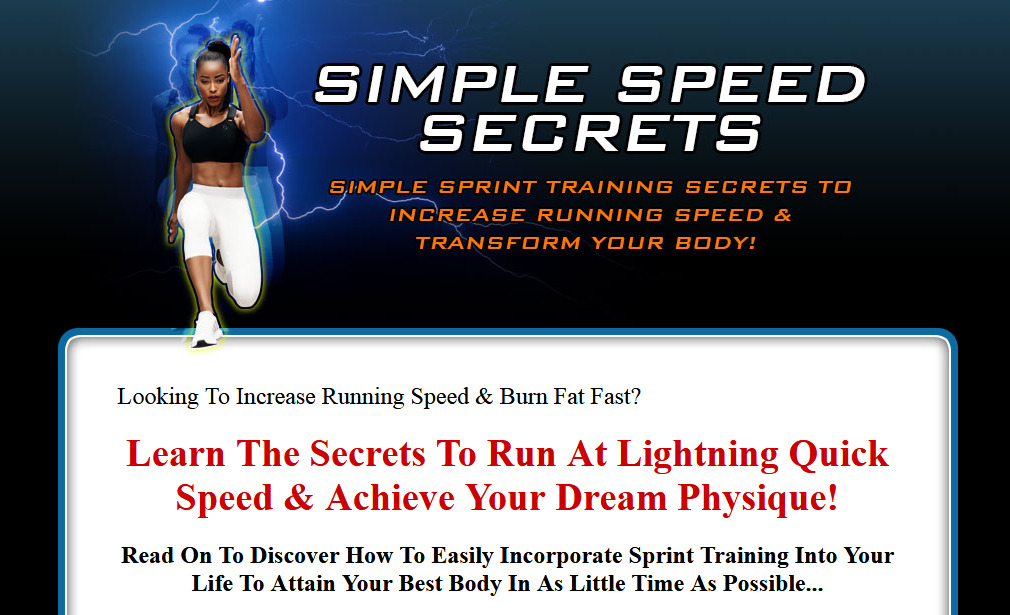 >> Click Here To View Sales Page...
Table of Contents
Introduction . 6
What is Sprinting? … 6
Sprinting Verses Running 7
Origin of Sprinting … 8
Modern Olympics….. 8
Benefits of Sprinting 9
Chapter 1 – Why Are Some People Faster Than Others? … 10
Muscle Fibers . 10
Lactate Threshold .. 11
Physical Form 11
Running Form 12
VO2 Max 12
Chapter 2 – Things to do Before Beginning a Sprint Training
Program …. 14
1. See Your Doctor 14
2. Decide Why You're Doing It ….. 15
3. Do Your Research ….. 15
4. Make a Training Schedule . 16
Chapter 3 – Introducing Sprinting into a Fitness Program . 18
Where to Sprint …. 18
How Often to Sprint …… 19
Warm Up 19
Cool Down ….. 20
Chapter 4 – Simple Ways to Improve Sprinting Technique for a
Beginner … 22
Getting Ready 22
Proper Sprint Form 23
How to Practice Form …. 24
Chapter 5 – Basic Sprint Training Routine for Beginners … 26
1. Warm Up … 26
2. Interval Training 27
Method 1: Distance …… 28
Method 2: Time …. 28
3. Cool Down . 29
Chapter 6 – Sprint Training Recovery 31
Water …. 31
Nutrition 32
Sleep ….. 33
Chapter 7 – What To Look For When Buying Sprinting Gear &
Apparel ….. 35
Running Spikes ….. 35
Running Shorts ….. 37
Running Shirts …… 37
Warmup and Cooldown Clothes …. 37
Chapter 8 – Plyometric Training 39
What is Plyometric Training .. 39
Forward Bounds …. 40
Repetitive Standing Long Jumps … 41
Depth Jumps to Standing Long Jumps .. 41
Chapter 9 – The Importance of Strength Training & Muscle-
Building for Sprinting . 43
1. Increase Force .. 43
2. Decrease Mass .. 44
3. Reduce Risk of Injury 44
4. Improve Balance …… 45
5. Gain More Fast-Twitch Muscle Fibers 45
How to Add Strength Training for Sprinting . 46
Chapter 10 – Advanced Sprint Workouts for Teams & Individuals 47
Team Sprinting Routine. 47
Advanced Individual Routine . 48
Conclusion – Tracking Sprint Progress …… 51
Fitness Trackers …. 52
Slow-Motion Camera ….. 53
Smart Shoes .. 54
Community … 55
Sample Content Preview
Chapter 1 – Why Are Some People Faster Than Others?
When you think of outstanding sprinters, you probably think of Usain Bolt. But what makes him so much faster than the average person? Surely there's more to it than a good training routine. In this part of the course, we're going to take a closer look at how a person's genetics and physical build plays into how fast of a runner they are.
Muscle Fibers
What type of muscle fibers you have will predispose you to be a better long-distance runner, sprinter, or leave you somewhere in the middle. Marathon runners tend to have a higher proportion of slow-twitch fibers which help them go the distance. Sprinters usually have more fast-twitch fibers that allow them to go faster for shorter periods of time.
Simple Speed Secrets
The average person is born with a pretty even mixture of these two muscle types. However, there is some evidence that shows that you can get about 10 percent of these to switch by carefully training them, so even if you weren't among the few gifted sprinters that were born with more fast-twitch muscle fibers, you can still train to get a few more on your side.
Lactate Threshold
This refers to how much lactate you can take before you have to slow down. Lactate is a natural waste product of muscles as they're working, particularly if they're working in an anaerobic state like when you're sprinting. A higher threshold means being able to run faster and that you'll be able to maintain that faster speed for longer, which is especially important when you are running at full speed. Fortunately, sprinting training helps to increase this lactate threshold.
Simple Speed Secrets
This has a little less to do with genetics and more to do with your overall physical state. Obviously if you're carrying a few extra pounds, you're not going to be able to move as quickly as someone who's not. This goes for muscle weight as well, which is why most of the sprinters you see are lean without much muscle mass to slow them down.
Running Form
Important points in your overall form include how your foot hits the pavement, how long your strides are, and how clean your gait is. All of these things put together and more make up your form. As you perfect your form through repeated exercises, you will become a better, faster, and more efficient sprinter. While some people naturally have a better form, it can be gained through practice.
VO2 Max
This is something that many middle- and long-distance runners are concerned with. It measures the maximum (max) volume (V) of oxygen (O2) that your body can process during exercise. However, because sprinting doesn't use oxygen for fueling your muscles, this is not something that matters as much to sprinters compared to other runners. We mention it here only because it is something commonly discussed among runners even though it doesn't really apply to sprinters.
Even though you may not have the genes to beat Usain Bolt at the next Olympics, you can work to improve all of these things to make you a better sprinter overall.
Chapter 2 – Things to do Before Beginning a Sprint Training Program
You never want to just jump right into a new exercise program, especially one that is as intensive as sprint training. In this part of the course, we're going to look at some things you should do before you start your sprint training so that you minimize your risk of injury and maximize your results once you start your sprint training program.
1. See Your Doctor
The first thing you want to do is visit your regular doctor and discuss your plans to begin a sprint training program. Your doctor will likely want to examine you to make sure that you are healthy enough to do this type of training. Depending on your age and overall physical fitness level, you may need to have your heart and lungs checked.
If your doctor says that you aren't healthy enough to begin a sprint training program, listen to them. There are plenty of other types of exercise that you can do to get in shape. You may also simply need to get into better shape by losing some weight and building up some muscle tone before beginning, so be patient if that is the case.
2. Decide Why You're Doing It
Sprint training is hard, so before you begin, you want to make sure you know why you're doing it. This will help you stay focused during training because you have a specific goal in mind. Perhaps you're looking to help boost your weight loss by adding some more intensive cardio activities into your routine, or you want to compete in sprinting competitions. Whatever it is, keep that goal in mind while training.
3. Do Your Research
This sprinting training course is an excellent place to start because it gives you all of the information you need to know how to begin training as a sprinter. But don't let your research end here. You should also watch videos of Olympic sprinters to have a good understanding of how their bodies move while they are running. If you know anyone who sprints, ask them about it as well.
4. Make a Training Schedule
One of the best ways to keep yourself on track with your training is to set up a training schedule. Be sure you give yourself enough time during every session to warm up, train, and then cool down. All three of these are vital to any exercise program, especially one as intensive as sprint training. The most important thing is to pick a time of day that will work best for you.
Other Details
- 5 Articles (DOC)
- 1 Ebook (PDF), 54 Pages
- 1 Salespage (HTML)
- 10 Ecovers (JPG, PNG)
- 1 Promotional Ad Material (Banners)
- 1 Keywords List (EXCEL, DOC, PDF)
- Report, License Pack
- Year Released/Circulated: 2020
- File Size: 66,773 KB
License Details:
[YES] CAN BE USED FOR PERSONAE USE.
[YES] CAN BE GIVEN TO LIST SUBSCRIBERS
[YES] CAN BE PACKAGED WITH OTHER PRODUCTS
[YES] CAN BE OFFERED AS A BONUS
[YES] CAN BE EDITED AND YOUR NAME PUT ON IT
[YES] CAN BE USED AS WEB CONTENT
[YES] CAN BE BROKEN DOWN INTO SMALLER ARTICLES
[YES] CAN BE ADDED TO AN E-COURSE OR AUTORESPONDER AS CONTENT
[YES] CAN BE SUBMITTED TO ARTICLE DIRECTORIES
[YES] CAN BE ADDED TO PAID MEMBERSHIP SITES
[YES] CAN BE ADDED TO AN EBOOK/PDF AS CONTENT
[YES] EDIT THE SALES LETTER ANY WAY YOU WANT
[YES] CAN SELL RESALE RIGHTs
[YES] CAN SELL MASIER RESALE RIGHTs
[NO] CAN SELL PLR RIGHTs
[NO] CANNOT GIVE AWAY PLR RIGHTS