Salespage Snapshot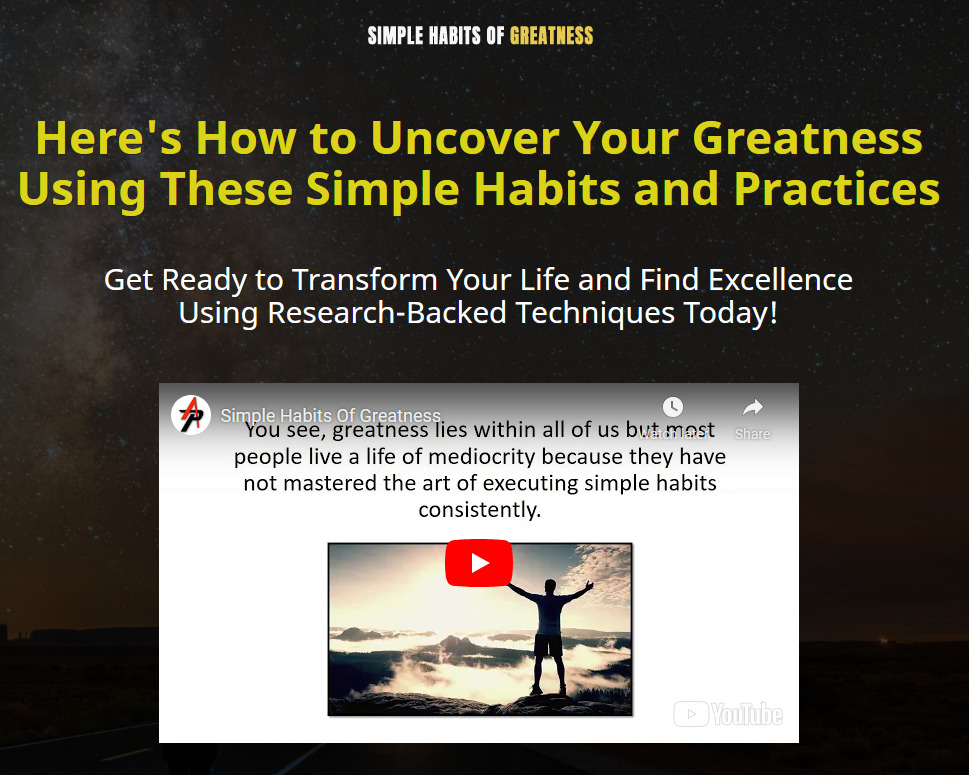 >> Click Here To View Sales Page...
Table of Contents
Introduction… 5
Chapter 1: Habits – Meaning, Characteristics, and Role. 7
What Exactly is a Habit?…….7
Characteristics of Habit…….. 8
Why Habits Are Key to Our Health.9
Why you Must Develop Good Habits……..11
Chapter 2: Habit Formation……15
How We Form Habits……….15
Basis of Habit Formation….16
What are Examples of Habits?…… 17
Why do Humans Have Habits?….. 18
Why are Habits so Hard to Break?19
Measures for Effective Habit Formation. 19
Chapter 3: Types of Habits…….. 22
1. Habits of Character……….22
2. Intellectual Habits……….. 22
3. Motor Habits…….. 23
Conscious Habits and Hidden Habits…… 23
How to Identify Your Hidden Habits……. 24
Chapter 4: Breaking Bad Habits and Breaking down the Habit Loop… 28
The 3 Parts of the Loop……. 29
Examples of the Habit Loop in Action….. 32
How to Break the Loop……. 37
More Tips to Break Habit… 39
Chapter 5: Habits, Health, and Success…….45
10 Habits of Successful People…….45
10 Habits of Super-Healthy People………..48
Chapter 6: Powerful Daily Routine for a Healthier Life………. 54
Habit vs Routine — Key Difference………..54
How a Daily Routine Changes Your Life..55
Daily Routine for Good Health and More Energy………. 55
Daily Routine for an Organized Life……… 58
Daily Routine for a Stronger Relationship………. 62
Sticking to Your Routine…..63
Chapter 7: 20 Best Habits to Have in Life…66
Chapter 8: Destructive Habits.. 71
10 Bad Habits That Could Be Destroying Your Happiness…….71
8 Unhealthy Habits You Need to Break Now…… 73
Conclusion…. 76
Sample Content Preview
Chapter 1: Habits – Meaning,
Characteristics, and Role
Habit can be explained to be the evidence of the practice of one's preferences. At times, we're motivated to do different activities by our habits, just as we're inspired to carry out several activities by our instincts. Habits are acquired by living organisms and they can be found in both man and animal.
Habits make us restless to have more taste of some past experience and one can as well say that habit is the second nature of man.
What Exactly is a Habit?
Habit can be simply explained to be a regularly repeated behavior. Speaking of the behavior, it could be a lifestyle, a routine, or an action. Whatever you do usually and constantly without thinking about it, most times, is a habit. Habits do help us undertake necessary activities like following the same routes every day, getting dressed for work, taking a shower, and brushing our teeth because they're behaviors and rituals that we carry out spontaneously. Our unconscious habits help us decide what to make for dinner, solve problems, or do other more complex tasks because they help in freeing up enabling resources for our brain. Habits can be the ones that are bad for us, the good ones or the ones that have been part of our lives forever that we don't even notice, such as teeth brushing and tying of shoelaces. We activate several habits every day and we all have habits.
Characteristics of Habit
There are four common characteristics of habits and they are uniformity, facility, interest, and independence of attention.
i. Uniformity
If you check your mode of walking, sleeping, talking, or how you do other activities, you'll realize that there's usually an underlying specific habit. This is simply because habits bring uniformity to our activities.
ii. Facility
Habit tends to help us facilitate our performance of an activity. Imagine you started learning to play the guitar. You'll realize that it will become easier for you once you've been able to form the habit, despite the pain you had experienced while learning.
iii. Interest
Interest is the primary core of habit. Let's still use the analogy of the guitar. Let's say the guitar training is a bit hard for you because you keep having sore fingers but as soon as you're able to find your proper grip on it and form that habit of the correct finger placement, you'll begin to find it more interesting to play the guitar.
iv. Independence of attention
There are several things that don't require any attention but we still do them due to our habits.
Why Habits Are Key to Our Health
Your chances of maintaining a healthy lifestyle can be increased or decreased by the habits you cultivate. Habits are very essential to our health. If you want to promote longevity and increase the quality of your life, it's very important that you practice good and helpful habits like exercising regularly and eating healthily. On the other hand, you can risk developing diabetes, obesity, or other chronic diseases when you cultivate bad habits like low activity levels, excessive fast-food consumption, and increased consumption of sugary soft drinks.
You can lower the risk of diseases such as cancer and diabetes, keep your blood sugars in range, and achieve proper weight with healthy habits. In fact, your health will be grateful to you if you exercise regularly, eat enough fresh foods, take plenty of fruits and vegetables with the healthy habits you maintain.
Other Details
- 1 Ebook (PDF), 77 Pages
- 2 Graphics (PNG)
- 1 Salespage (HTML)
- 1 Promotional Ad Material (Emails)
- Checklist, Mind Map, Landing Page, Lead Magnet, VSL
- Year Released/Circulated: 2021
- File Size: 31,243 KB
License Details:
[YES] Can be packaged
[YES] You Can Use This Product Yourself
[YES] Can be sold as it is not less than $7 price tag!
[YES] Can pass on the Resell Rights privilege to your customers
[YES] Can Add This Product to a Membership Site or Bundled Within a Product Package as a Bonus
[YES] Can be used to create audio/webinar/video products
[YES] Can Give Away The Product (NOT Source Code Files) To Your Subscribers, Members or Customers as a Bonus or Gift
[YES] Can change sales page and/or graphics
[YES] Can be added to paid memberships
[YES] Can sell master resale rights
[NO] Add to a free membership sites
[NO] You can't just pass away the product to anyone
[NO] Contents of the product can be edited, modified or altered