Salespage Snapshot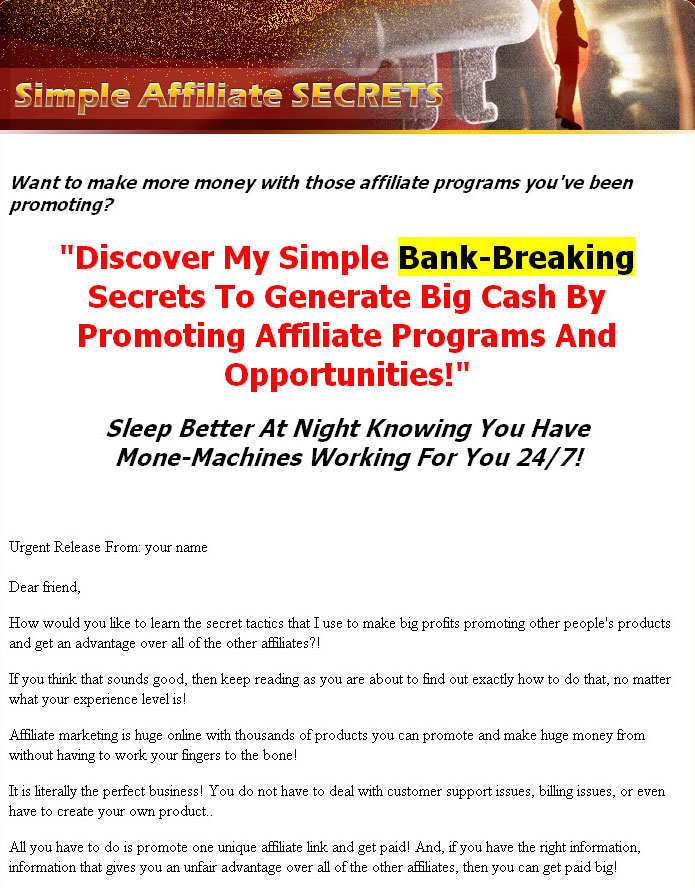 >> Click Here To View Sales Page...
PLR Ebook Sample Content Preview
– Introduction
Hello and thank you for getting my new report.
In this report I am going to outline a few techniques that I use to really amp up my affiliate promotions.
This isn't exactly a "how to make money with affiliate programs" report. It is more a "how to make MORE money with affiliate programs".
So I assume you know what an affiliate program is and that you have been involved in promoting affiliate products before.
As for where to find good affiliate products to promote? I usually go with Clickbank.com for a few reasons.
1) There are tons of different affiliate products to choose from.
2) Clickbank.com is a third party service, so you know you will be getting paid unlike a company who runs their own affiliate program.
3) Many merchants at Clickbank.com are paying 60-75% commissions PER SALE which is fantastic to us affiliates.
You can of course use these ideas in this report to promote anything, and maybe you already have a program/opportunity in mind that you want to promote and that's fine.
But if you are looking for new markets/products to promote, Clickbank is a good choice.
Let's get on to the tactics!
– Using Videos to Skyrocket Affiliate Sales!
Videos have come a long way online and are now starting to show up in just about every promotion you see, and for good reason, they produce big sales!
You can certainly use them to promote your affiliate products with great success.
Here is an idea that I have been testing with great results. It is creating a video of the actual members area or the product itself.
By video I mean a screen capture video using a program like www.camtasia.com. Camtasia is only one screen
capture program out there so do some research to see which would be best for you. There are others much cheaper with less features.
Also, when it comes to video editing, make sure you check your own computer to see if you already have some video editing software installed. A lot of computers come with video editing software now for home movies and such. You can use this exact same software to edit your screen capture marketing videos.
Once you get some screen capture software you create a "Here is what you can have in minutes" style of video. You call it a "tour of our product".
You then add this video to your affiliate product promotion and boom, increase sales!
It is very simple to do and hasn't failed yet to work for me!
Here is how you can do this:
Step 1) Start up the screen cam software, and welcome the viewer to the product tour video.
This can be a simple greeting where you introduce yourself as a user of the product and give a quick introduction to what will be in the actual video.
Other Details* Sales Page:
Included, HTML
* File Format:
MS Word Doc, PDF
* Number of Pages:
18
* Included Graphics:
Ecovers, PSD
* Download File Size:
18,967 KB

* Private Label Rights Terms & Conditions :

[YES] Can be edited.
[YES] Can put your name as the author.
[YES] Can be broken down into articles.
[YES] Can be used as web or e-zine content.
[YES] Can be published offline.
[YES] Can turn the articles into an ebook.
[YES] Can be packaged.
[YES] Can be offered as a bonus to paid product.
[YES] Can sell Master Resell Rights.
[YES] Can be given away for free.
[YES] Can be sold on auction sites.
[YES] Can give away Master Resell Rights.
[YES] Can sell Private Label Rights.
[YES] Can give away Private Label Rights.
[YES] Can be added into membership sites.