Salespage Snapshot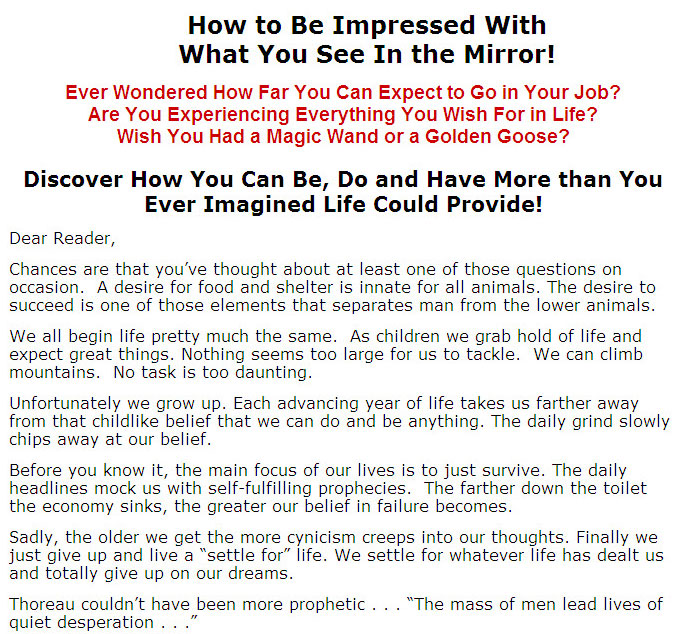 >> Click Here To View Sales Page...
PLR Ebook Table Of Contents
How to Be and Stay Positive
About a Life Coach
How to Become More Creative
Setting Goals
How to Handle Grief
How to Be Happy
How to Innovate
About Inspiration
How to Be a Leader
How Are We Motivated
Getting Organized
About Spirituality
Handling Stress
Managing Time Wisely
How to Be Successful
PLR Ebook Sample Content Preview
How to Be and Stay Positive
It is not always easy to maintain a smile on your face. This is because of setbacks and misfortunes especially if your home is about to be foreclosed or you just lost your job. What do you do when that happens? There is no other way to put it but try to remain positive.
But how do you do that? Well you can start by being thankful for what you do have. If your home has not yet been foreclosed, be grateful that the government is trying something so you can still keep the house. If you lost your job, be thankful that you can get unemployment checks until such time that you can find another job.
Everyone knows that times are tough. To make you remember the things that you do have, why don't you write it down and then read it again whenever you feel down.
Another way to think positive is to find the silver lining in a given situation. If you lost your job, perhaps this is the right time to think about shifting to a new career, starting your own business or even going back to school. This is perhaps the best thing you can do if nobody is hiring, if you don't have capital to start your own business and if no one is willing to lend money.
Ever heard the line, "whatever hurts you now only makes you stronger?" Well such a statement is true because sometimes, we have to fall flat on our face to see what we are doing before we realize that there is another way or that we can change. Once you hit rock bottom, this is when you pick yourself up, dust yourself off and start over.
Let's say you didn't lose your job or your home but just feel lost. When this happens, try to see the bigger picture. If you are the breadwinner in the family, you can't afford to let your spouse or your children down. At work, you are part of the team so you have to do your job to the best of your ability.
Other Details* Sales Page:
Included, HTML, MS Word Doc
* File Format:
MS Word Doc, PDF
* Number of Pages:
61
* Included Graphics:
Ecovers, PSD
* Download File Size:
2,082 KB