Salespage Snapshot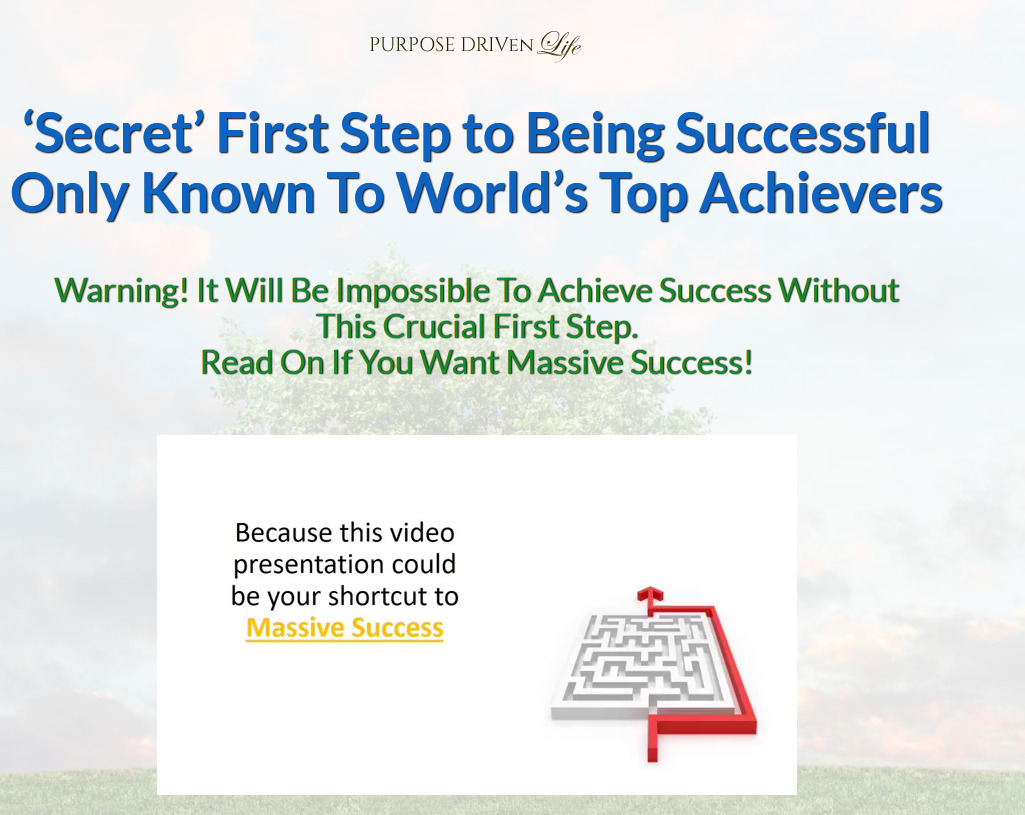 >> Click Here To View Sales Page...
Table of Contents
Introduction …. 5
Chapter 1: What Is Life Purpose? … 7
So What Is Life Purpose Really? .. 10
How Do You Measure Life Purpose? .. 11
Chapter 2: The Importance Of Finding Meaning In Life .. 15
Gives Clarity and Focus .. 17
Teaches What Defines You . 19
Keeps You Connected With The Present 20
Chapter 3: Why Is It Hard To Find Purpose In Life …. 24
Societal Influence 25
Low Self-Esteem/ Self-Worth . 26
Lack of Freedom to Dream . 28
Fear of the Dark Side 29
Chapter 4: Happiness Vs Fulfilment . 33
Fulfillment is Unique to You … 35
Fulfilment Gives Meaning To Success …. 37
Happiness is Just One Feeling 39
Chapter 5: Steering Clear of False Purpose . 42
Recognizing False Purpose . 45
Why You Need to Steer Clear of False Purpose 46
How Can You Steer Clear of False Purpose? …. 48
Chapter 6: Importance Of Defining Your Life Purpose … 52
Gives You Direction .. 54
Keeps You from Getting Distracted … 56
Keeps you Organized 57
Gives You Time for Experimentation 59
Chapter 7: How To Find Your Purpose And Passion .. 62
Find What Excites You .. 63
Ask Yourself Why 65
Explore Your Options …. 67
Don't Suppress Your Doubts … 68
Chapter 8: Transitioning To Your Life Purpose 71
Set Your Goals . 71
The Fear Factor … 74
How to Make This Transition .. 76
Systems Are Important.. 77
Conclusion 79
Sample Content Preview
There can be a few determinants in this regard. For starters, there's making sacrifices.
Achieving anything that's worth achieving involves sacrifices. Everything comes at a cost and very few things are uplifting or pleasurable all the time.
The question that arises here is what sacrifice or struggle are you ready to make or tolerate? If you find yourself giving in at the slightest chance of pressure, then obviously this choice isn't your life purpose.
But if you're willing to ride through the rough patches and stick with it no matter what, then you may be on to something. This is because what ultimately determines your ability to commit to something shows how much you care about that thing and how much it means to you.
For instance, if you wish to become a successful entrepreneur, but aren't good at handling failure, you won't get far. Or, say your dream is to become a professional artist, but don't like to see your work criticized or rejected, then there's not much scope for you out there.
But if the same purposes keep you going despite unpleasant experiences, staying awake long nights, or riding out the bad days, then you may just have discovered what you're really cut out for.
You can also determine if you've found your life purpose if you find sheer joy in doing something now that you also enjoyed doing as a child. Say you enjoyed writing as a child and only rediscovered the same joy of writing later on in life.
A lot of times people tend to lose touch with what they loved when they were younger. Oftentimes, it has a lot to do with the social pressure of adolescence or the professional pressure of young adulthood which wrings the passion right out of them.
Instead what remains behind is the lesson that the only reason to do anything is if there's a tangible reward for it. But if you can look beyond the physical reward for something and learn to enjoy the experience instead, it could be your true calling.
Interestingly enough, vulnerability can also often point you in the direction of your real passion. If you're passionate about something, then you risk making mistakes to improve yourself.
Making mistakes leads to embarrassment and if becoming embarrassed stops you from doing something that you really want to do, then you should re-think your life purpose.
Your real life purpose won't let you care about getting embarrassed. It won't concern itself with what others think of you but urge you to pursue it instead.
When people feel like they've got no sense of direction or any purpose in life, it's because they don't know what's important to them. And when you don't know what's important to you, then you're just taking on other people's values and following their priorities instead of your own.
And this is exactly what this book aims to correct so that you can live your own life based on what's important to you, not what others think is good for you.
Chapter 2: The Importance Of Finding Meaning In Life
Let's re-visit the idea of a conscious life once more.
If you find meaning in your life, you'll be able to learn your purpose in this world. Experts believe that you can live your life in two ways. The first says that if you're conscious, you'll live along the same lines as others. Yet, you'll experience the same things differently.
The second way to live is to live unconsciously. Broadly speaking, if you live like that, life will just happen to you. Think of it as a giant wave that keeps pushing you forward. You have no control over where you're going or why you're going there. In fact the only thing certain about this situation is that you're just going with the flow. This kind of life isn't exactly ideal since you don't have much say in it. Yet, many of us live this way.
When you learn the meaning of life, you have a better sense of purpose. You tend to understand why you're in this world. Just like that, you will have a clearer view of how you can contribute to the world.
If you don't know your purpose, you'll hate getting out of bed. Your motivation to last through the week would be looking forward to the weekend. Put you in a challenging situation and you'll feel burnout even before trying. On the other hand, if you lead a meaningful life, you'll love the grind.
Here are some tips on why it's important to find meaning in life:
Gives Clarity and Focus
Look around yourself and you'll see so many people running after a host of popular things. Common offenders include earning more money, getting a house, and then getting an even bigger house. Goals also include getting a car, the latest technology and everything along those lines. Incidentally, all these are also material gains and rewards.
And while they may seem very important to you right now, do they really matter that much in the long run? How about looking for something that you're passionate about instead? Something that you thoroughly enjoy doing? Something that brings out the best in you?
It isn't uncommon that while running after money and luxuries, you become side-tracked from your real purpose. Finding your life purpose will help you become aware of things that are important.
Once you learn to look past these common needs, you'll see what's important. It'll help you set your goals and eliminate unimportant things from your life.
Other Details
- 1 Ebook (PDF), 80 Pages
- 2 Graphics (JPG, PNG)
- 1 Salespage (HTML)
- 5 Promotional Ad Materials (Emails)
- Checklist, Mind Map, Landing Page, Lead Magnet, VSL
- Year Released/Circulated: 2018
- File Size: 46,290 KB
License Details:
[YES] Can be sold
[YES] Can be used for personal use
[YES] Can be packaged with other products
[YES] Can modify/change the sales letter
[YES] Can be added into paid membership websites
[YES] Can put your name on the sales letter
[YES] Can be offered as a bonus
[YES] Can be used to build a list
[YES] Can print/publish offline
[YES] Can convey and sell Personal Use Rights
[YES] Can convey and sell Resale Rights
[YES] Can convey and sell Master Resale Rights
[NO] Can modify/change the main product
[NO] Can modify/change the graphics and ecover
[NO] Can be given away for free
[NO] Can be added to free membership websites
[NO] Can convey and sell Private Label Rights