Salespage Snapshot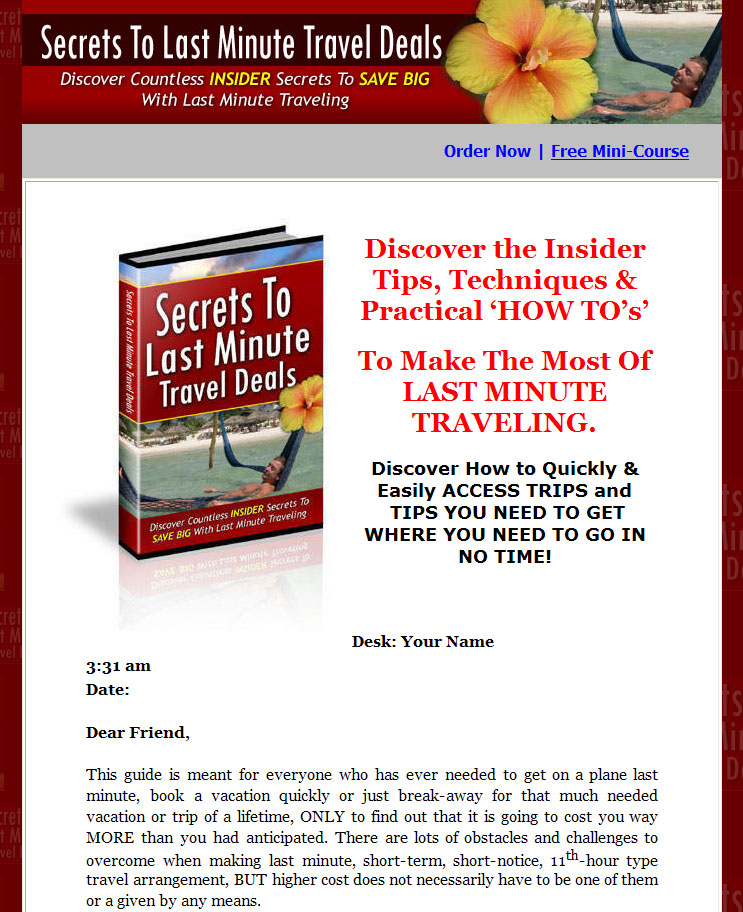 >> Click Here To View Sales Page...
Ebook Table Of Contents
Section I – TAKING A CLOSER LOOK AT LAST MINUTE TRAVEL KNOWING WHAT YOU ARE DEALING WITH FOR GREAT DEALS
–    Introduction and Background                    3
–    Last Minute Travel Deal Basics – How to make the most of the deals that are available out there            11
–    What are last minute travel deals? What do they mean and can they do for you?                    15
–    Last minute travel deals strategies and options    18
–    Who, where, when and through whom you book really matters and can make a difference                19
–    Where to look to find last minute travel deals        32
Section II – TAKING A PRACTICAL PRO-ACTIVE PERSPECTIVE: WHAT YOU CAN "DO"
–    Brokering the best last minute travel deal FOR YOUR NEEDS! A method that works.                    40
–    Making your last minute travel dollar count        45
–    Negotiation on price and final outcome, results and rewards of last minute travel deals                50
–    Last minute travel deals  – Do and DO NOT        57
–    Closing Thoughts and Remarks                59
–    Resources and links                        64
Sample Content Preview
Section I – TAKING A CLOSER LOOK AT LAST MINUTE TRAVEL KNOWING WHAT YOU ARE DEALING WITH FOR GREAT DEALS
– Introduction and Background
We all want the best for our travel dollar. These days, it is all about getting there quickly and cheaply. We all want to make the most of what the travel industry has to give and offer up in terms of savings and value. This leads and inspires us (even obsess over!), increasingly try to secure the BEST pricing, discounts and lowest rates possible, even for short-term travel and last minute arrangement.
Lots have changed in the modern world we live in. Travel is no exception, whether by car, plane, train, boat or rail and other means of transportation. The fast-paced nature of society sometimes pressures us to spend a little more time and less money getting where we need and want to go. Worldwide, people are moving, on the move, passing through and going places. We are nomadic at heart and the economy and activity demands that we do, often and repeatedly.
Booking online has also become a reality. We are wanting more and more to get where we need to go, as quickly as possible, as affordably as possible and as cheaply as possible!  This, combined with the wonderful enabling technological advances that we have had in recent years, all contribute to almost on-demand and real-time travel solutions at our fingertips.
Booking last minute afford you flexibility, but also savings sometimes, if you do it right. You do not have to necessarily pay more if you are booking short-term travel. We all just accept that it will be more expensive, as supply and demand dictates. You need to know where the real savings opportunities are, whether charter flights, preferred rates or more applies and then use, leverage and optimize these individually and collectively to your advantage.
It is an art and science to discover and capitalize on any and all last minute travel bargains PRIOR to booking. Asking the right questions, using the right booking service and provider, even doing things yourself can save a lot of money. You will be left with more on-hand spending money and make your travel dollar go that much further, if you can make these last minute travel deals work for you, not against you!
Short-notice travel is a reality today. Low-cost options are available to you, if you know what you are looking for, who to get them from and through and securing the lowest possible cost and price for all aspects of your trip.
Many a time there are disasters, unfortunate events and unfortunate incidents that happen in our lives and those of others. We cancel, reschedule and shuffle our plans last minute, creating a type of fluidity in the market, openings for some/others to take advantage of. This affords consumers choice and opportunity to save money, even for traveling …
Other Details* Sales Page:
Included, HTML, MS Word Doc
* File Format:
MS Word Doc, PDF
* Number of Pages:
68
* Included Graphics:
Ecovers, PSD
* Extras:
5 Part Autoresponder Email Message Series
* Download File Size:
9,022 KB