Salespage Snapshot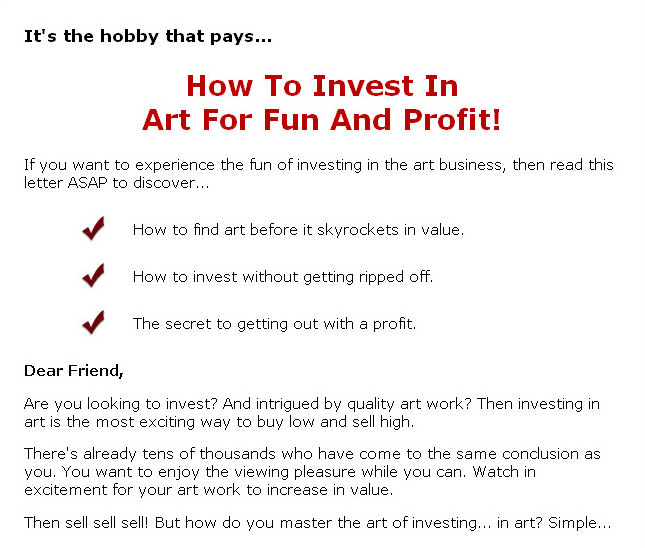 >> Click Here To View Sales Page...
Ebook Table Of Contents
Table Of Contents    3
Introduction    4
Chapter 1:  Getting Started In Investment Art:  For The Money?    6
Where To Start    7
Why Are You Investing?    8
Chapter 2:  Art,   It Is A Commodity To Be Invested In    11
How Is It Valued?    12
Supply And Demand    12
Aesthetics    13
Authenticity    14
Condition    15
Rarity    16
Provenance    17
Appraisals And More    18
Chapter 3:  Art Investing Scams To Be Aware Of    20
Scams That Are Common    20
Regulation In The World Of Art    23
Chapter 4:  Finding The Right Artist To Invest In    26
Finding Your Artist(s)    27
Suggestions Of Art Galleries    30
Online Searches    32
Chapter 5:  Putting Value On Your Author's Abilities    34
The Process Of Gathering Information    35
Situations That Make You Money    39
Chapter 6:  More Strategy Tips To Get Your Investment Moving    42
Where Did They Learn?    42
The Artist's Style    45
Chapter 7:  Buying Art Online    47
Conclusion    50
PLR Ebook Sample Content Preview
Introduction
Investing in art is one of the most beautiful ways to invest, but that does not make it a less business savvy way of doing so.  It is imperative that you invest in art that is both beautiful and pleasurable for you but also is a good business decision.  When you can combine these aspects, you can overall improve your chances of getting wealthy from the art that you purchase.
The fact is that art, in many of its forms, is a process.  The hope is to purchase a piece of art from an artist and wait for the value to go up before selling it off or simply holding on to it over time.  In many cases, it only takes a matter of hours, not years and not months, to see an increase in the value of the art that you have purchased, assuming that it is a piece that is well worth investing in.
The question becomes, then, how do you know if the piece is worth something?  How do you know that it will be worth your invested money?  Just like any type of investing, there are risks that you will have to take on and many times, they won't pay off.  But, when they do, you could find yourself facing an ideal investment opportunity.
Other Details* Sales Page:
Included, HTML
* File Format:
MS Word Doc, PDF, RTF
* Number of Pages:
49
* Download File Size:
222 KB