Salespage Snapshot: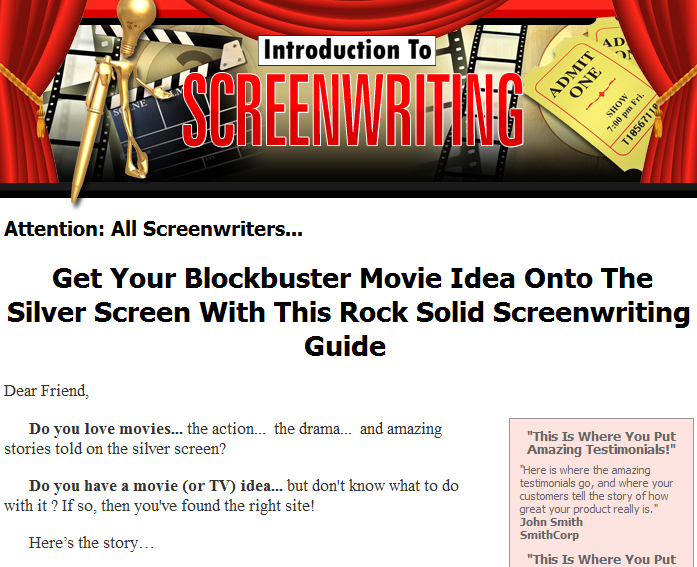 >>> Click Here To View Full Sales Page…
Table of Contents
Introduction to Screenwriting
Chapter 1.
What's in a Script?
The Right Elements for a Good Story
Chapter 2.
Styles of Scripts.
Submission Script
Shooting Script
Chapter 3.
Your Script Layout
Length and Format.
Formatting
Font
Page Numbers
Margins.
The Elements of the Script
Scene Headings
Action
The Introduction of Characters.
Character's Names
Dialogue.
Parenthetical.
Extensions
Formatting the First and Last Pages of your Script
The First Page of your Script.
The Last Page of your Script.
Scene Numbering.
Chapter 4.
Shots
Page Breaks
Adding Finer Touches
Dual Dialogue.
Adlibs
Montage
Intercuts
Series of Shots
Chapter 5.
Abbreviations.
Chapter 6.
Titles and Opening Credits.
Superimposing a Title.
Title Page
TV Movie Title Pages.
Chapter 7.
Production Drafts
Locking Script Pages.
Locking Scenes
Headers
Other Script Formats
Chapter 8.
Screenwriting Software
Final Do's and Don'ts.
Conclusion
Sample Content Preview
Introduction to Screenwriting
If you have ever had an idea pop into your head that you thought would make a blockbuster film or compelling television show, you may have found yourself wondering where to get the process started. The process of getting a script, whether it is for television or the big screen, on paper is known as screenwriting. While the process of committing your idea to paper might seem simple enough, if you really want to succeed in the world of television and feature films you need to known the precise formula and rules that are used when writing a script.
Isn't writing all about creativity, you might ask? Yes, that is certainly true and without creativity there would likely be no scripts for award winning films and television programs, but like anything else, there are rules and conventions that must be adhered to, especially if your goal is to have your script read by professionals in the industry who really have the power and connections to bring your script to life on screen.
Keep in mind that the real power powers, such as producers and commissioning editors, all receive a ton of scripts on their desk almost on a daily basis and in order to sort through those scripts to separate the gems from the junk they must be able to quickly and easily pick out those that seem to have the potential to be real winners. This means they must be able to quickly pick up those that scream 'newbie' and separate them from the clear professionals.
The latter category is where you want your script to fall. Unconventional formatting may seem creative to you, but to the powers that be it simply announces you as someone new to the industry and likely will land your script in the trash without it having even been read. It might well be the greatest script ever written, but keep in mind that if you cannot get it into the right hands, no one will ever know that. Writing to the correct standard and format will immediately give you the best opportunity to have your script read.
In this guide we are going to take a look at some of the standard formatting regulations for writing scripts both for television and film and give you an insider's look at the industry.
Are you ready to find out what it takes to write a successful script?
Let's get started!
Other Details
- 30 Articles (TXT)
- 2 Ebook (PDF, RTF), 37 Pages
- 7 Part Autoresponder Email Messages (TXT)
- 1 Salespage (HTML, RTF)
- 3 Ecovers (JPG)
- File Size: 1,326 KB