Salespage Snapshot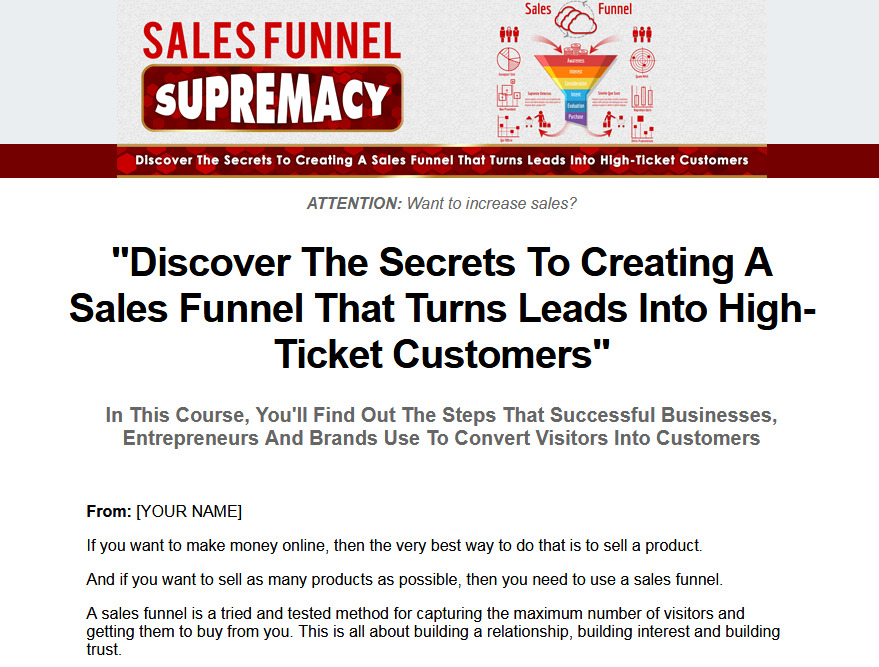 >> Click Here To View Sales Page...
Table of Contents
Introduction………….. 6
What is a Sales Funnel?……………. 7
What You Will Learn…………….10
Chapter 1: Why Sales Funnels? Understanding the 5 Touches…………….12
The Alternative..13
The Five Touches…………17
Chapter 2: What Constitutes a Sales Funnel?……… 18
The First Touch………. 18
The Second Touch.. 19
The Third Touch………20
The Fourth Touch….. 21
The Final Touch……… 23
Chapter 3: Advanced Techniques – Live Video Streaming and More 24
Newer and More Interesting Steps……24
Targeting Your Audience and Finding Leads……………25
Chapter 4: Persuasive Writing and How to Use AIDA in Your Marketing 27
What is AIDA?… 27
How to Use Persuasive Writing…………. 30
Urgency and Scarcity…………. 33
Chapter 5: Adding Polish and Mixing it Up – The Bit Everyone Forgets 35
Chapter 6: Pricing Strategy for Your Sales Funnel………….. 37
The Free Line……………38
Choosing Prices…………….40
Chapter 7: Playing the Long Game and Building Trust… 43
Your Mission Statement………….. 44
Content Marketing………..45
Chapter 8: Crucial Tools and Resources That Will Save You Time……. 46
Building Your Sales/Squeeze Pages.46
Webinars and Meetings……………48
Google Analytics………….. 48
Lead Management……….48
Chapter 9: Increasing Conversion Rates….. 51
Investment………… 51
PPC……….. 52
Watching Metrics…………..53
Building True Fans……… 54
Chapter 10: Choosing Your Products…………..56
Acquiring Products to Sell: Your Options……..57
Creating Digital Products…..57
Creating Physical Products……………. 57
Selling Affiliate Products…… 58
Dropshipping58
Conclusion and Summary………59
Sample Content Preview
As mentioned, there's a good chance you'll have encountered different sales funnels in your travel around the web: and you may even have bought products from others through this method. You might have come across a blog and signed up to the mailing list for instance, and then been told to click on the link therein in order to see a free seminar. And then maybe the free seminar asked you to sign up for the next seminar which would cost a little money.
And you may have come across it on YouTube too. For example, Tai Lopez is something of an inscrutable business man who is willing to use everything at his disposal to capture new leads and sales – even when that involves a bit of bare-face lying (that's not his car and not his garage!). But he still employs a sales funnel very well. If you go on YouTube to watch a video, his ad will very often show up.
The guy then goes on to talk about his cars or his massive house and this makes you want to watch – even if only because it annoys you. At the end of the video, he offers to show you how to get his three most important tips for making money. And because it's free, why wouldn't you click it? Only at this point, you're becoming more and more involved with his brand and more and more likely to become a paying customer. When you watch this 'free' video, which is on his site or channel, you'll then be told you can get even more information by signing up for a free report. In fact, this report is key to understanding the video. If you do this, then Tai now has your details and the confirmation that you're interested in what he has to sell!
You've gone from a 'cold lead' (someone on YouTube, targeted based on your video watching choices), to a 'warm lead' (someone who has demonstrated an interest) to eventually a 'qualified lead'.
The way Tai does this is a little transparent and a little cynical – but it's how all the big names operate including the likes of Tony Robbins, Tim Ferriss and Pat Flynn. And it's exactly what you should be doing if you want to make sales. Note that this doesn't mean you have to con people like Tai! Just that you need to think about your marketing strategy in steps and stages and understand the psychology of the way you're dealing with people.
What You Will Learn
Reading this book, you'll learn precisely how to employ these kinds of techniques yourself and we're going to break down all the different tools, resources and tips you need to execute this plan perfectly. What's more though, is that we're also going to look at some higher level concepts. You'll learn how to sell anything, how to write persuasive copy that people simply can't ignore and how to build a massive following so that you don't just have visitors and customers – you have loyal fans!
Specifically, you'll discover:
• Why sales funnels are THE most effective tool for sales
• All the tools and resources you need to construct the ultimate sales funnel
• How to target your audience and bring the right people to the first stage of your funnel
• How to use persuasive writing to convince people to buy anything
• How to engage your audience and build trust and real following
• How to maximize conversion rates
• How to make people buy from you more than once
• How to utilize an understanding of psychology to skyrocket your sales
• What the different options are for your sales funnels
• How to stand out and be different
• And much more!
Chapter 1: Why Sales Funnels?
Understanding the 5 Touches
Imagine if someone came up to you in the street and asked you if you'd like to buy a $5,000 watch.
99.9999% of the time, you would say no to that offer.
Why? Well, apart from the fact that you might not want a watch (you are a 'cold lead' in that respect), there's also the small issue of trust, recognition and authority. You don't know who this person is, you've been given no reason to trust them and you're probably not going to want to hand over any cash.
That's why companies don't do this. Instead, they give you fliers. Fliers are things you can choose to accept or throw away – but either way, they don't cost you anything and you won't feel that you're being pressured into anything.
Other stores do something different: they give away freebies. Walk past Starbucks and you'll often find them giving away free samples of their new
drinks and cakes for you to try. Again, you can easily walk away if you're not interested and you won't feel you're being strong-armed. If you like the free sample though, then you can come in and try whatever else they're offering.
If you try and sell to people right away on your website though, then you're the equivalent of someone trying to sell thousand dollar watches in the street. And if that's the only thing you're offering and the only way that your visitors can engage with you, then they're just going to say 'no thanks' and leave, giving you no way to contact them again and no way to get them back. As you might have guessed, this is a poor strategy! Try to imagine it from their perspective: they have typed 'fitness tips' into Google, found your page essentially by accident and now you're trying to sell them your training program for $500. People do not make decisions on that basis unless they're loaded with cash. They'll see you're trying to sell them, write you off as spam and then leave.
The Alternative
Now imagine the alternative: the sales funnel technique. They do the same thing: they type in 'fitness tips' and they land on your site where they get some great information right away. That information is unique, interesting and useful but at the bottom, it tells the audience that if they want more great tips – your '5 Most Powerful Tips' – then all they have to do is to enter their details to receive your free report.
There's very little reason for them not to do this: you have demonstrated that you're able to provide value and you're offering something for free. The only price they pay, is to allow you to contact them in future – but as you will point out, they can always just unsubscribe if they don't want to hear anything more from you.
Other Details
- 10 Articles (TXT)
- 1 Ebook (PDF), 60 Pages
- 4 Graphics (PNG)
- 1 Salespage (HTML)
- Checklist, Resource Cheat Sheet, Mindmap, Optin Page, Social Media Images, Email Swipes
- Year Released/Circulated: 2021
- File Size: 15,204 KB
License Details:
You're granted master resell rights, resell rights or to resell with personal use rights.
You may add this product to your PAID membership site
You may giveaway the product as a bonus when people buy through your affiliate link
You may edit the included sales page and opt-in page
No, you may NOT edit the contents of the eBook(s) & videos
No, this product does NOT include private label rights. You are granted Master Resell Rights only
No, you may NOT giveaway the eBook(s) & videos for free.