Salespage Snapshot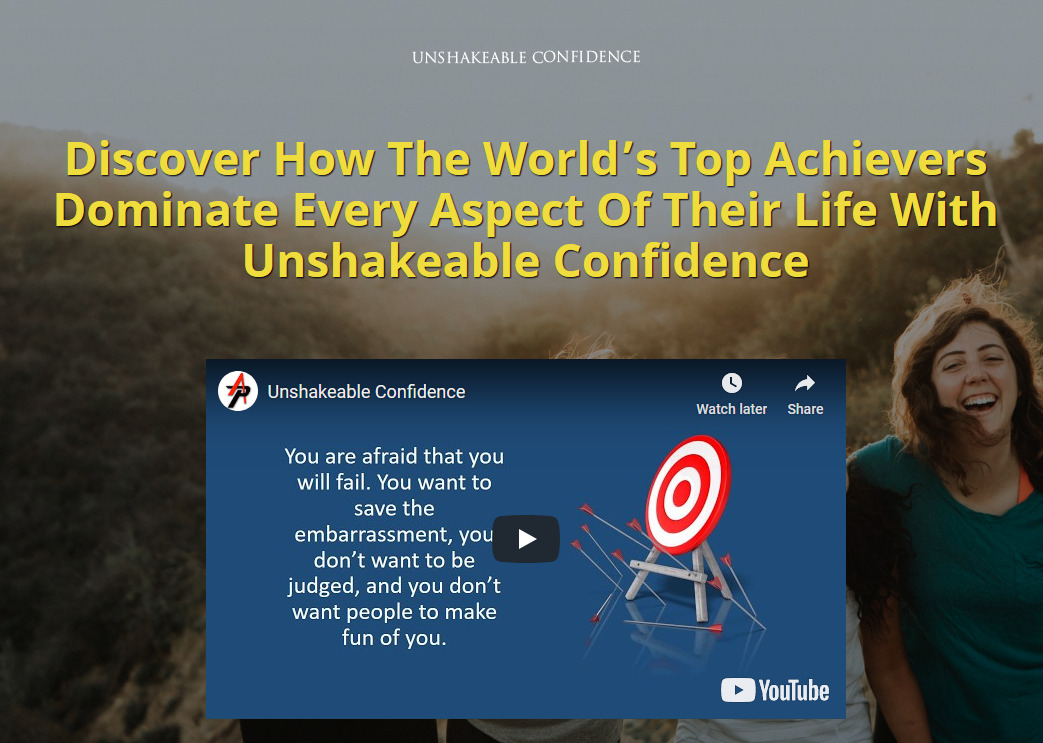 >> Click Here To View Sales Page...
Table of Contents
Introduction ……… 6
Chapter 1 .. 10
Three Pillars of Unshakeable Confidence ……. 10
Pillar 1: Experiential Confidence … 10
Pillar 2: Emotional Confidence ….. 12
Pillar 3: Self-Esteem 14
Chapter 2 .. 19
Importance of Having Confidence In Life …….. 19
Reduce Fear and Anxiety … 19
Achieve Greater Motivation ……… 20
Increase Resilience .. 21
Improve Relationships …….22
Experience A Stronger Sense Of Your Authenticity …… 24
Chapter 3 . 27
The Secret Language of Rock-Solid Confident People 27
They Manage Their Minds At Every Moment ….. 27
They Start A "Dream factory." …… 29
They Intentionally Stop Giving A Hoot About What Others Think Of Them 30
Chapter 4 . 33
Steps To Building An Unshakeable Confidence ………. 33
Step 1: Step Out Of Your Comfort Zone .. 33
Step 2: Know Your Worth ..36
Step 3: Be Ready To Embrace Change …. 38
Step 4: Be Present .. 40
Chapter 5 . 44
Sticking Up For Yourself 44
Before You Can Confront, Be Certain Of What You Want ……. 44
Have Clarity On Your Response & Understand The 'Truth' ….. 45
Release Any Attachment … 46
Write It Out Before You Talk ……. 46
Create Some Time To Have A Talk ………. 47
Stop Talking . 47
Chapter 6 .. 51
How To Bounce Back From Failure: Strategies Successful People Use 51
Accept Failure ……… 51
Allow Your Employees To Fail …… 52
Quickly Apologize …. 52
Address Your Failures …….. 53
Move On ……. 53
Tips To Achieving Your Micro-Goals 54
Write Them Down … 54
Be Specific …. 55
Track Your Goals Regularly ………. 55
Visualize ……. 56
Chapter 7 .. 58
Actionable Tips To Exercises And Consolidate Your Confidence ………. 58
Grow Your Knowledge …… 58
Experience And Celebrate Small Victories ………. 59
Exercise Passionate Faith … 59
Enable A Firm Resolve …… 60
Enlist Expert Help … 61
Visualize Confidence ……… 62
Expect To Be Confident ……63
Chapter 8 66
Reconnect With Friends To Build Your Self-Confidence ……. 66
They Cheer For Your Success …….. 67
They Model New Ways Of Being .. 68
They Support Our Efforts To Grow ……… 68
They Wipe Our Tears Away ………. 69
They Teach Us The Value Of Teamwork . 69
Conclusion 71
Sample Content Preview
Chapter 2
Importance of Having Confidence In Life
Reduce Fear and Anxiety
The greatest enemy of progress is fear. However, one thing that you have to understand is that building your confidence plays a very significant role in offering a calming effect. It simply quiets the voice inside you that tries to convince you that you cannot do it. It is through the confidence that you can effectively unhook from your thoughts and act by your standards and values.
Have you ever experienced low self-confidence in the past? Are you still struggling with low self-confidence? If yes, then there is a high likelihood that you already have experienced rumination many times. Rumination simply refers to the tendency to replay worries and perceived mistakes over and over again.
When rumination is occurring too frequently, this is linked to anxiety and even in extreme cases; depression. This is something that can cause you to withdraw from the entire world around you. However, when you fill your tank with confidence, there is special energy that springs from within you and acts by breaking the cycle of negative thinking so that your inner critic is silenced.
Achieve Greater Motivation
Building confidence is not something that you can achieve overnight. It is a continuous process that needs lots of small steps which leave a strong sense of lasting accomplishment. Well, it is more like learning a new language, or being on a weight loss program, or even overcoming an obstacle. Think of it a mastering a new skill. Well, you may be wondering what your grades or success on weight loss has to do with being confident. One thing that you will notice is that those achievements you have had did not happen overnight. They must have taken time and lots of perseverance. If you can triumph through tough situations and adversities, then you definitely can duplicate the same grit and tenacity to other areas of your life.
As your level of confidence continues to grow little by little, you will find that your self-drive is stretched and your abilities become deeply rooted and impeccable. The good thing is that even in the wake of these thoughts, the self-assurance within you will render these thoughts paralyzed rather than the other way round. In other words, the voices that tell you may not make it will be silenced by the wide grin on your face saying what if I make it! When you start to see progress, you will feel energized.
Increase Resilience
When you have confidence, you are well equipped to cope with anything that happens in your life. Even when faced with harsh setbacks and failures, you simply hold your head up, and shoulders pushed back, and you give it another try. Trust me, even the most confident people in the world fail. So, this does not mean that when you have self-confidence, you will never fail. It simply means that you will not stay down, beat yourself up, or become crippled by them. You will brace yourself and rise to the challenge of giving it another try.
Confidence will allow you to push yourself to try new techniques, approaches, and means to make your dreams a reality. In other words, when you fail or make a mistake, you will learn that they are a part of the learning curve. Only through mistakes we can grow into a stronger version of ourselves. It simply means that you will accept failure knowing that it is part of life.
Studies have shown that ironically, when you are willing to fail, you will become more successful. The main reason behind this is that you are not expecting that everything will be 100% perfect. Instead, when you take more shots, you can only get better.
Improve Relationships
This may sound a little counterintuitive. However, one thing that I have learned over the years is that the more confidence you cultivate, the less self-centered you become. Imagine yourself walking into a room full of people, when everyone is paying attention to the speaker, and then there you come in to take a seat. Often times, you'll feel awkward and think that people are staring at you. Well, 90% of the time people will just take a glance and pay no attention at you afterwards. They are all wrapped up in their thoughts or what the speaker is talking about that nothing happening outside their zone of focus matters at all. Confidence wipes out the feeling that you need to make a lasting impression on people, and you find yourself flowing with the crowd and enjoying every bit of your interaction. You will not be caught up in a moment of trying to compare yourself with others. You simply sink into a relaxed state that puts everyone else at ease and hence helping you connect deeper. Studies have also shown that having unshakeable confidence breeds empathy. The truth is, when you are less confident, all your thoughts are roaming around thinking of what people might be thinking. However, when you are confident, you are comfortable in your true identity, and your thoughts are fully present in the moment. Instead of letting the external environment affects your internal dialogue, you divert the attention elsewhere and focus on things that truly matter at the moment. Simply put, you do not get preoccupied with self-doubt. You reach out and lift others.
Experience A Stronger Sense Of Your Authenticity
It is only confidence that can unleash your full potential. This is when you easily accept your weaknesses and failures with the knowledge that these shortcomings do not change your true sense of self-worth. Instead, you appreciate the fact that you have strengths you can celebrate even amid all adversities and hence, are empowered to use them fully. In other words, unshakeable confidence is what helps align your actions with your values, principles, and standards. This, in turn, offers you a superior sense of purpose. Confidence opens you up to self-discovery so that you can appreciate who you truly are and what you represent. When you see anything that is not right, you have the courage to show up, stand up, and raise your voice over the issue. You effortlessly allow your best self to shine through.
Chapter 3
The Secret Language of Rock-Solid Confident People
Here are the 3 most powerful secrets of Rock-Solid Confident People:
They Manage Their Minds At Every Moment
People who have rock-solid confidence know how to manage their minds at every moment. The reason why you feel overly anxious about that job interview or presentation or performance is because you can't manage your mindset well to handle the tasks.
The beauty of our mindset is that we can easily choose to shift it at any time towards the direction we choose. Let us consider an example where you are relaxing in your home on Saturday morning having breakfast with your loved ones. Suddenly, the phone rings. Out of nowhere, you were told that you must attend an urgent meeting in an hour! And you have to abandon your family for this unexpected meeting elsewhere.
Wow! Anyone in their right minds will feel ambushed, angry, and anxious being put in such situation. However, all you have to do is try to instantly shift your focus from enjoying family time to getting into the confident, high-level meeting mindset.
No one said that this would be easy, because it is not. But the first thing you should do is try and gather information from your boss about the expectations of the meeting, the agenda, the stakeholders seating in the meeting, and other important details. You could then talk to your family about what just happened and get going. One thing that is important to note is that when a new, unexpected situation arises, you have to accept that you will feel frustrated, challenged and stressed out. However, you can trick your brain into the right state of mind and get the important things done right away. At first, this may not be easy. However, as you gain more knowledge and learn from experience, you will always be mentally prepared for this kind of unexpected events.
Simply ask yourself whether there is anything at all that will get you in the right frame of mind. Think of your brain like Google, which anything you ask will be answered.
They Start A "Dream factory."
If you are going to have confidence in life, the key to have a sense of direction in which your life is growth. Just a simple question such as, "What would you like your life to be like?" is enough to help you put things into perspective. Determine what your dream lifestyle is like and how do you measure your own level of success. Then write all your responses on a piece of paper.
Ideally, you should get up each morning and read this paper about your dream life and take a few minutes to visualize it. As days go by, you can add more specifics to your dream life. By starting the day in such way, you are actually imprinting rock-solid confidence into your subconscious mind. This will also inform what steps you take to bring you closer to your dream life.
Other Details
- 1 Ebook (PDF), 72 Pages
- 5 Part Autoresponder Email Messages (TXT)
- 3 Graphics (PSD, PNG)
- 1 Salespage (HTML)
- Checklist, Mind Map, Landing Page, Lead Magnet, VSL
- Year Released/Circulated: 2019
- File Size: 60,101 KB
License Details:
[YES] Can be sold
[YES] Can be used for personal use
[YES] Can be packaged with other products
[YES] Can modify/change the sales letter
[YES] Can be added into paid membership websites
[YES] Can put your name on the sales letter
[YES] Can be offered as a bonus
[YES] Can be used to build a list
[YES] Can print/publish offline
[YES] Can convey and sell Personal Use Rights
[YES] Can convey and sell Resale Rights
[YES] Can convey and sell Master Resale Rights
[NO] Can modify/change the main product
[NO] Can modify/change the graphics and ecover
[NO] Can be given away for free
[NO] Can be added to free membership websites
[NO] Can convey and sell Private Label Rights