Salespage Snapshot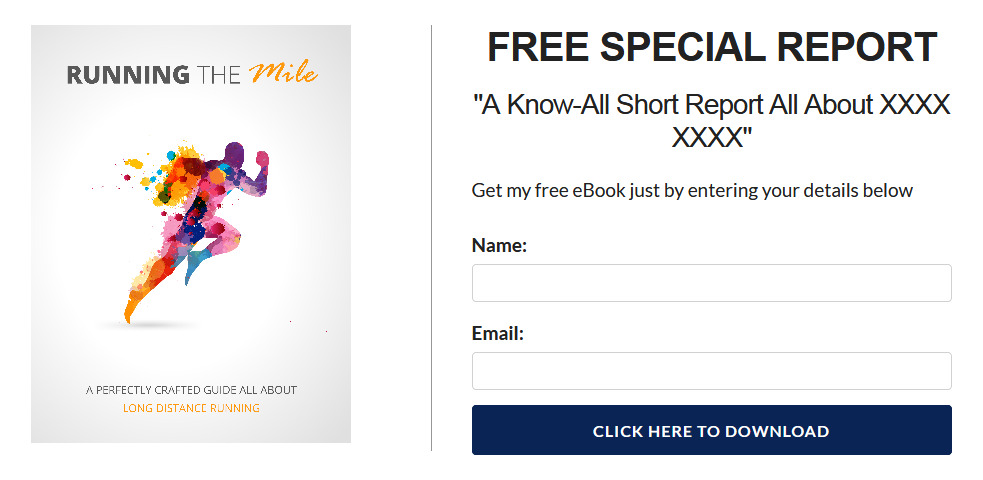 >> Click Here To View Sales Page...
Table of Contents
Introductory …. 4
Chapter 1: Getting Set for Distance Running …. 6
Chapter 2: Building Towards Distance Running 8
Chapter 3: Crossing Countries in Distance Running 10
Chapter 4: Distance Running – Injuries And Errors 12
Chapter 5: Distance Running – Random Tips .. 15
Chapter 6: Nutrition And Distance Running …. 18
Chapter 7: Positive Body Effects of Distance Running …. 21
Sample Content Preview
Chapter 1: Getting Set for Distance Running
Training is an essential part of every athlete's life. It dictates how he will perform on the grand stage of the sporting event he has chosen.
It doesn't matter if you're a ball player or a budding swimmer you have to pay your dues in training in order for your body to be readily equipped when the game proper is on. Distance running is an event that has been sweeping the globe in years. Many people have to come to love its events. Let's take a look at how you can shoot your way into getting set for distance running.
There are lots of things to consider when distance running is on the table. Aside for getting a trustworthy pair of running shoes, you should have your very own running log. You can place all the vital stats here as you monitor your progress and look for signs of improvement.
The log sheet consists of daily time or distance, weight, your morning pulse, more importantly subjective records regarding your run. Your comments are very important because it can give you an idea of how you felt after or even before the run. The log is most helpful in terms of providing you with information that you can tap into when you start feeling some sort of pain. You can also figure out what's wrong with your training so as to shift into better methods.
Moving on, you have to think about your joints. Save them for the real thing. It's not good that you get them strained way before you get into the real action of distance running. Although you have to prepare your body for the long distance to come in the running proper, you have to do this preparation without compromising your lower back and feet as well as your knees, ankles, and hips.
The treadmill is the one tool you can rely on because it gives you less strain as supposed to the roads that you have to stride in the real world. It is important to avoid getting too much stress and the treadmill can do this while providing you with the sort of distance training for the real thing. You can make your treadmill work out more challenging by increasing the angle of incline gradually. Normally angles are set at three percent higher.
Nature can sometimes put your training to a temporary halt but you don't have to give so much of a fuss about it. All you need to do is adjust your schedule. Hot summer days can really take a toll on your hydration and overall performance. What you can do is mix it up.
It's like playing hide and seek with the sun. You can do your training before the sun can boastfully man the skies or you can go out in the late evenings so as to prevent your body from breaking down because of heat stroke.
Another aspect to give emphasis on while preparing to run for the distance is the fact that you have to take little steps before going for the giant leaps. Start at the pace of training which really suits your body's capacity and gradually employ changes over the weeks based on the stats that you have accumulated. This can save your body from injuries that can surely affect the length and quality of your training.
Apart from the physical preparation that you have to make in getting set for distance running you also have to make sure that you are sharp mentally and emotionally.
Chapter 2: Building Towards Distance Running
Running can be both a fun-filled activity and also a serious event that can be life-altering.
The distance you get to accomplish can be very rewarding both physically and psychologically. Runners often experience a certain kind of high after accomplishing a designated running time and distance. In order to become a successful runner especially for long distances you have to build on certain components that can boost your skills which will make you ready for the running proper. Let's take a look at the basic components that you have to know in order to fully build your way towards distance running.
First on the list is the Fartlek. This is the Swedish term for speed play. This distance running component is done by maneuvering into sudden burst of speed while in the middle of the training run. It allows your legs to utilize various paces that facilitate to recognition of your capacity to maintain such paces at certain distances.
They key in Fartlek is to designate your very own landmark. This landmark which may be a tree or a post can give you an idea of how far you keep on running at such a fast pace. Give your pace some time intervals. You can dash for about fifteen seconds or even longer at about three minutes. It's important that you do not overdo Fartlek. Make sure that each speed session is just right for your body's capacity to sustain.
Next on the list is something that most runners fear of. It is known as the Hills. Based on the name itself you have to go through hills in order to perfect this one. It also demands more of your mental and will power than that of your legs. A little bit of dedicated practice can really pull you through this distance running component.
Hill and incline routines and sessions give you a definite edge when it comes to running on hills as well as when you have your turn on the flat playing field. Remember that the muscle groups you utilize when running up those high inclines are just the same as those used when you run on a flat surface.
Other Details
- 1 Ebook (PDF), 22 Pages
- 1 Squeeze Page (HTML)
- 3 Ecovers (JPG, PNG)
- Year Released/Circulated: 2019
- File Size: 2,517 KB
License Details:
[YES] Each product to be sold for no less than $7.00 each.
[YES] Can be sold
[YES] Can be re-branded as your own
[YES] Can be used for personal use
[YES] Can be packaged with other products
[YES] Can modify/change the sales letter
[YES] Can modify/change the graphics and ecover's
[YES] Can add to ANY membership site (MRR Only)
[YES] Can be offered as a bonus
[YES] Can be given away free to build a list
[YES] Can print/publish offline
[YES]Can convey and sell Personal Use Rights
[YES] Can convey and sell Resale Rights
[YES] Can convey and sell Master Resale Rights
[YES] Can be given away for free
[NO] Can convey and sell Private Label Rights
[NO] Can be given away in PLR format
[NO] Can sell or giveaway the FULL package