Salespage Snapshot: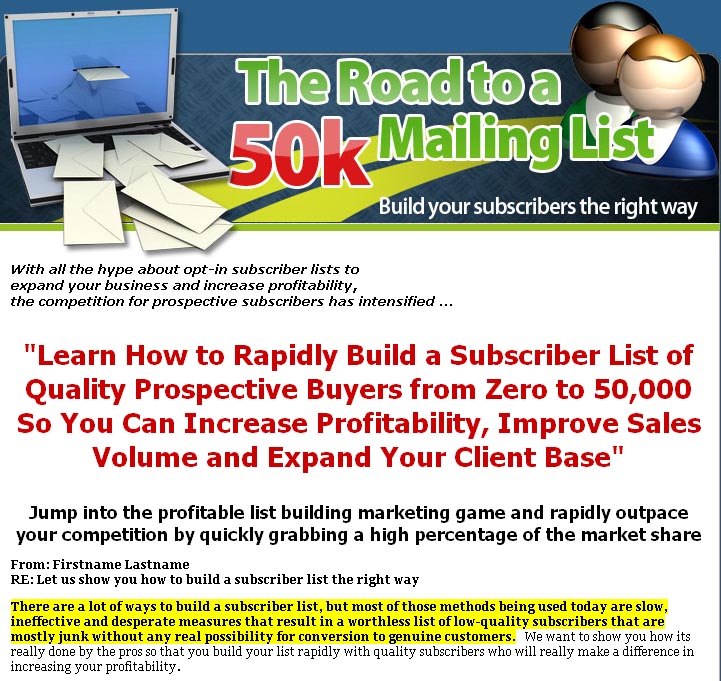 >>> Click Here To View Full Sales Page…
Table Of Contents
Be remarkable …………………. 4
Forget the advertising—innovate ……………………………… 4
Information products—the key to the success of your Internet marketing business ……. 5
The best time to build your database is now ………………. 6
How to create lead-generating information products ….. 6
Information products plus permission marketing equals rapid-fire lead generation….. 7
The unlimited power of viral marketing …………………….. 8
Sure-fire tactics for creating your own information product ……… 9
26 Superpower Tactics for Rapid-Fire List Building ……. 10
Be sure you have a squeeze page ……………………………. 10
Offer a free e-consultation on your squeeze page …….. 11
Cross-promote through joint venture e-mail campaigns ………….. 11
Co-registration …………………………………. 12
How to get the most out of eZines ………………………….. 12
Add your information product to a giveaway site ……… 12
Be sure you use an exit pop-up ……………………………….. 13
When to use an index page ……………………………………. 13
Writing articles …………………………………………………….. 13
Harness the power of viral list-builder software ……….. 13
Writing an eBook …………………………………………………. 14
Press releases and news stories ………….. 15
Surveys and polls ……………………… 15
Promote affiliate items ……………… 15
Hold a contest ……………………………….. 15
Free online courses …………………………… 15
Free software ……………………………………… 16
Forums ………………………………… 16
Ads and sponsorships ……………………….. 16
Podcasts ………………………. 17
Free audio or video downloads ………….. 17
Webinars ………………………………………… 17
Blogs ………………………………………………. 17
Become a Giveaway Guru affiliate ………. 18
eBay ……………………………………………….. 18
You'll only hit what you aim at …………… 19
Our most important and most urgent tasks …………… 19
Living proof of what's possible …………… 21
Relationships and rapport generate revenue ……….. 22
Master the art of relationship management ………. 23
Sample Content Preview
Be remarkable
Master marketer and best-selling author Seth Godin says that companies that resist innovation are like brown cows—after a while, they all look the same. If you've seen one brown cow, you've seen every brown cow there is to see. You don't notice them even when they're standing on the side of the highway. They might as well be invisible.
But when a purple cow comes on the scene, it stands out at once. You can't take a brown cow and paint it purple, Godin explains. Purple cows are purple from the inside out—or they might be blue from the inside out, as in the case of JetBlue Airlines, a company that meets Godin's criteria for excellence.
What is Seth Godin trying to teach us about marketing this time? If I've learned anything from Godin since his 1999 Permission Marketing, it is that he doesn't waste his readers' valuable time. So I've learned to listen to what he has to say. What does he have to say in Purple Cow? It all comes down to two words: Be remarkable.
I hope you're listening, too. "You're either a Purple Cow or you're not," says Godin. "You're either remarkable or invisible. Make your choice." I think you have made the right choice; otherwise, you wouldn't be taking the time to read this. You've taken the first step toward becoming remarkable. This report will show you how to separate yourself from the millions of invisible brown cows on the Information highway.
When you finish this report, you won't be a brown cow any more. You may discover that you're not a purple cow either. You might be a blue cow, a red cow, or even a pink cow. But one thing is certain: You'll know what it takes to build the kind of list that can skyrocket your Internet business. You'll know what it takes to be remarkable.
Forget the advertising—innovate
It would be easy to notice a purple cow if we suddenly encountered one, of course. But how do you spot purple cows in the business world? To be a purple cow in the business world, Godin explains, "Stop advertising and start innovating."
Consumers are immune to most of the advertising that reaches them, but they are hungrier than ever for real solutions to real problems. The secret of successful Internet marketing is to create and drive word of mouth.
Other Details
- 1 Ebook (PDF), 23 Pages
- 12 Graphics (JPG)
- 1 Salespage (HTML)
- Squeeze Page (HTML)
- Year Released/Circulated: 2012
- File Size: 1,925 KB
License Details:
[Yes] Includes Reseller Website
[Yes] Can sell Master Resale Rights
[Yes] Can be added to paid membership sites
[Yes] Can be offered as a bonus to one other product
[Yes] Can be packaged
[NO] Can be offered through auction sites
[NO] Can be given away
[NO] Can be added to free membership sites