Salespage Snapshot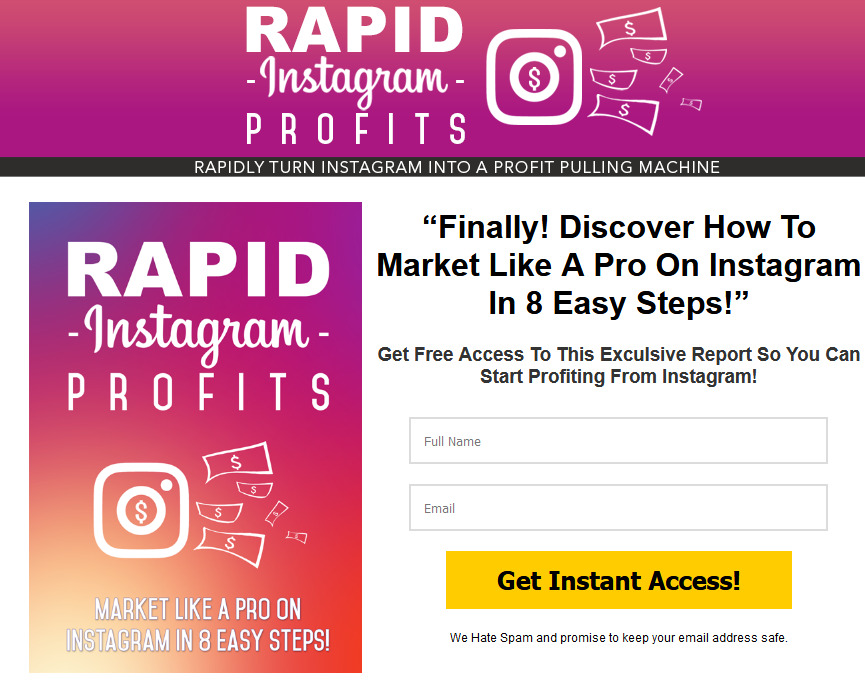 >> Click Here To View Sales Page...
Table of Contents
Step #1: Study the existing niches supported by Instagram currently 4
Step #2: Select a specific niche5
Step #3: Find Instagram influencers in your niche 6
Step #4: Reverse engineer your niche influencer's content 6
Step #5: Reverse engineer their descriptions 7
Step #6: Post only photos and videos that are of better quality 8
Step #7: Engage with niche influencers 9
Step #8: Put your squeeze page URL in your profile page 10
Sample Content Preview
Now, this is where the rubber meets the road. Seriously. This is where your Instagram marketing campaign will succeed or fail.
You see, if you post the same stuff that your competitors are posting and there's really nothing qualitatively different from your materials and theirs. You're basically telling the people who are following your tags that they would be better off following the people they are already following.
In other words, there's really no incentive for them to follow you instead of somebody else who covers the same niche. You're pretty much generic. You guys are pretty much singing the same tune. Do you see how this works?
So you have to come up with something that is qualitatively better, and it must be obvious. People don't have to guess, people don't have to jump through many hoops. There has to be as little mystery as possible.
The production quality must stand out. It must actually jump at them. For example, if in your niche, a lot of the pictures are kind of grainy or dark, come up with something with better lighting. Come up with images that are crisp, vivid and more colorful.
While you use the same tags and you use the same description style, the quality of the content, in and of itself, will persuade people. Just by looking at your stuff, they can tell that this stuff is so much better than the stuff that they're used to.
While this cracks the door open and gets your foot in the door, you need to do this constantly. You can't just post a nice set every once in a while and expect your brand to stand out head and shoulders from your competitors. It doesn't work that way. You have to do this consistently. You have to do it, and do it, and do it.
Step #7: Engage with niche influencers
The funny thing about social media is that it really all boils down to reputation. And the funny thing about reputation is that it's infectious. Seriously. If you know very influential people, chances are, some of their influence will rub off on you in the eyes of their followers.
Let's put it this way, if you were following Lady Gaga, for example, or Justin Bieber, you notice that Justin Bieber and Lady Gaga keeps mentioning Joe Blow. They keep repeating the name Joe Blow because they're giving shout outs to Joe Blow. They're commenting about Joe Blow. You're probably thinking this Joe Blow is probably somebody important enough for me to want to check out.
Believe me, a significant fraction of the people following influencers would look up these personalities. And this results in these individuals gaining a certain level of credibility and authority. Use this dynamic to work for you.
How do you start the ball rolling? Very simple, give niche influencers a free shout out. You just mention them. And you have to do this repeatedly over an extended period of time.
It may seem like you're just basically yelling in the dark, it may seem like there's just this echo chamber, but believe me, it has an effect because over an extended period of time, you will get on their radar. They would start paying attention to this person that just keeps mentioning them and eventually, the power of reciprocity will kick in.
What is the power of reciprocity? It's very simple. People are nice to other people who are nice to them. So take the initiative. Take the first step and be nice to them by giving them a free shout out.
You have to do this fairly regularly over an extended period of time, but eventually, reciprocity will catch up to you and these people, by simply mentioning you, will lend some of their authority and credibility to you and this might possibly lead to you expanding your audience on Instagram.
Step #8: Put your squeeze page URL in your profile page
Did you notice that I said squeeze page URL? I did not say homepage, I did not say blog or main page? The reason for this is because of the fact that the vast majority of people that will click on your link are going to be gone for good after they visit your website once.
You will really only have one shot at making a good impression. You really only have one chance at getting a bite at the apple. Make it count.
This is why you need to lead them to your squeeze page because your squeeze page highlights your value proposition. Your squeeze page also gets them to sign up for your email list. When people are in your email, you get many chances at branding them. You get many chances of interacting with them and possibly converting them.
So do yourself a big favor and highlight your squeeze page. That should be the number one thing you're promoting on Instagram.
How do you do this? First, you draw a lot of attention to your profile with each post. You basically keep saying to people, "check out my profile, check out my profile." Just keep doing that. Keep hammering it. And then highlight the value of your squeeze page in your photo's descriptions.
By doing this, all your content would end up playing up the value of your squeeze page without coming off as spammy. People would see with each post that there's some sort of context that you're creating. It's not like you're coming out of nowhere. If you are able to do this, then the payload of your squeeze page becomes apparent.
Other Details
- 1 Ebook (PDF), 11 Pages
- 3 Graphics (PNG)
- 1 Squeeze Page (HTML)
- Promotional Ad Material (Emails)
- Bonus
- Year Released/Circulated: 2017
- File Size: 3,820 KB
License Details:
[YES] Can be sold
[YES] Can be used for personal use
[YES] Can be packaged with other products
[YES] Can modify/change the sales letter
[YES] Can be added into paid membership websites
[YES] Can put your name on the sales letter
[YES] Can be offered as a bonus
[YES] Can be used to build a list
[YES] Can print/publish offline
[YES] Can convey and sell Personal Use Rights
[YES] Can convey and sell Resale Rights
[YES] Can convey and sell Master Resale Rights
[NO] Can modify/change the main product
[NO] Can modify/change the graphics and ecover
[NO] Can be given away for free
[NO] Can be added to free membership websites
[NO] Can convey and sell Private Label Rights