Salespage Snapshot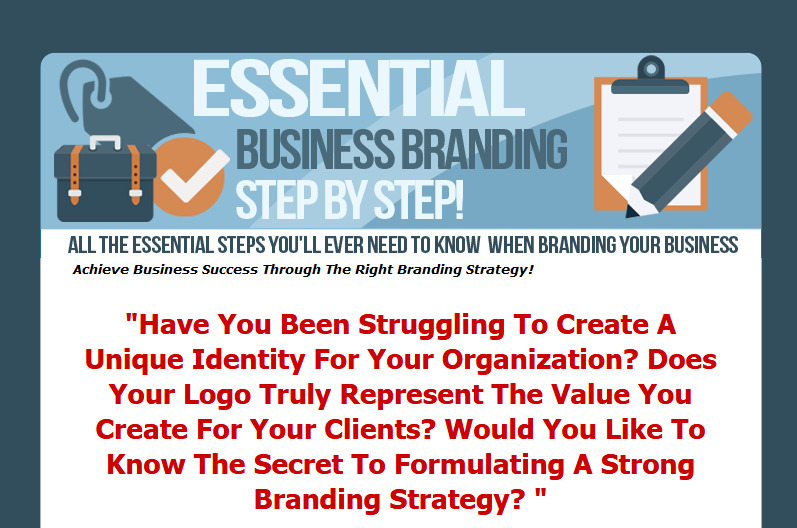 >> Click Here To View Sales Page...
Table of Contents
Introduction ….. 2
Chapter 1 — Expand the Brand .. 3
Chapter 2 — Contract the Brand 4
Chapter 3 — Publicity is a Good Thing 5
Chapter 4 — Advertising the Brand …. 6
Chapter 5 — Be Authentic . 8
Chapter 6 — Its not all about Quality .. 9
Chapter 7 — Category over Brand …. 11
Chapter 8 — The Importance of a Name … 12
Chapter 9 — Keep it Simple ….. 13
Chapter 10 — Don't be a Stuck Up Brand .. 14
Chapter 11 — A Second Thought on Naming …… 15
Chapter 12 — Keep Brand Names and Company Names Separate …….. 17
Chapter 13 — Beware of Subbranding ……. 19
Chapter 14 — Can You Ever Extend the Brand? .. 20
Chapter 15 — The Importance of the Logo 22
Chapter 16 — The Importance of Color ….. 23
Chapter 17 — Think Globally …. 25
Chapter 18 — Branding and the Internet … 27
Chapter 19 — Naming and the Internet ….. 30
Chapter 20 — Globalism and the Internet . 32
Conclusion ….. 34
Sample Content Preview
Chapter 5 — Be Authentic
Consumers are people, and people are guarded by nature so no matter how well you try to get your message across through advertising, consumers will naturally question some of the claims that you make. This is why the claims that you make in your advertising message have to be true and be able to be backed up. This will bring your brand the credibility that is needs to reassure consumers that your brands does what is says and is of the quality that the advertisement says it is. Once you have established this with consumers, they will be more apt to tell other consumers about your brand and how it backs up it claims. This could very well lead to your brand expanding in the marketplace leading to higher revenues and profits. Remember, expanding in the marketplace is a good thing; it is not the same as expanding the brand.
Being authentic in your advertising and being able to back it up will help your brand maintain leadership in the marketplace. In addition, it can also bring you free publicity. Being an industry leader and with good brand recognition, media outlets will be more likely to come to your company to do a story about your industry. This allows your brand to become to spokesperson for the industry, which will lead to your brand becoming more recognized. Consumers, seeing your brand being featured in a news story will give it more credibility, thereby increasing the chances of your brand being able to expand in the marketplace.
Being able to gain the leadership with your brand is the most important thing that you can do as a business owner. Companies and products whose brand is the leader in the market have a hard time being replaced. In fact, a recent study of companies that were leaders in the marketplace in the 1940's showed out of the twenty brands that were researched only three were not in the leadership position today. Leadership means long-term success, so strive to be on top.
Chapter 6 — Its not all about Quality
Having the best quality in a brand or product does not necessarily mean that is destined to be number one. There are many brands that you can point to make this point. Just because a consumer paid a lot more for their Tag Heuer watch does not mean that it will work better or tell the time more accurately than a Seiko. Additionally, paying thousands of dollars more for a BMW over a Toyota does not mean that the BMW will have less mechanical problems than the Toyota. Paying more for a designer t-shirt does not mean that it will have longer wear time than a t-shirt purchased at a discount store. In almost every industry, the leader in quality does not translate as the leader in sales.
Having the perception that the brand is quality is what you want in the minds of consumers. You can do this by becoming a brand that specializes in the market. If consumers see that the brand is focused on just one area of a problem, the brand will be perceived as having more knowledge about the problem and therefore a more quality brand. Another way of having a brand have the perception of quality is if it is more expensive than its competition. This gives the consumer the psychological contentment that they brought the best quality brand because of the price tag. It also speaks to a consumer's status. Consumers do not simply by a more expensive brand for themselves; it is to show the people that they come in contact with that they can afford it.
When offering your brand for a higher price than one of your competitors it is best that when the brand first come to market it already has the higher price. This gives the consumer the impression that your brand is superior to the others based on price alone. Introducing the brand at a competitive price and then raising it makes it look as your trying to price gouge consumers.
However, when you do offer a brand at a higher price than your competitors you must ensure that there is something with the brand that gives it that extra quality. It could be as simple as having better packaging than your competition, but something has to justify the higher price. Remember, having brand quality means that you have to specialize in a given marketplace so your brand will have the most recognized name and you will be able to charge more for it.
Chapter 7 — Category over Brand
You have already read that by specializing in a market you will be able to increase brand awareness. Now try to think even further. You should try to narrow your focus until you are able to create your own category. This has happen many times in the business world. When Apple introduced the iPad, a new category was formed for handheld devices. The same can be said for Atari, when they introduced the Atari 2600 they put into motion a completely new category of home gaming that continues to thrive.
To be able to create your own brand category there are some steps that you will need to accomplish. First, when you bring the brand to the marketplace you must do it in a way that makes it appear that yours is the first brand to do what it is you want to do. This gives your brand the perception of being the leading authority in this area. Second, it is up to you to advance this new category in the eyes of the consumer. Here it will be a greater benefit to your brand to promote the category and not the brand. Promoting the category will promote the brand at the same time.
Other Details
- 1 Ebook (PDF), 36 Pages
- 12 Graphics (JPG, PNG)
- 1 Salespage (HTML)
- 1 Squeeze Page (HTML)
- Year Released/Circulated: 2017
- File Size: 2,089 KB
License Details:
[ Yes ] Can sell the eBook to your customers.
[ Yes ] Can give away eBook (PDF Format).
[ Yes ] Can be used as a bonus (PDF Format).
[ Yes ] Can include eBook in membership site (PDF Format).
[ Yes ] Can be combined with other offers or sold as a package.
[ No ] Can include within website flips.
[ No ] Cannot sell Resell Rights to customers.
[ No ] Cannot sell Private Label Rights to customers.