Salespage Snapshot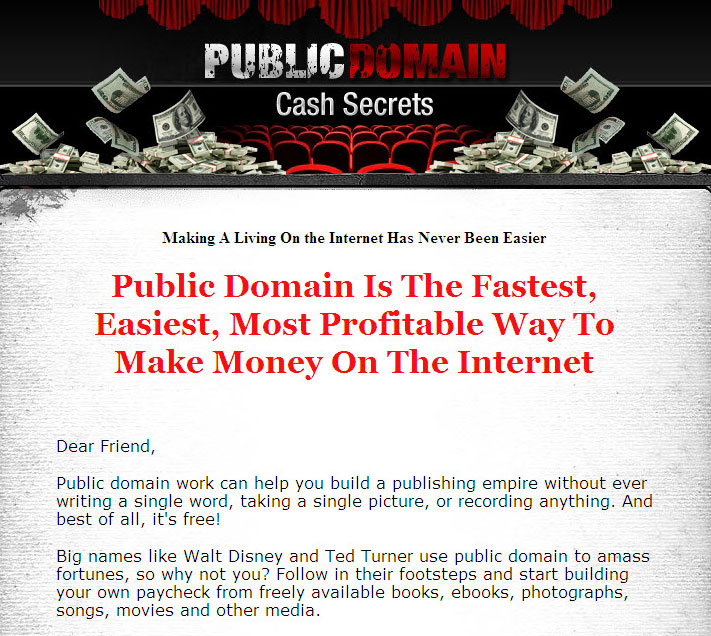 >> Click Here To View Sales Page...
PLR Ebook With Audio Sample Content Preview
Public Domain
Public Domain is the vast body of material that includes books, photos, music and information that is available for the public to use and republish…free.
All of this is normally protected by copyright laws, but copyright protection is not forever. Intellectual property that is not covered by copyright laws belongs to the public domain. Therefore, it is open to everyone who wants to use it. And that can mean serious financial gain for you.
How Do You Know If a Work is Public Domain?
Copyright laws vary from country to country. In the United States, there are three general rules that you need to follow to help you assess potential public domain works.
RULE #1: Works published in the United States before 1923 are considered public domain.
This rule is cut and dry. There are no exceptions. If the work was published, created, or produced prior to 1923, then it is in the public domain.
RULE #2: Works created after March 1, 1989, even if not published, are copyright protected for 70 years after the author's death. Works made for hire (corporate authorship) after March 1, 1989 are copyright protected for 120 years from creation or 95 years from publication, whichever is sooner.
This rule, of course, means that you do not have to actively file for copyright notice to come under the protection of the copyright law. Under this rule, all creative work produced after March 1, 1989 is automatically covered.
The phrase "works made for hire" actually refers to publications issued for and by a corporation so the legal author turns out to be the employer or corporation. That is why they are sometimes collectively referred to as "corporate authorship" and may include anything from newsletters to employee manuals, annual reports and instructional texts.
Works made for hire may also cover any situation wherein a creative professional is paid to produce a work within the scope of his own employment.
Other Details* Sales Page:
Included, HTML
* File Format:
MS Word Doc, PDF
* Number of Pages:
11
* Included Graphics:
Ecovers, PSD
* Download File Size:
14,268