Salespage Snapshot: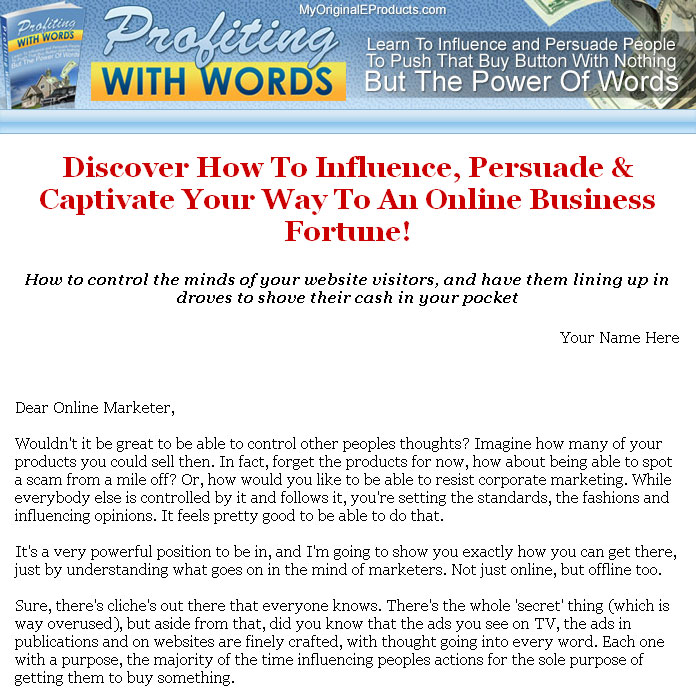 >>> Click Here To View Full Sales Page…
Sample Content Preview
Welcome To The Course
An Introduction
Hello and welcome to the course. I hope you?re going to enjoy reading this as much as I?m going to enjoy writing it. I have the plan in front of me as I type this, and I have to say right now that it's going to be a cracker in terms of useful content. All of these techniques you can take on board and use right away too. No having to wait a year or plough masses of effort in to changing the way you do business. Most of it is pretty quick to implement and shows results almost immediately, it just takes a little bit of thought.
What's it all about? Why are you writing this?
Ok first up, I'd like to give you some insight into what the content of this course is all about. Call this an introduction section. The real content will begin right after this. Let's start with the aim of the course. When I picked up my laptop and began planning this yesterday, I decided that I wanted to talk to online marketers specifically about the lessons I've learned over the course of my career. I'm not talking totally random pieces of information dotted about everywhere, but there's not a real 'system' for you to follow either. Each section is individually crafted, meaning you can put each chapter into action right away, the moment you finish reading it.
So what's important about the lessons I learned about business? To give you an idea where I'm coming from here, and just how important these lessons have been in transforming me from complete business failure to complete business success in a short period of time, here are two examples of the results of these techniques.
Alright, first example. Just picking a random method out of the following text, I can tell you that when I began in online marketing, for a good two years, the best I could come up with was about $10,000 of sales per year. That's pretty low of course and probably isn't going to fulfil anyone's hopes and dreams for the future. It sure didn't fulfil mine. So I set about learning. Now this one method that I picked up totally by accident took that $10,000 over the course of several years, and turned it into $250,000 per year in sales. How long did it take to make the transformation? Seven months. Seven months of relaxed, almost lazy work where the amount of effort I had to expend was ten times less than I used to reach the $10,000 per year mark.
Or how about the next example, where I can safely say at the beginning of my career, I was scammed over and over again into buying crappy products. Not because I was stupid, but because I was ignorant. I didn't understand the basis of marketing and how it worked. The psychology of marketing. That's all changed now of course, and I can safely say I haven't bought a product I've been disappointed in for several years, simply because of the decision making process I go through pre-purchase.
That might not sound particularly amazing on paper, but do you know how annoying it is when you just want some straight answers to your questions, and every product you buy falls short? Of course you do, you're in online marketing. It's not about saving a couple of thousand dollars every year from poor products, it's more about your precious time.
I don't care much if someone sells me a shoddy product and it costs me $500. They won't be in business long. What I do care about is someone who sells me a shoddy $500 product that takes a year of my time to figure out that they're talking out of their rear ends and their stuff doesn't work. That's far more damaging than any money anyone could ever take from me. That's why I hold this method in such high regard. You can find this one in the 'Understanding the psychology of marketing' chapters.
So that's how the course is going to shape up. All from my previous experiences, all of which you can put into action straight away and see immediate results, rather than have to waste your time testing for years, only to find it doesn't work.
Other Details
- Ebook (PDF), 71 Pages
- Salespage (HTML)
- Ecover (JPG)
- Year Released/Circulated: 2008
- File Size: 1,238 KB
License Details:
• You have full master resell rights to this product.
• You MAY resell this product and give resale rights to your customers.(Suggested value:$47)
• You MAY offer this product as a bonus to a PAID product.
• You MAY include this product on a PAID membership site.
• You CANNOT give this product away for free.
• You CANNOT include this product on a free membership site.
• You CANNOT sell this product or give it away on Ebay or any other auction site!
• You CANNOT change ANY of the content